---
BEST ANNUAL 'ALWAYS ON' CONTENT STRATEGY
GOLD - MANDARIN ORIENTAL, CEDAR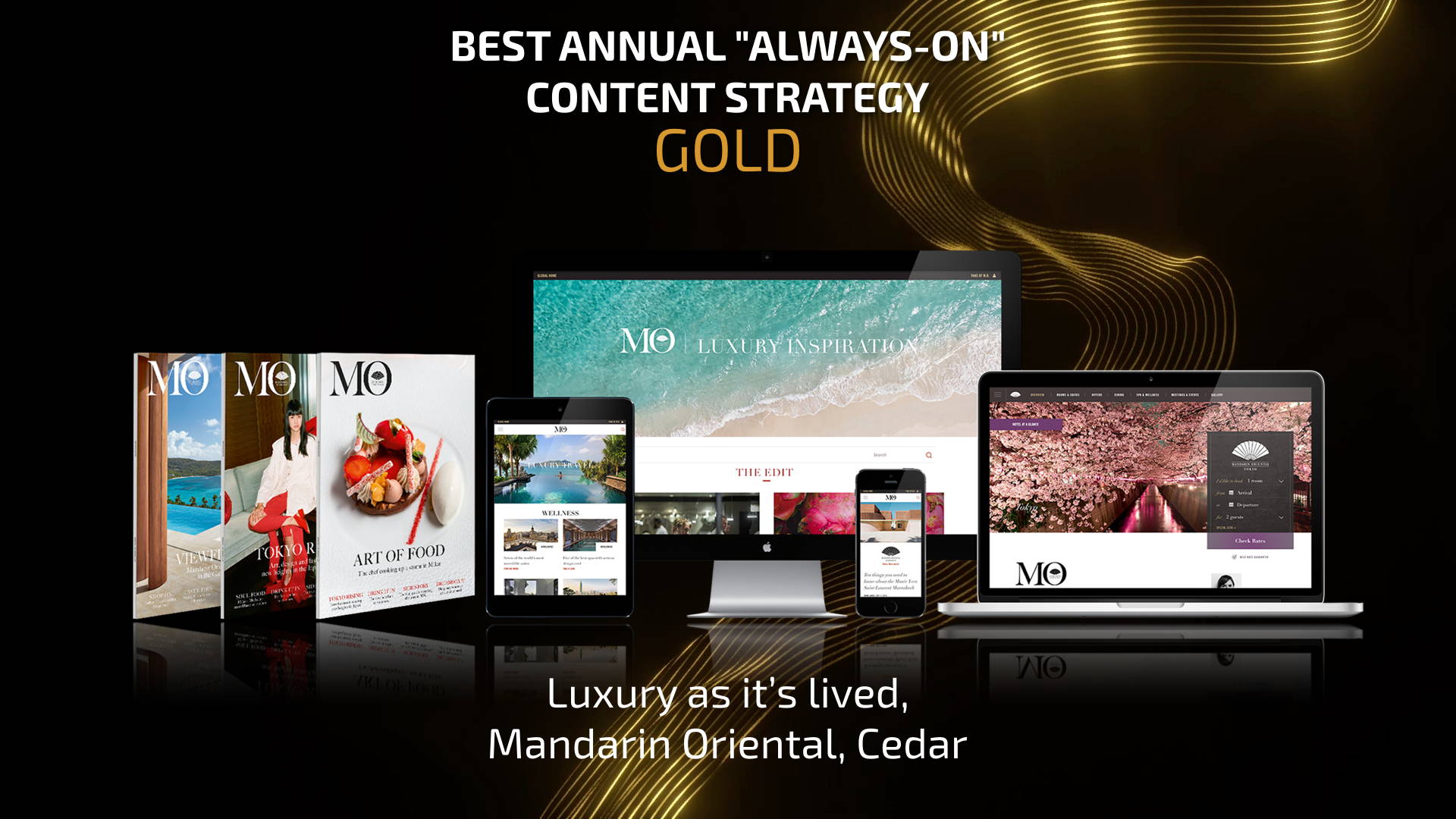 SILVER - QANTAS, MEDIUM RARE CONTENT AGENCY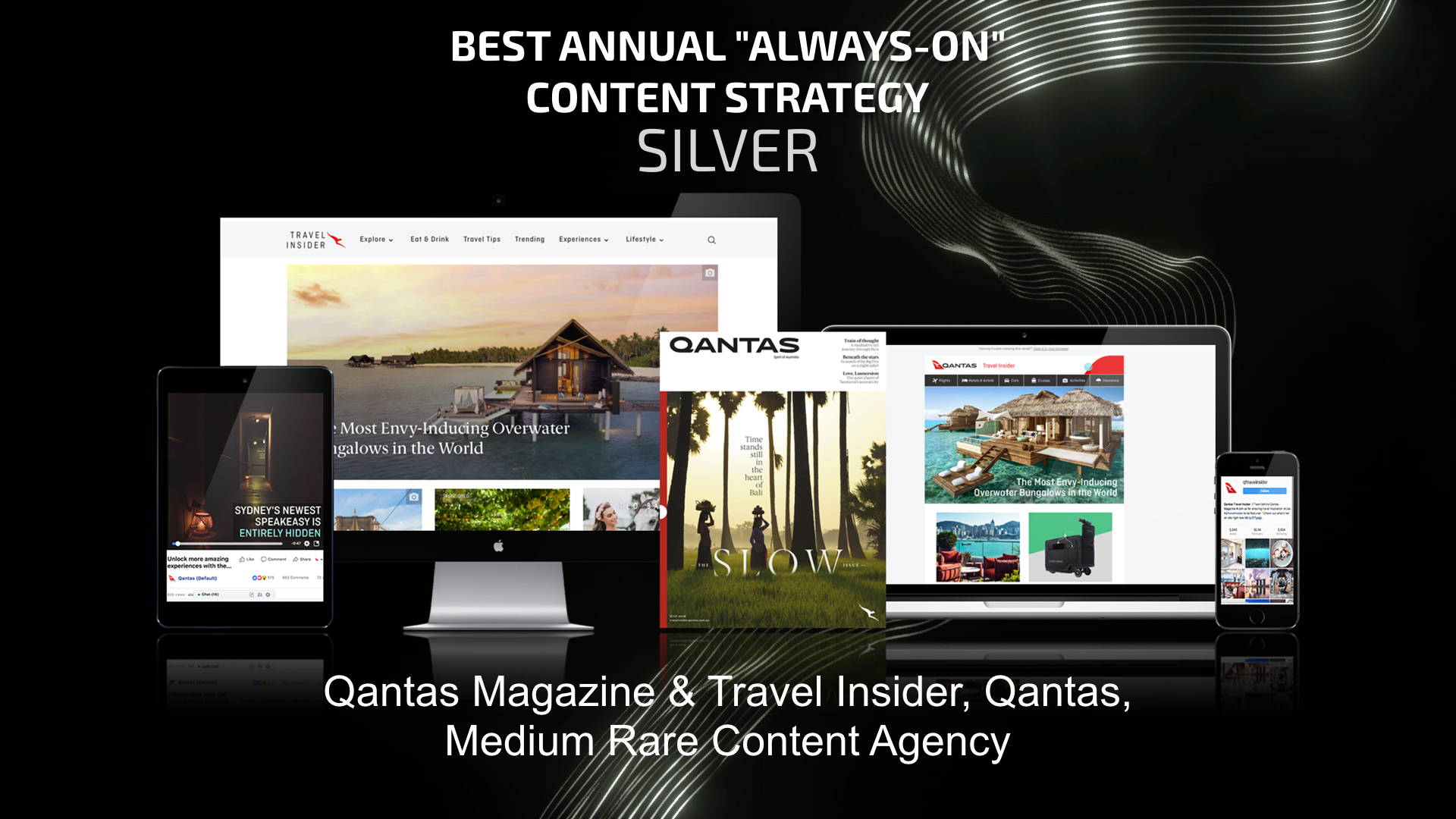 BRONZE - PICK N PAY, JOHN BROWN SOUTH AFRICA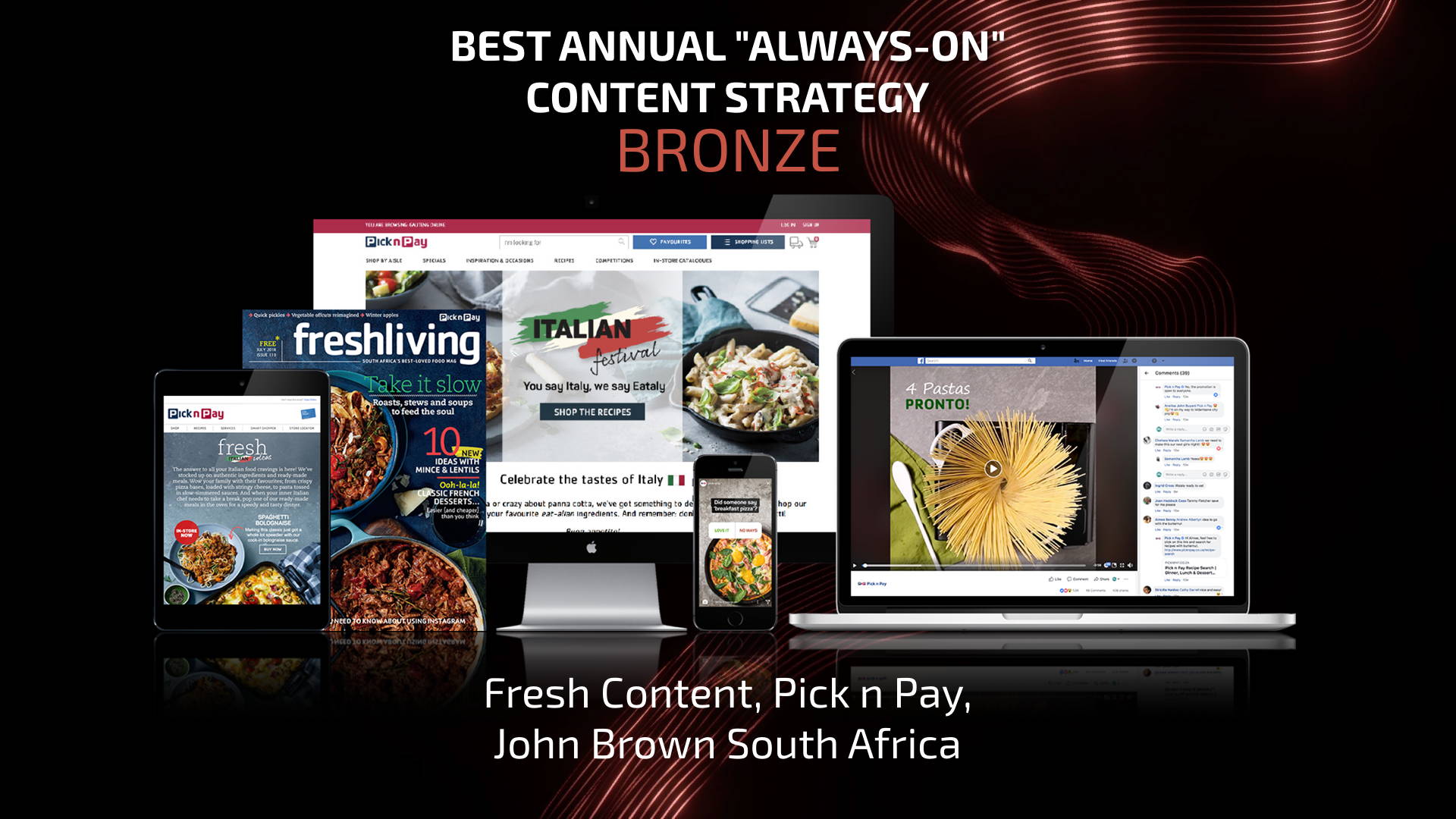 ---
Just under a year ago, the luxury hotel brand Mandarin Oriental wanted to start a new chapter in its brand journey: digital transformation. The brand understood that online, video and social were the new shop window for brands, so turned to content agency Cedar to deliver a fantastic digital experience for existing and potential customers.
The agency were set three ambitious objectives: to improve the brand's reach, engage customers by acting as an authority on luxury travel, and improve the path-to-purchase customers to gain more bookings. Focusing on high-net-worth individuals, the team achieved this through meticulous research, the creation of a unifying strategy, and a sharp focus on content.
With the creation of over 468 pieces of content across 10 brand channels, Cedar increased web traffic, the circulation of the print magazine, and revenue way beyond the client's targets. "From a standing start," said the judges, "this campaign delivered industry best practice in a short period of time, delivering a seamless transition of a luxury brand into the online space."
Taking Silver, Qantas Magazine & Travel Insider impressed the judges with its "high levels of strategy and planning", while Bronze winner Fresh Content "centred on outstanding content and execution brought to life across multiple channels".
---
GOLD - TOYOTA AYGO, THE&PARTNERSHIP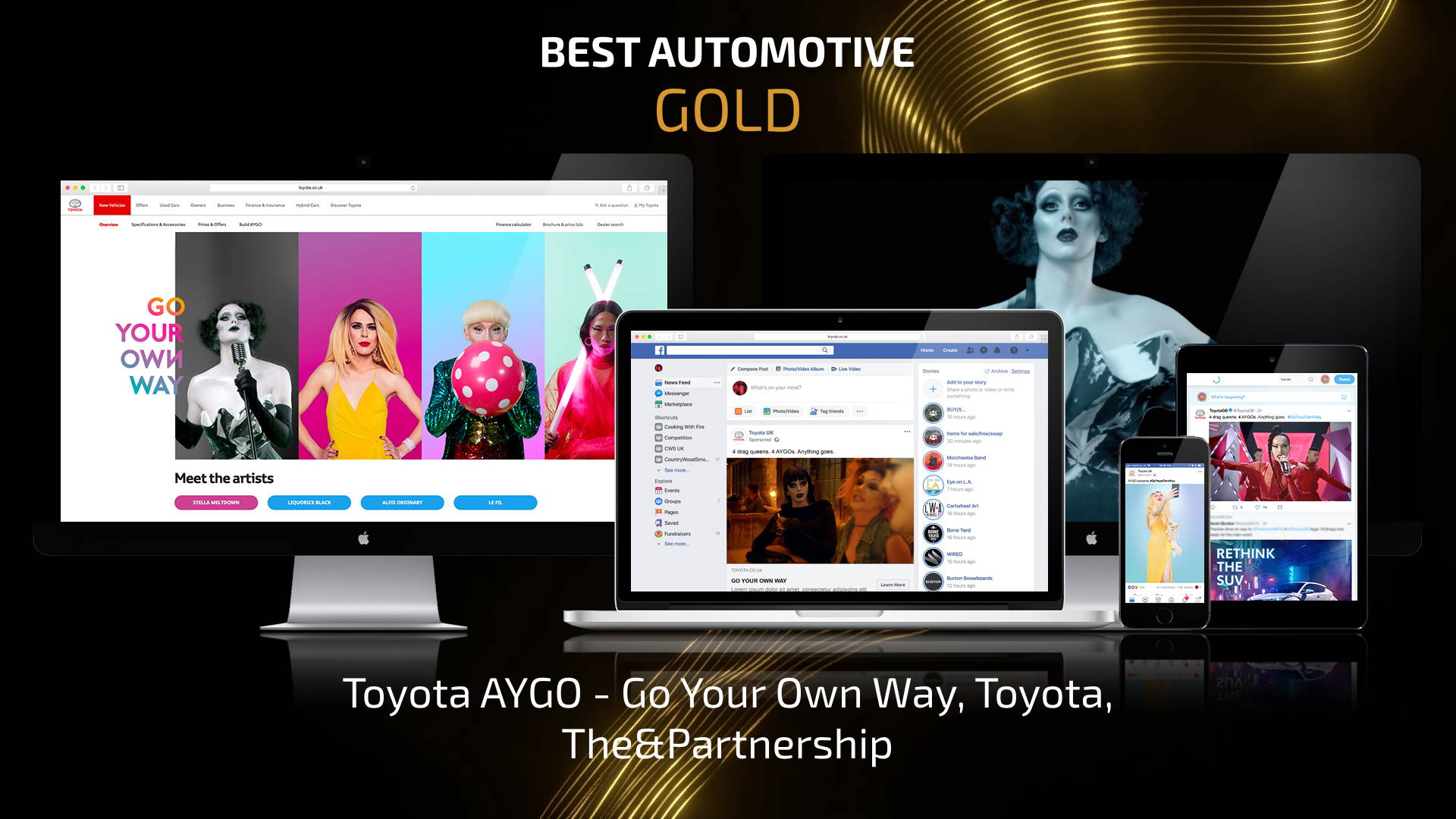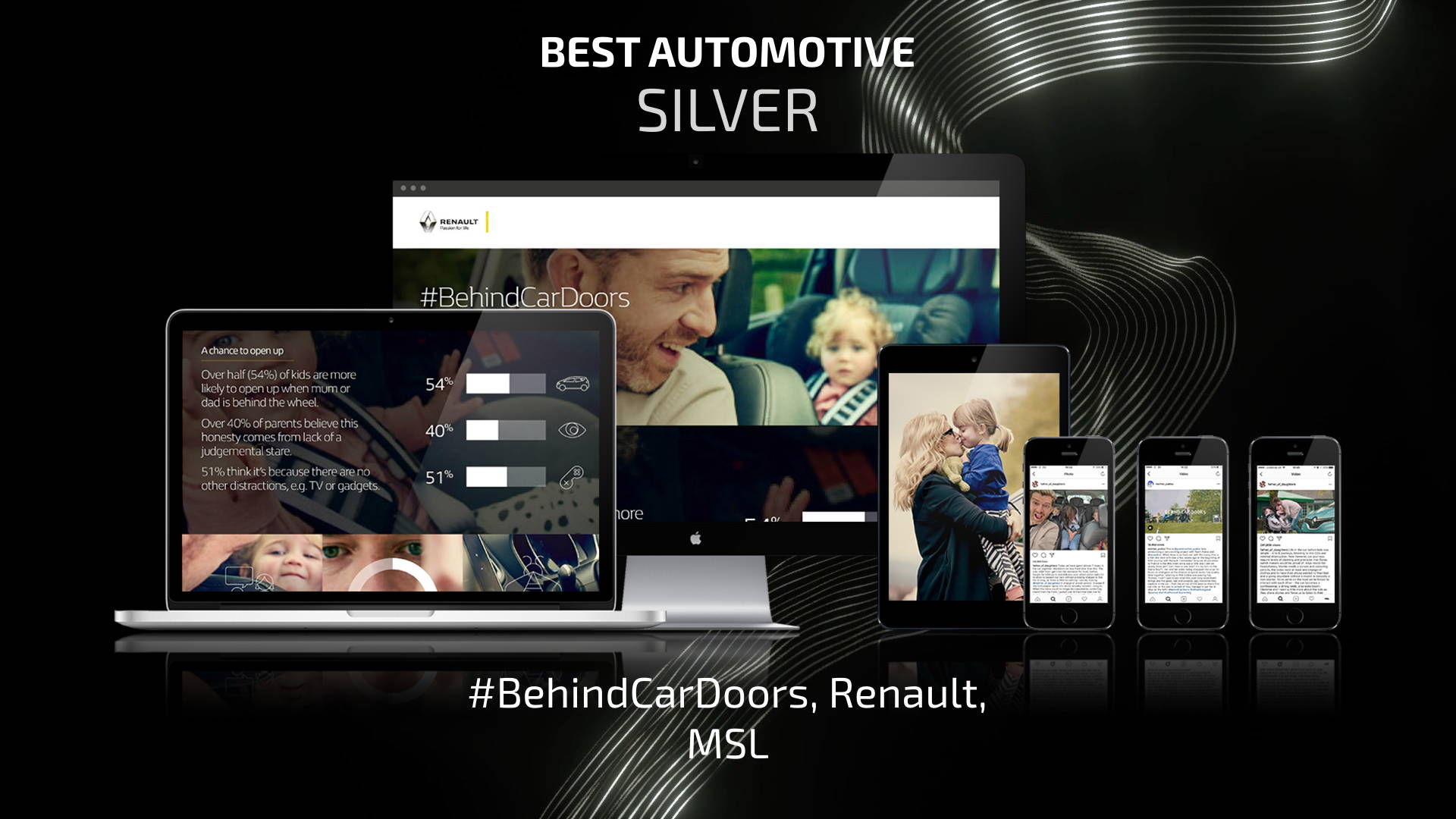 BRONZE - BRIDGESTONE EUROPE, WEAREFEARLESS & GOLAZO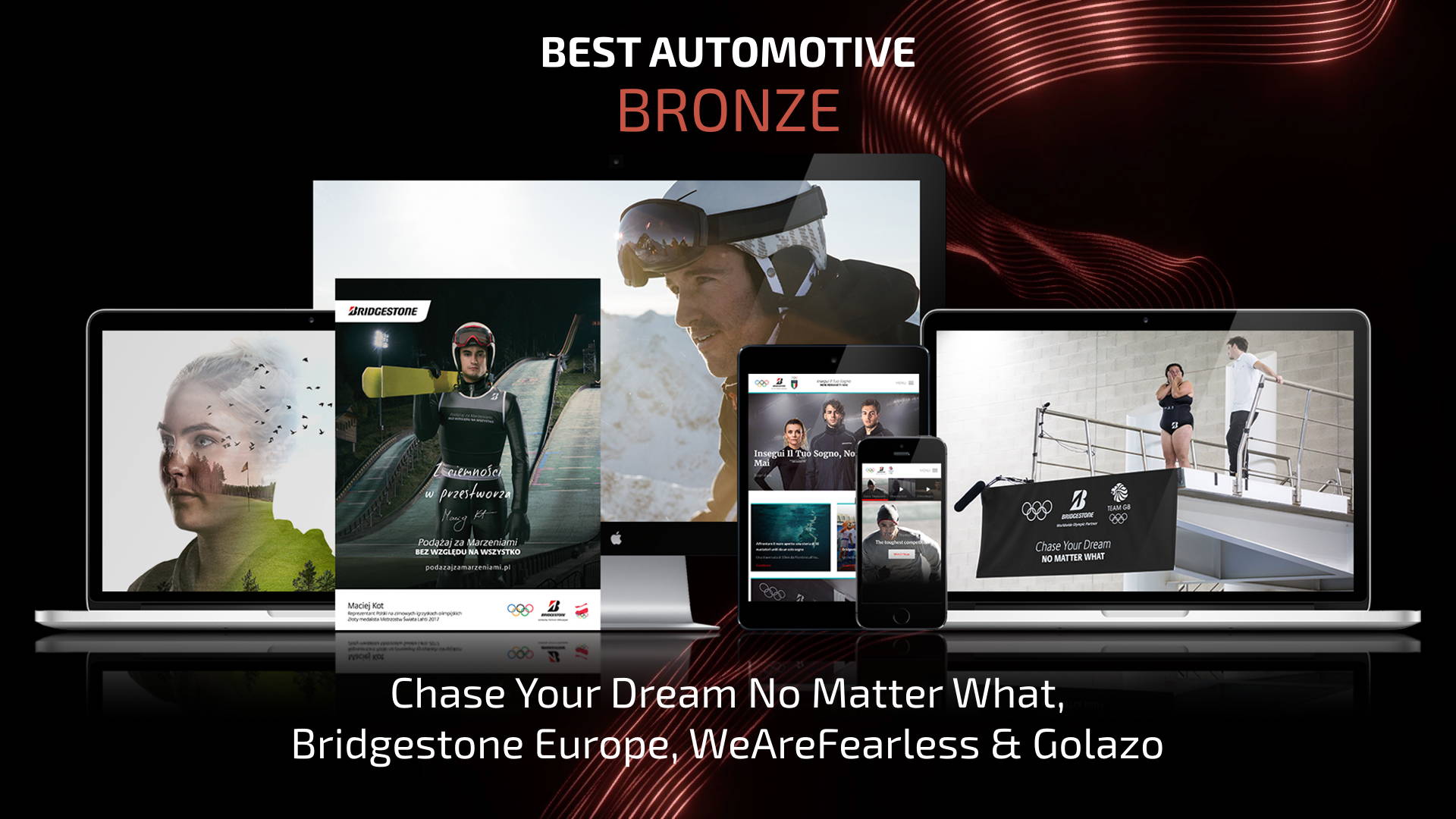 ---
In a hard-fought category, The&Partnership's work for Toyota eventually won the Best Automotive award because the judges felt "it's genuinely authentic and completely changes the perception of the brand."
Aimed at 18-43 year-olds looking for their first car, Go Your Own Way was created to increase awareness, consideration and sales of the Toyota AYGO, combining the car's sense of fun and the feeling of liberation that comes with owning your first car. The agency did this by handing over the keys of an AYGO to a number of drag queens, artists and performers, asking them to express this feeling of liberation though a photo shoot and event. A series of films was also produced, capturing the unique personas and creativity of the people involved.
The campaign was a huge success, with the AYGO having one of the best quarters in its history, contributing to both brand uplift and an increase in segment share and sales. "The effectiveness results speak for themselves," said the clearly impressed judges.
A close second was the social campaign #BehindCarDoors, created for Renault by MSL, which "connected the brand with real-life experiences," while WeAreFearless & Golazo's work for Bridgestone Europe took Bronze for its "ability to make the viewer both emotional and excited."
---
SILVER - THE HEALTH FOUNDATION, THE EMPATHY MUSEUM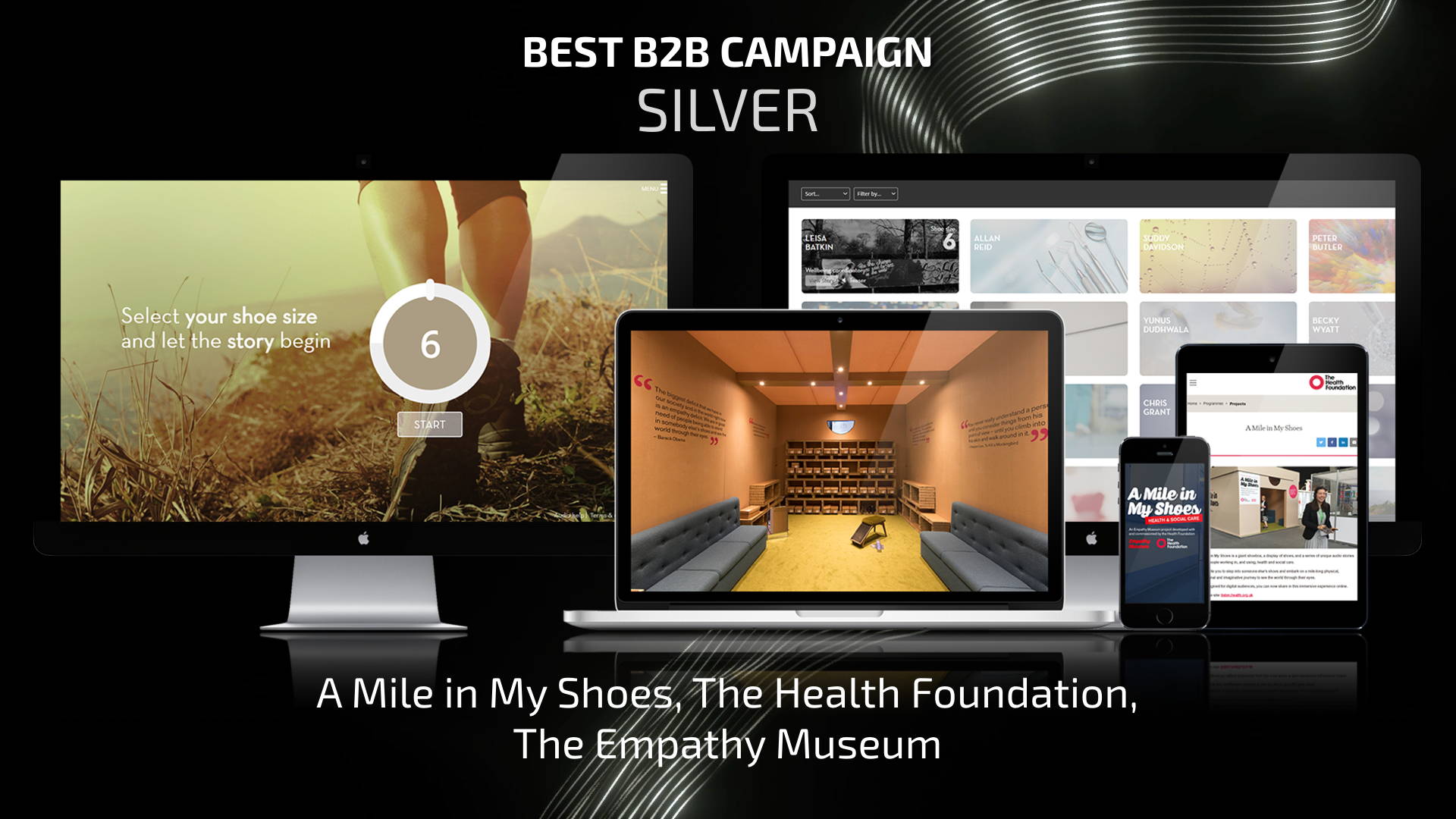 BRONZE - IAG CARGO, CEDAR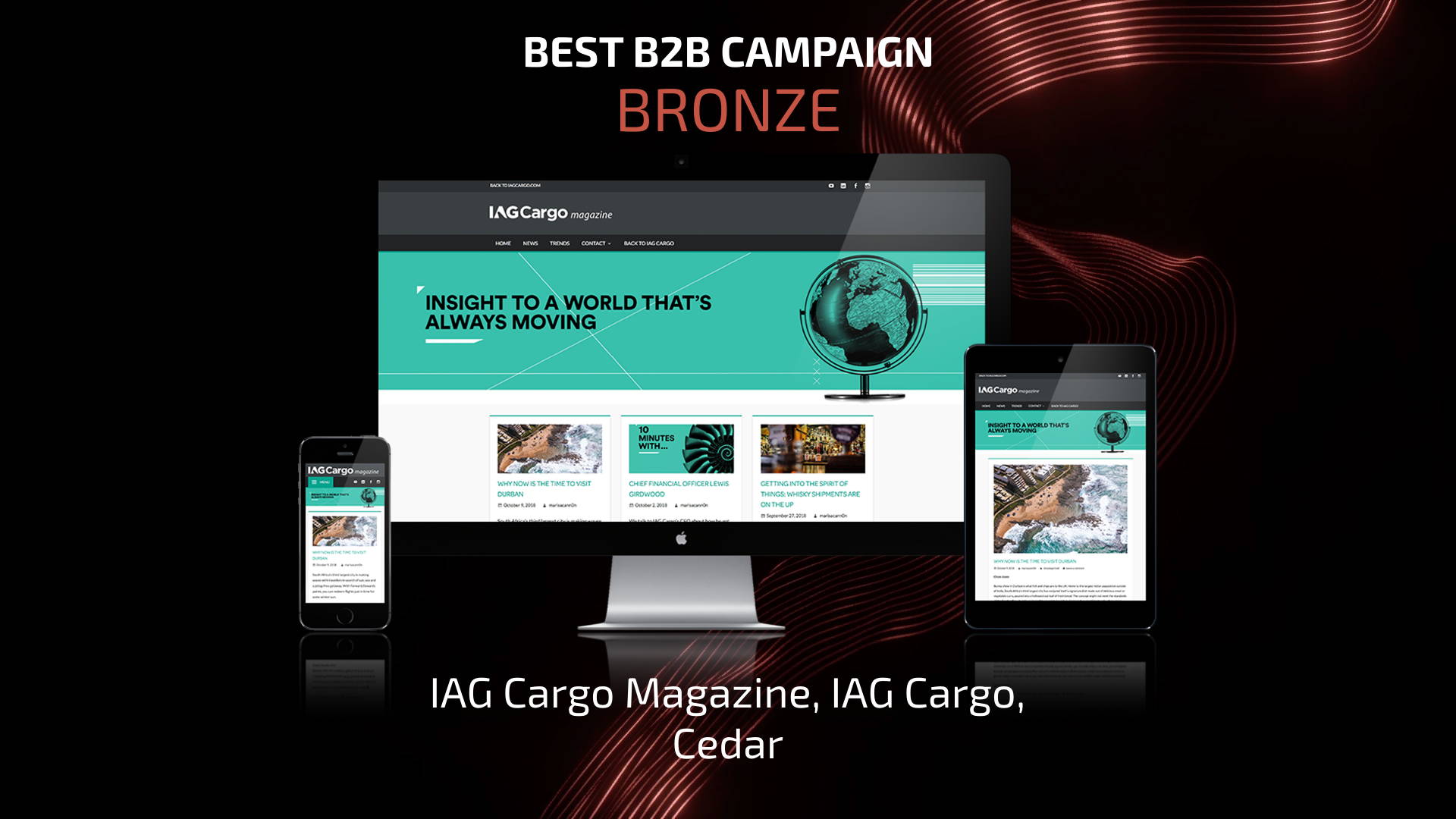 ---
Ogilvy's multi-platform campaign for Inmarsat was created for a business unit within the organisation, Inmarsat Aviation, which offers remote-area connectivity to commercial airlines. Faced with the challenge of airlines struggling to define their business cases to invest in inflight connectivity (IFC), Inmarsat Aviation needed to change the global conversation about IFC, demonstrating leadership by shifting industry perceptions about the product.
This was achieved with the creation of a powerful research coalition that launched the game-changing research study, 'Sky High Economics' (SHE), which showed the scale of incremental revenue available to airlines through passenger connectivity. The study found that IFC has the potential to create $30bn of additional airline revenue by 2035, a figure that changed established thinking about the business case for IFC.
The results were impressive: a social reach of 875,000, exceeding target engagement benchmarks, over 190 articles in global media, and 14 one-to-one customer engagements, leading to three new airline contract wins. "The winner fundamentally influenced the target market," said the judges, "creating a solution that could actually change the future of the aviation industry."
Meanwhile, taking Silver was The Empathy Museum's campaign for The Health Foundation, which was described by the judges as "a great concept and great execution", while the IAG Cargo magazine was awarded Bronze for "really adding personality to what could be seen as a dry industry."
---
GOLD - FRÖLUNDA TORG, DEAR FRIENDS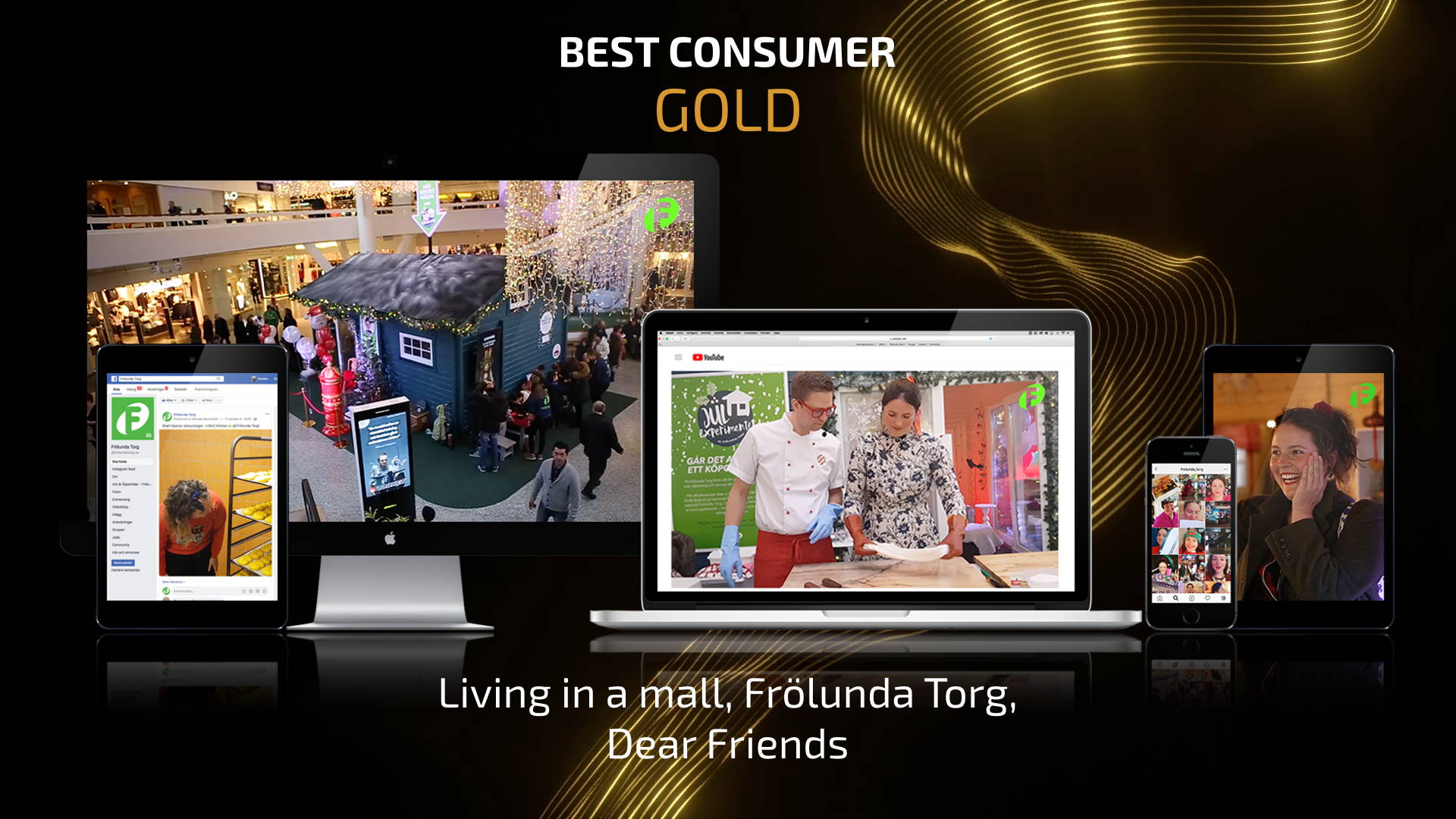 SILVER - GLAXOSMITHKLINE, MEDIACOM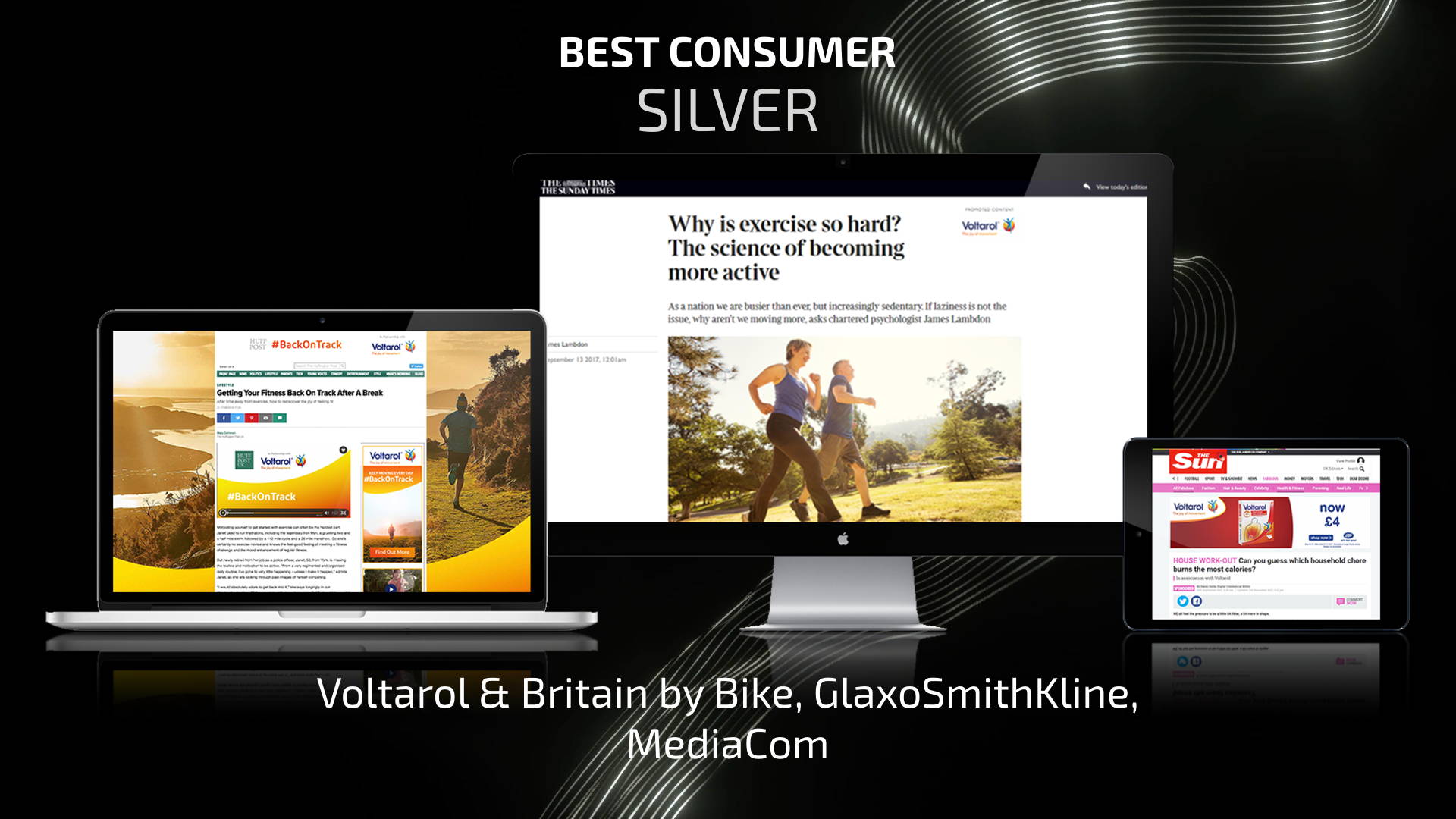 BRONZE - PICK N PAY, JOHN BROWN SOUTH AFRICA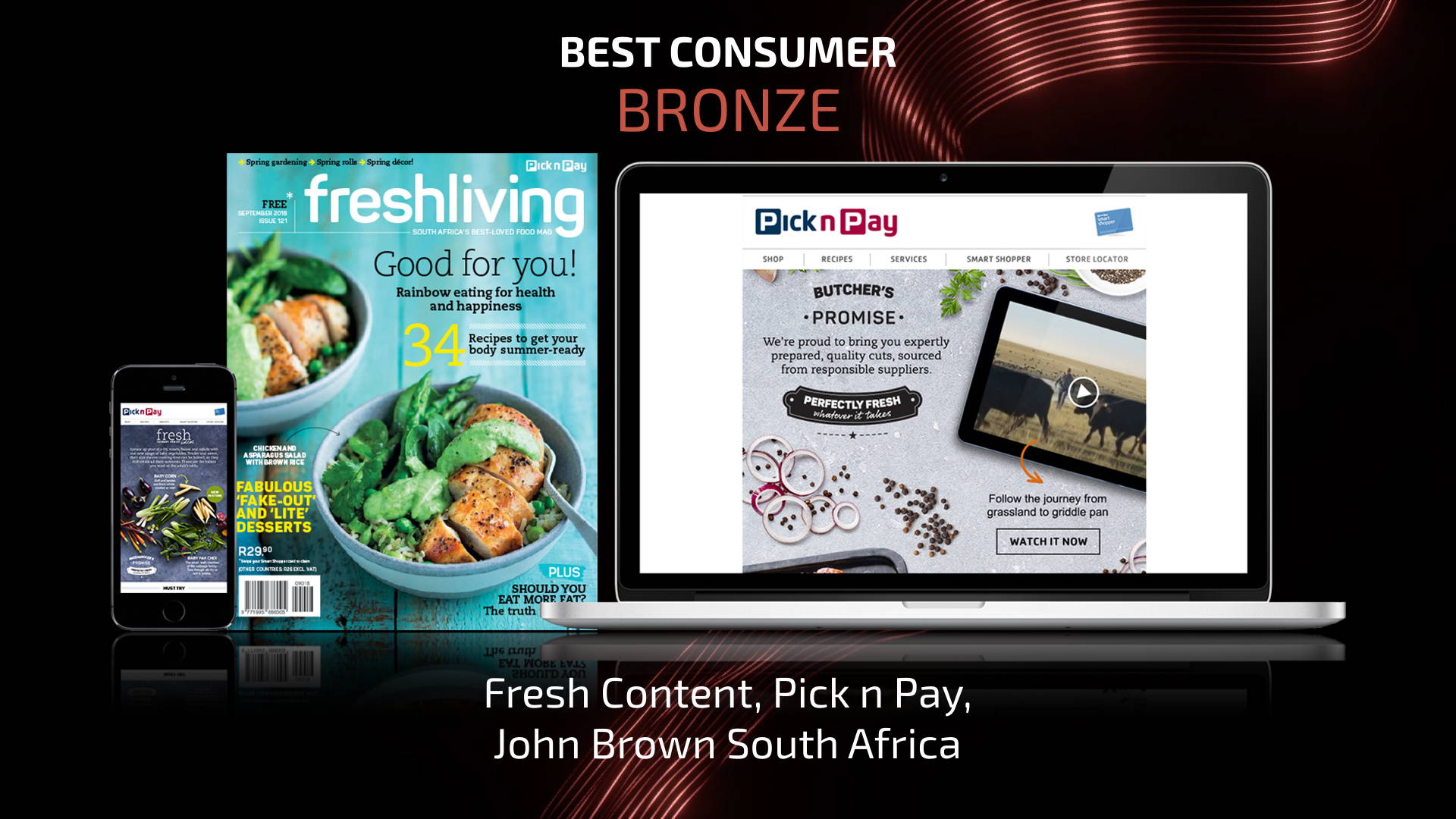 ---
Frölunda Torg is the biggest shopping centre in Gothenburg and, like most retail outlets, Christmas is their most important sales period. They wanted to stand out above the seasonal marketing noise with a campaign that attracted consumers away from online shopping, as well as other retailers, so instructed their agency to devise a content strategy that increased both the amount of shoppers and amount of social media interaction.
Rather than simply talk about the range of shops and services in Frölunda Torg, their solution was to demonstrate it by inviting 24-year-old Alonnika to live there for two weeks. In that time, she lived in a small cottage in the shopping centre, shopping, eating, trying out different products, participating in events and meeting with visitors and customers, her every move followed by users of Facebook, Instagram and YouTube.
The adventures of Alonnika were a great success, with the centre recording its highest sales figures in 51 years. "This consumer-driven campaign involved, engaged and clearly delighted customers," said the judges, "developing a brand synergy so strong that the social media interaction leapt up."
A close second was MediaCom's work for Voltarol and Britain By Bike, which "provided content that brings the product message to the surface" while Bronze was awarded to John Brown Media South Africa for Fresh Content, a multi-platform strategy that "demonstrates strong brand synergy."
GOLD - THE NORWEGIAN DIRECTORATE FOR CHILDREN, YOUTH, AND FAMILY AFFAIRS, GEELMUYDEN KIESE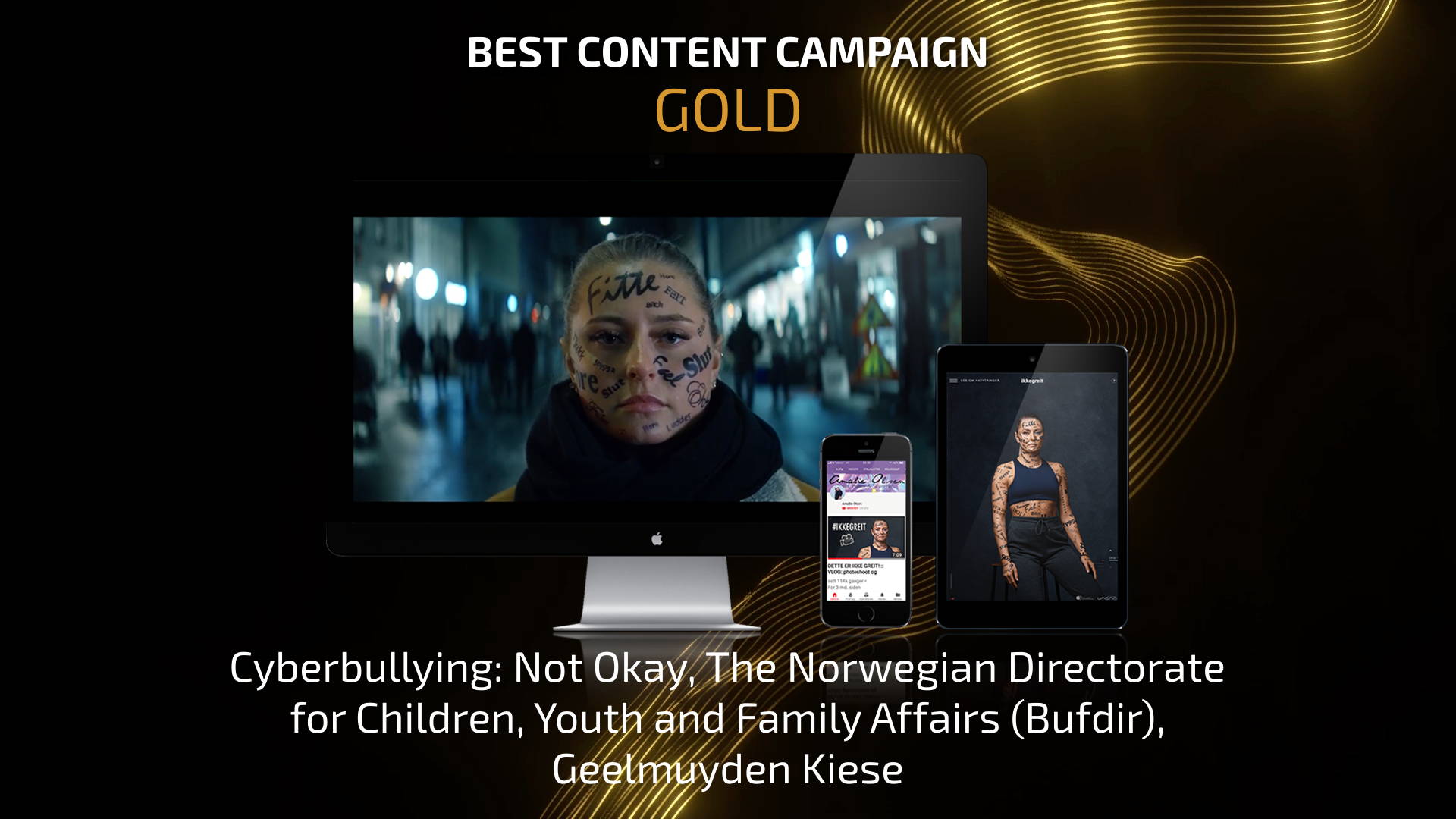 SILVER - GLAXOSMITHKLINE, MEDIACOM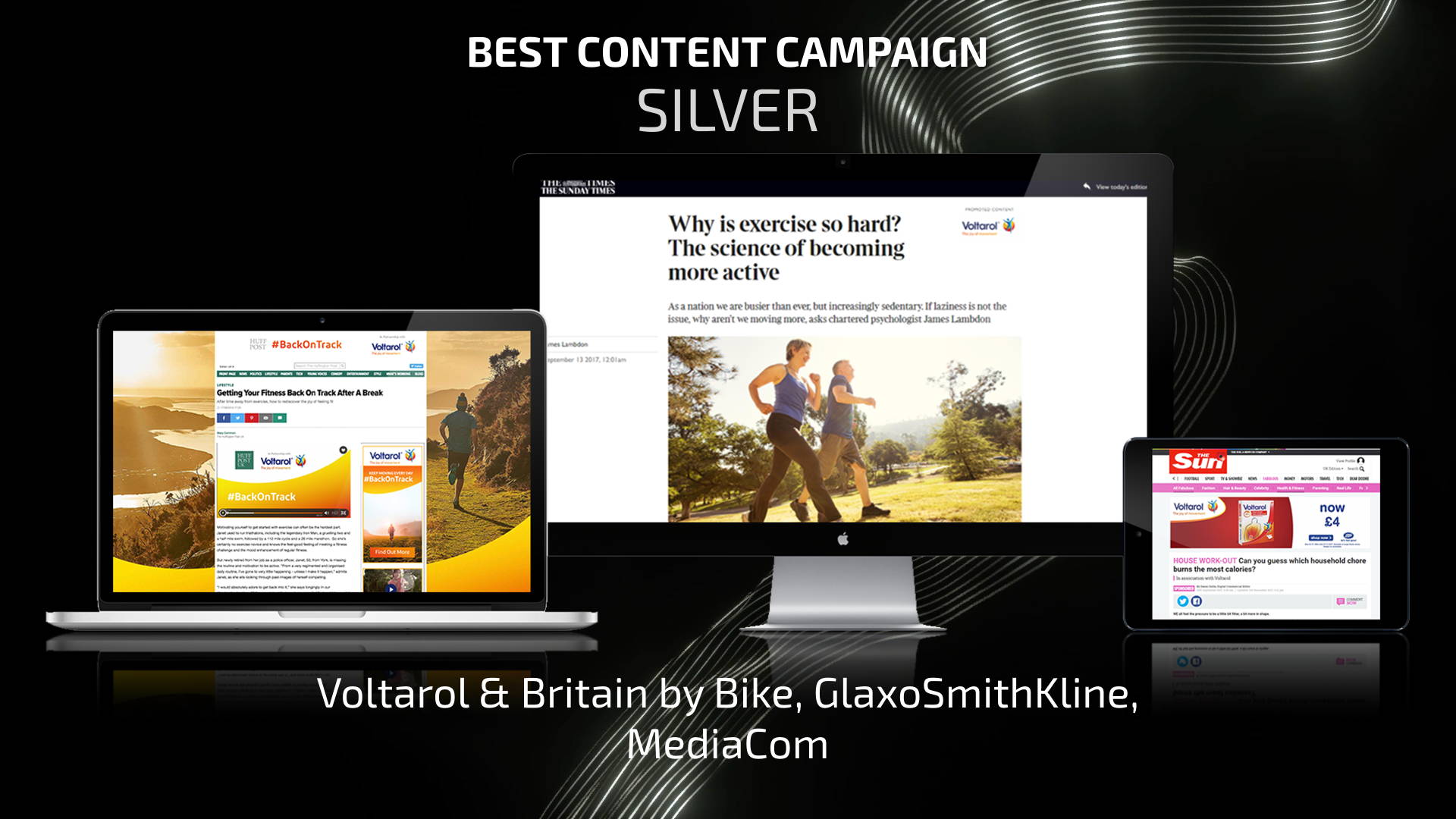 BRONZE - ABN AMRO MEESPIERSON, LVB CONTENT MARKETING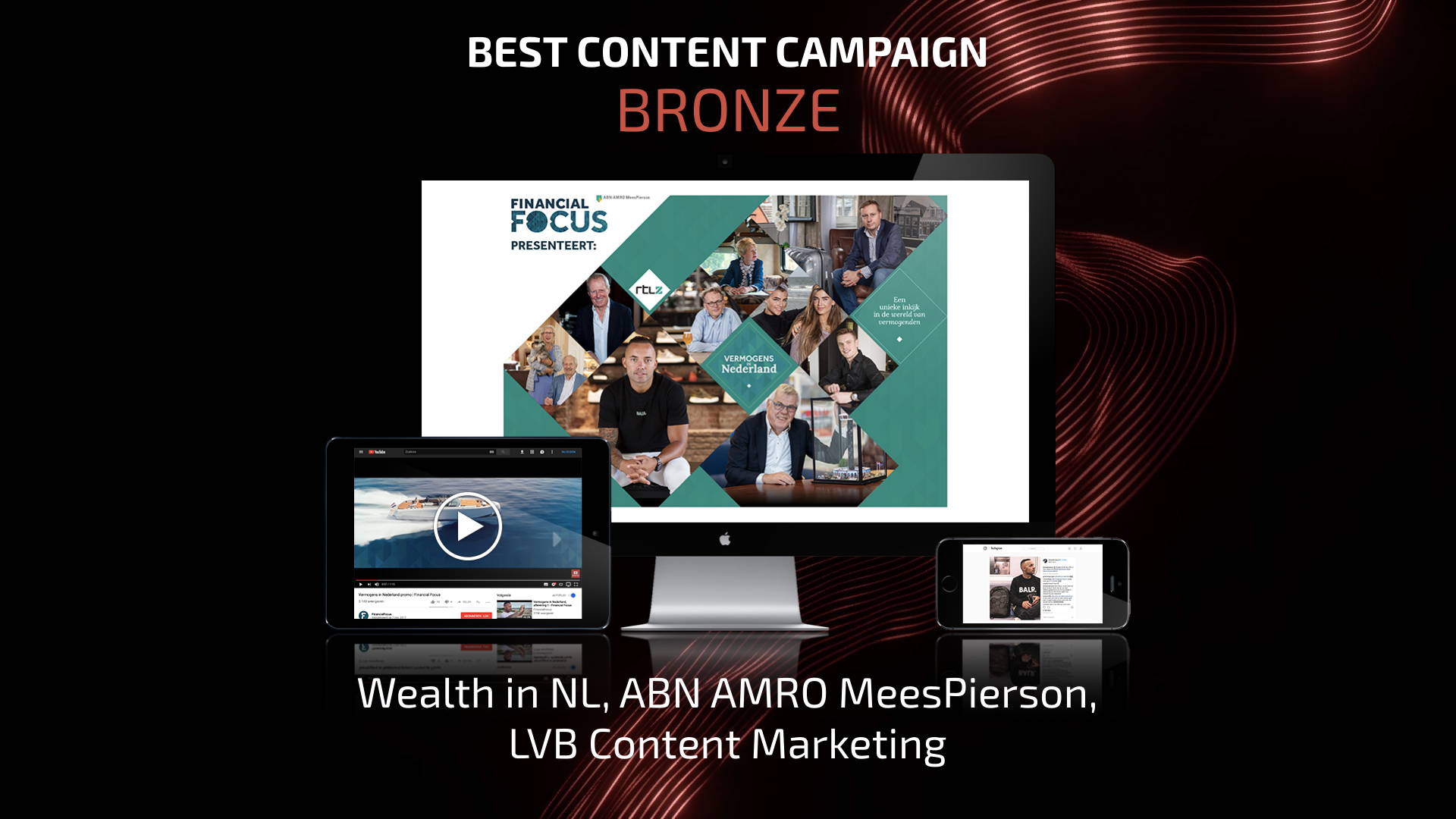 ---
In Norway, four out of 10 girls have experienced sexually offensive hatred online, so government department The Norwegian Directorate for Children, Youth and Family Affairs wanted to influence the country's 13-17 year-olds to take a stand against cyberbullying.
They did this by enlisting the help of YouTuber Amalie Olsen, who agreed to have a number of hateful comments painted onto her body. Chosen from Amalie's own social media profiles, the comments could then be taken away from her body by young people watching a video and actively expressing their opinion that sexually offensive hatred was not OK.
With a social media reach of 2.2 million and 41 press articles being seen by 2.1 million, the success of the campaign was staggering, with the Norwegian Minister of Education, the Minister of Children and Equality, and the Prime Minister all getting engaged in the movement. "This solution worked because the agency team understood the audience so well," said the judges. "By letting people control the content, the agency created an absolutely fantastic campaign."
Again, MediaCom's was awarded Silver for their work for Voltarol and Britain By Bike, with the judges praising it for being "a unique solution of targeting two audiences by presenting real stories in an accessible way," while Bronze was taken by LVB Content Marketing, whose Wealth in NL campaign "felt like a genuine insight."
BEST DISTRIBUTION STRATEGY
GOLD - THE NORWEGIAN DIRECTORATE FOR CHILDREN, YOUTH, AND FAMILY AFFAIRS, GEELMUYDEN KIESE
SILVER - CORN FLAKES & KELLOGG'S, THE STORY LAB & CARAT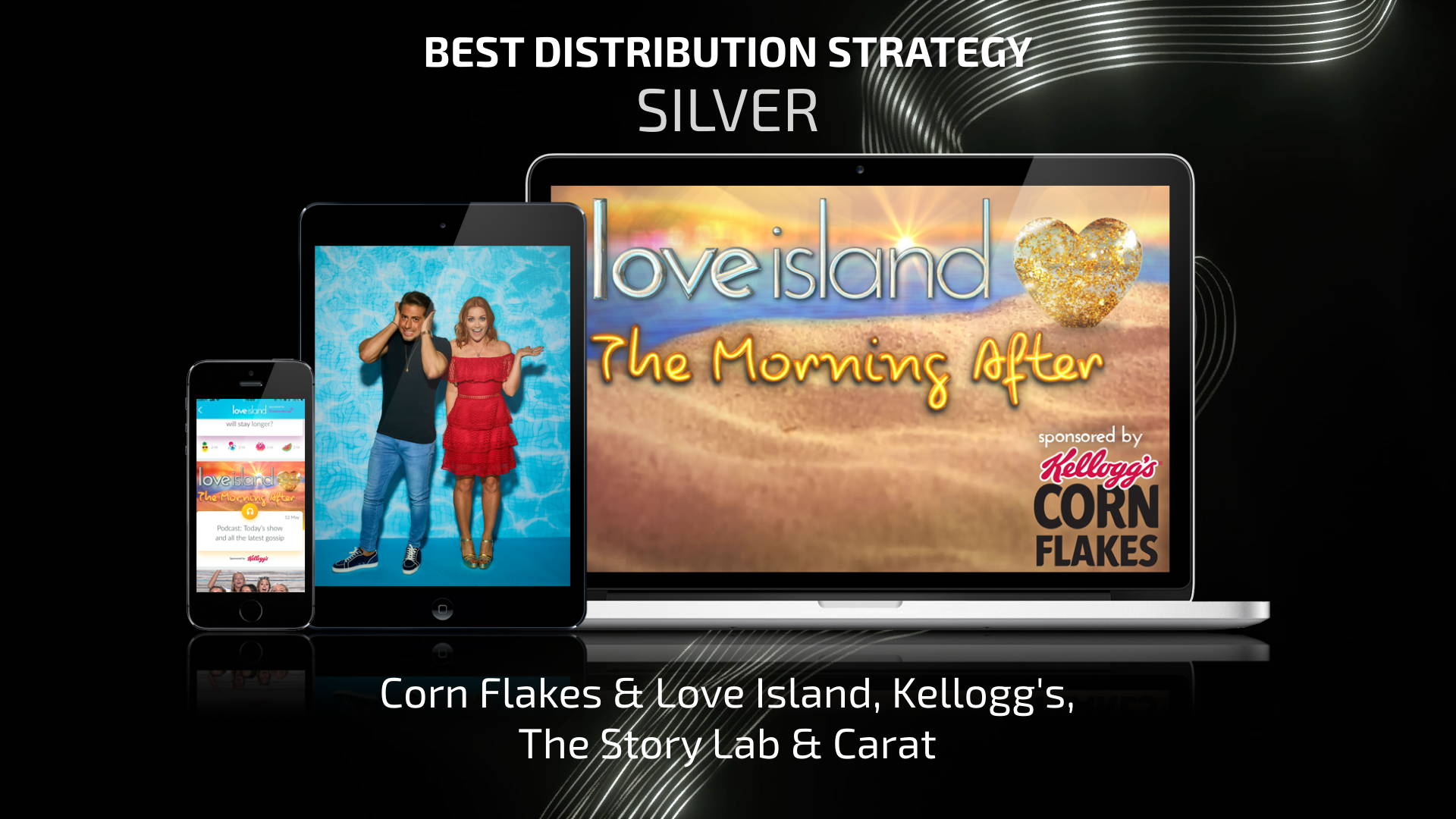 BRONZE - VOLVO TRUCKS, SPOON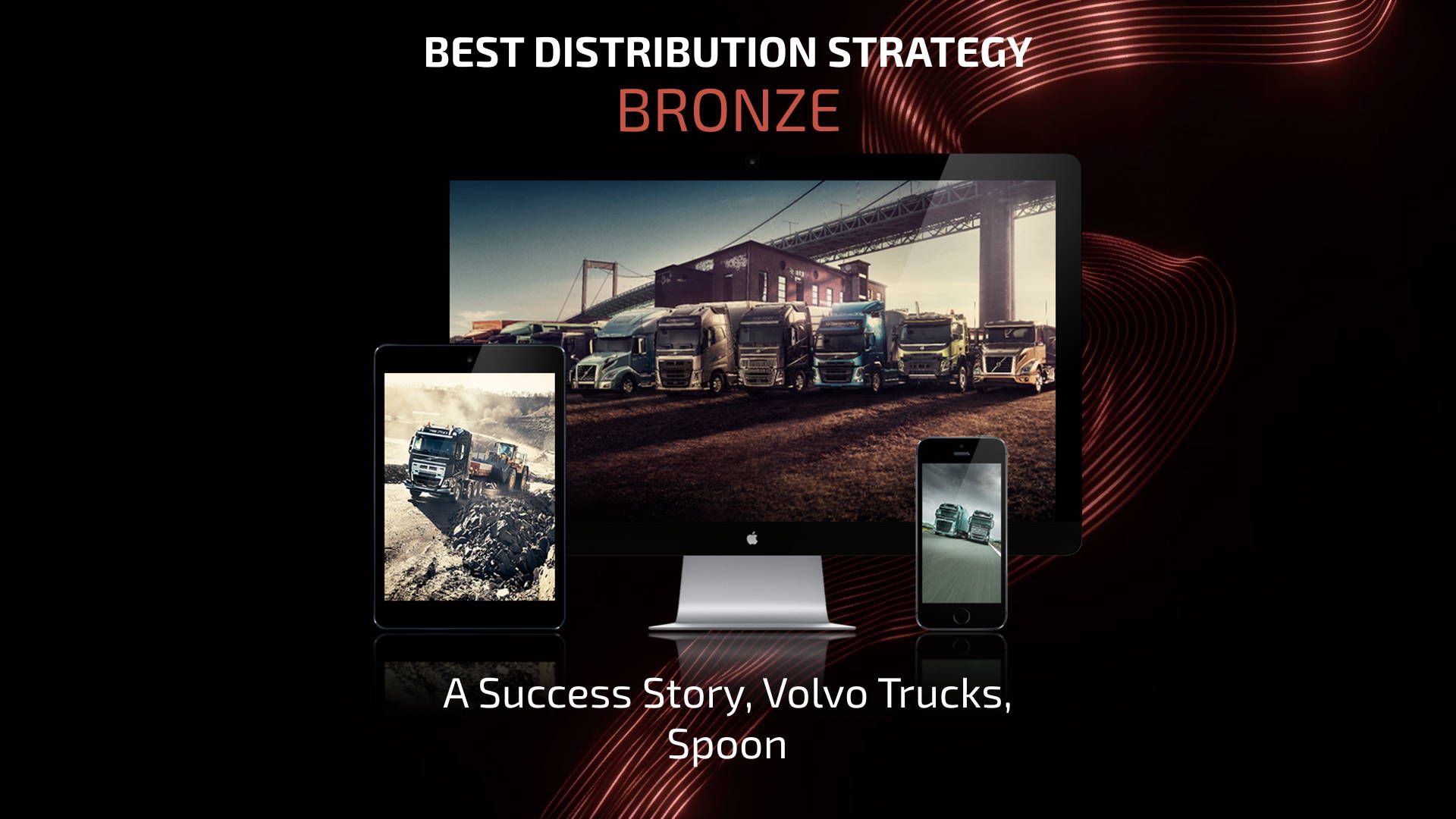 ---
A second Gold award for the Cyberbullying: Not Okay campaign produced for the Norwegian Directorate for Children, Youth and Family Affairs by Geelmuyden Kiese, which impressed this set of judges for its "highly engaging content that really spoke to its audience and clear proof of effectiveness."
The campaign, which was created with the help of YouTuber Amalie Olsen, highlighted the problem of sexually offensive online hate comments amongst the young, and used video and social media to spread the message that such comments were not OK. With over half the population of Norway engaged on the campaign, its success was clear, and the decision to award it Gold was unanimous.
Another courageous campaign – albeit for very different reasons – was awarded Silver, with The Story Lab and Carat bringing together Kellogg's Corn Flakes & Love Island. Judges called it "a brave campaign that really stretched the brand and produced solid, credible results." Meanwhile, Bronze was awarded to Spoon's social media campaign for Volvo Trucks, which was "a very clever solution that did well in creating content for a very specific audience."
GOLD - NATWEST, JOHN BROWN MEDIA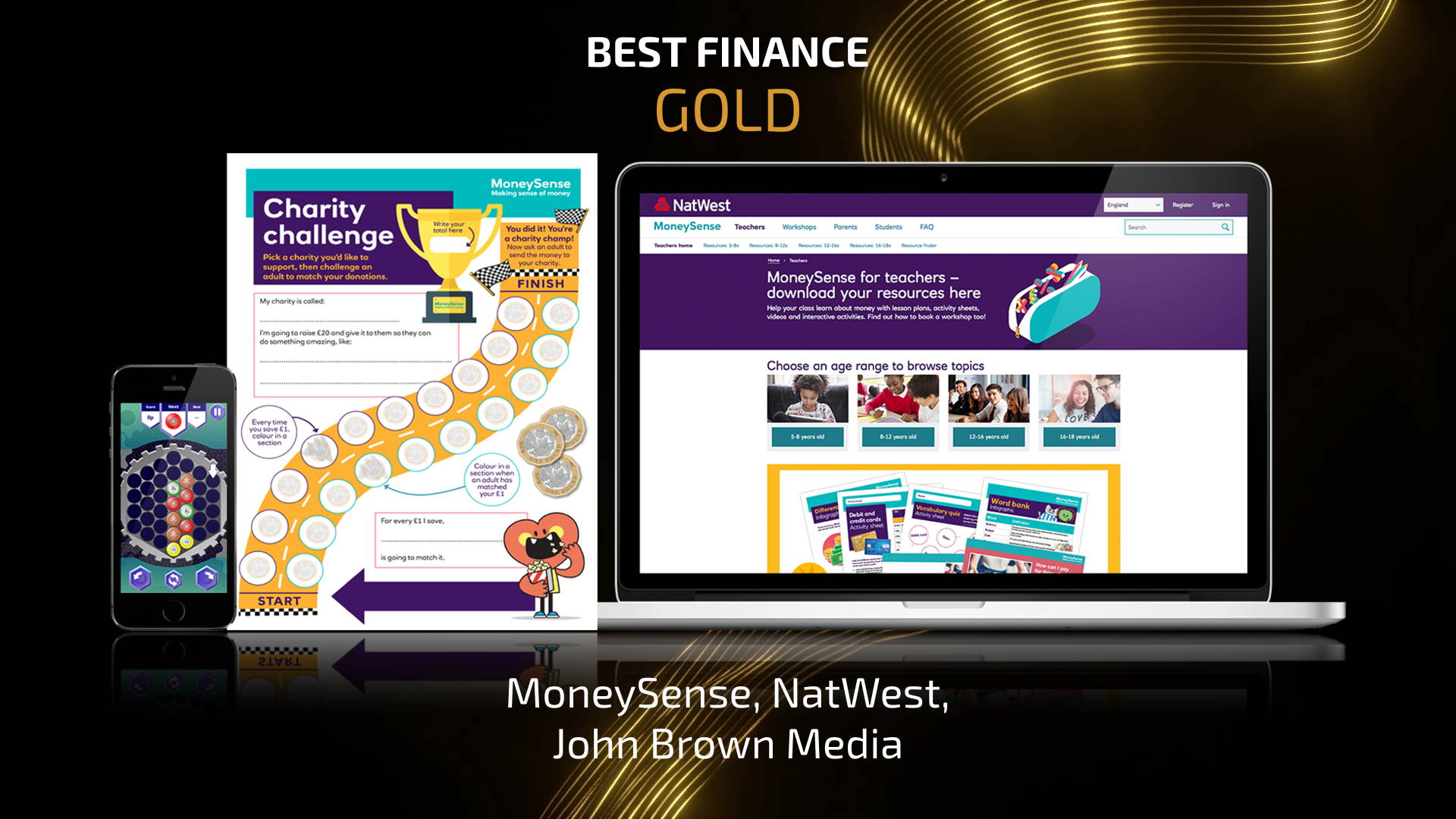 SILVER - AGEAS, BRANDCONTENT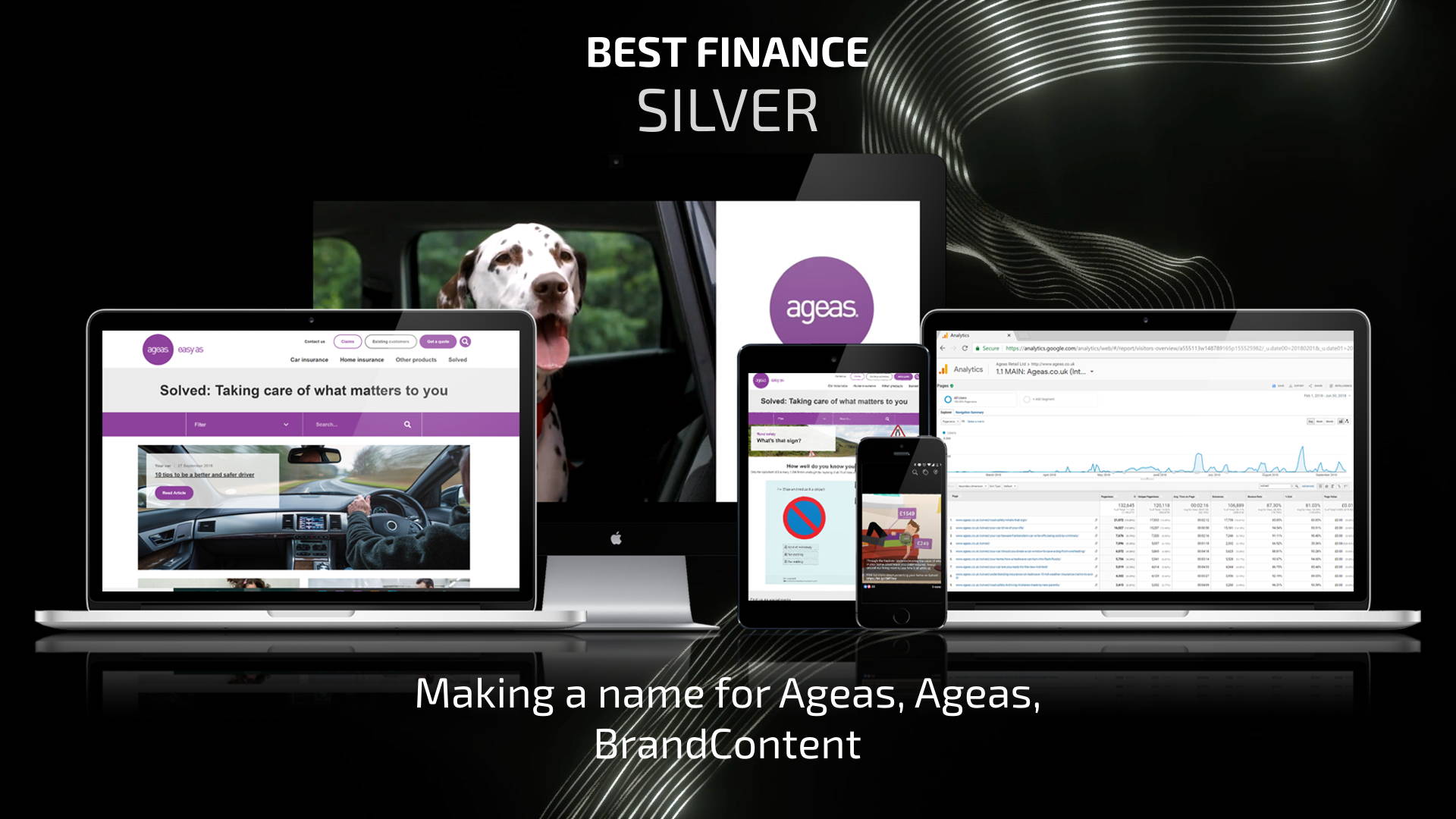 BRONZE - BARCLAYCARD, IRIS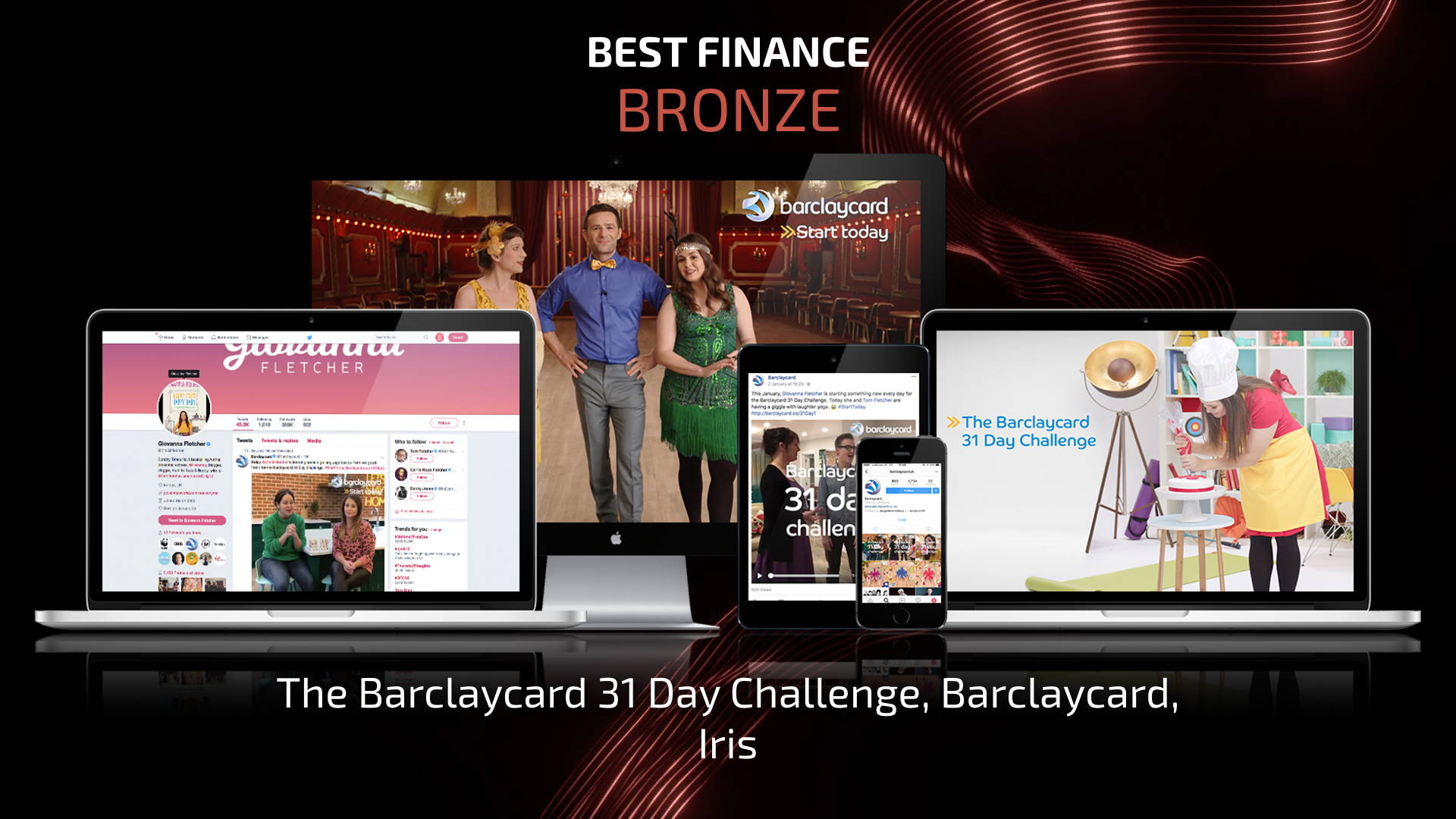 ---
Faced with alarming facts such as just 43% of young people are confident about managing their money, and a third of young people have no actual experience of putting money into a bank, NatWest wanted to overhaul their longstanding MoneySense educational initiative to become a financial content programme suitable for the modern teenager.
The solution John Brown Media created was a meticulously planned and responsive website that reflects the individual brands and regional curriculum requirements and currencies. Content includes a virtual bank, plus videos, quizzes, games, lesson plans and activities, ensuring that the programme is both educational and fun, while meeting the practical needs of young people and their teachers.
With an initial target of reaching a million young people by the end of 2018, the content programme reached over 1.5 million well ahead of schedule, with over 16,500 teachers and 9,200 schools registering. "This is great example of how content can drive real change and improve lives," said the judges. "It's an excellent entry with an impact that benefits both the brand and its audience."
Taking Silver, Brand Content's campaign for insurance company Ageas was commended for a "particularly impressive entry, especially considering this was from a standing start into a new market," while The Barclaycard 31 Day Challenge by Iris was "a really compelling entry, with an innovative approach to the creation process."
BEST INTER-COMPANY ENGAGEMENT
GOLD - THE NORWEGIAN LABOUR INSPECTION AUTHORITY, GEELMUYDEN KIESE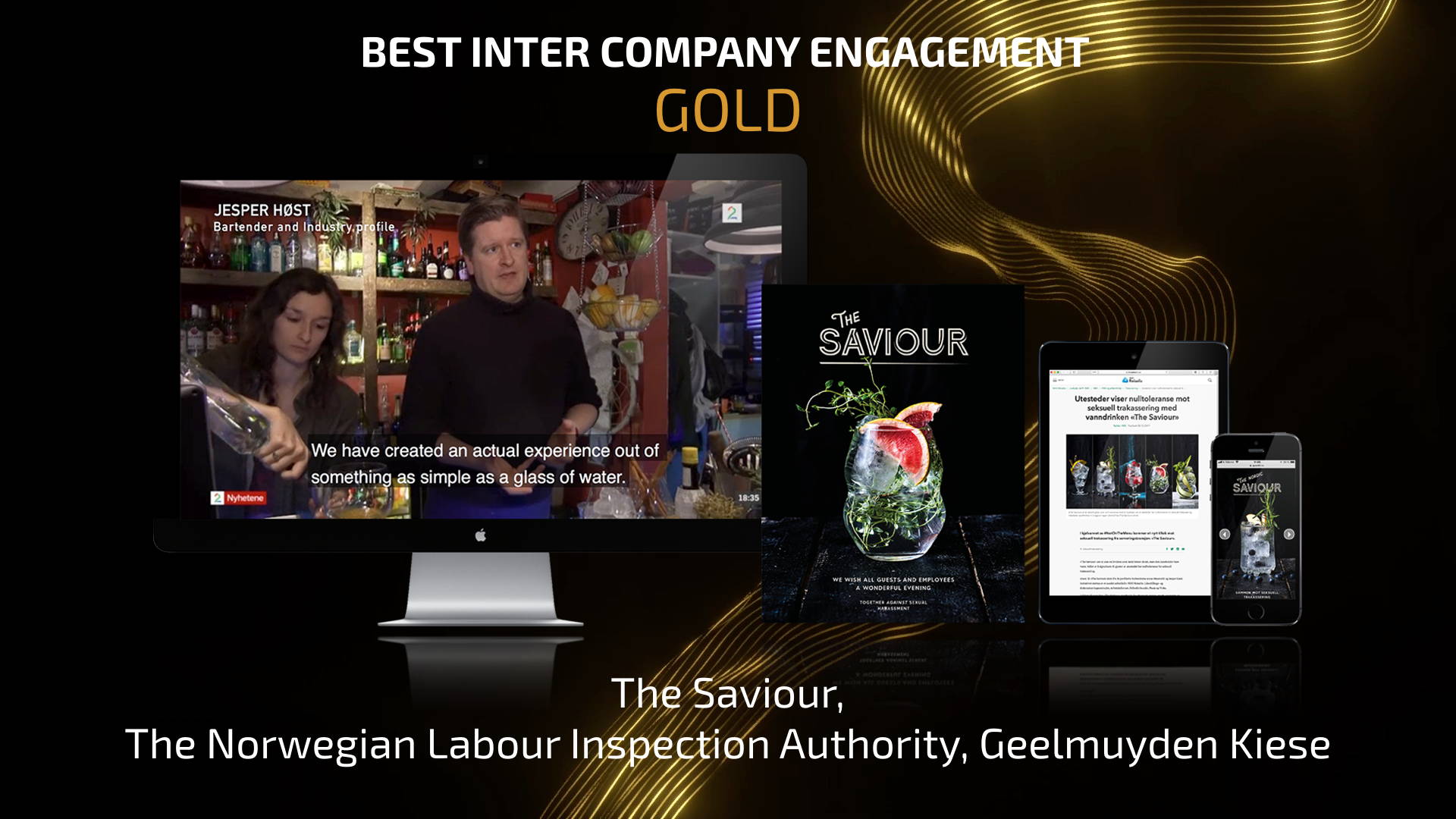 SILVER - THE NORWEGIAN LABOUR INSPECTION AUTHORITY, GEELMUYDEN KIESE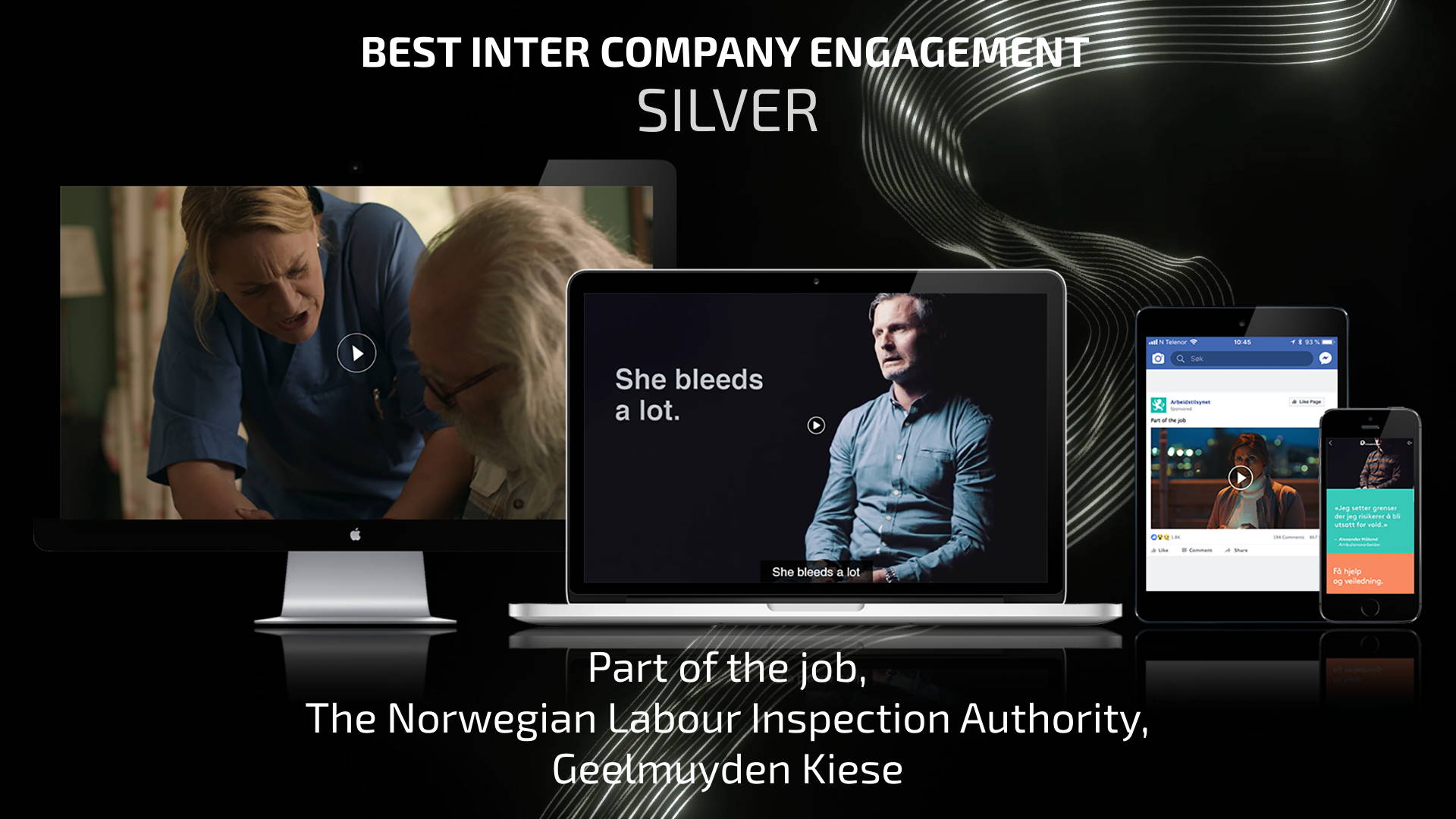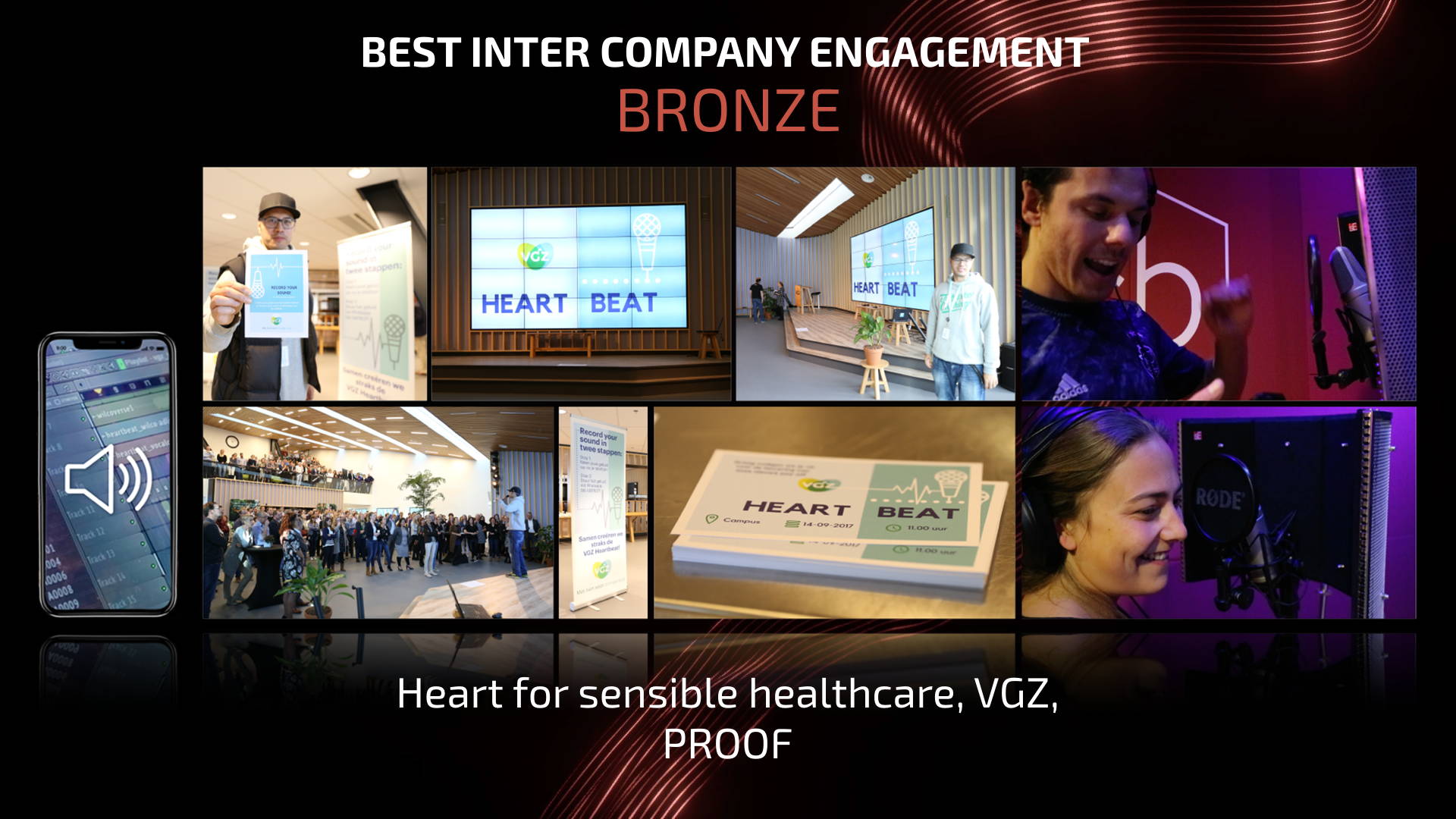 ---
In this brand new award category, judges were looking for content designed to drive employee and stakeholder engagement across multiple platforms, and the Gold winner demonstrated excellence in all fields. Created for The Norwegian Labour Inspection Authority, The Saviour tackled the issue of sexual harassment in the hospitality and nightlife industry, particularly around Christmas.
The Norwegian government agency had a tricky balancing act: to make customers and staff aware of the problem without affecting the atmosphere of the bar or club, so they tasked Geelmuyden Kiese to come up with a solution. That solution was 'The Saviour', a series of specially created cocktails that came with a coaster which carried the message 'Welcome. We wish all guests and employees a fantastic night. Together against sexual harassment.'
This subtle signal of zero tolerance received media coverage that reached over three million people just a few weeks after launch – more than half of Norway's population – and gained long segments on the evening news of the country's two largest TV channels. The judges were impressed, saying "This winning entry was a clever way to approach a challenging and important topic that produced excellent results and gained national momentum."
The Norwegian Labour Inspection Authority and Geelmuyden Kiese also took Silver, with their campaign to eliminate violence and threats at work (Part Of The Job), which the judges called "a bold approach to a challenging topic", while PROOF's Heart For Sensible Healthcare campaign for VGZ was deemed "a unique way to tackle employee engagement that inspired pride and positive sentiment within the staff."
GOLD - CHARTERED INSTITUTE OF PUBLIC RELATIONS (CIPR), THINK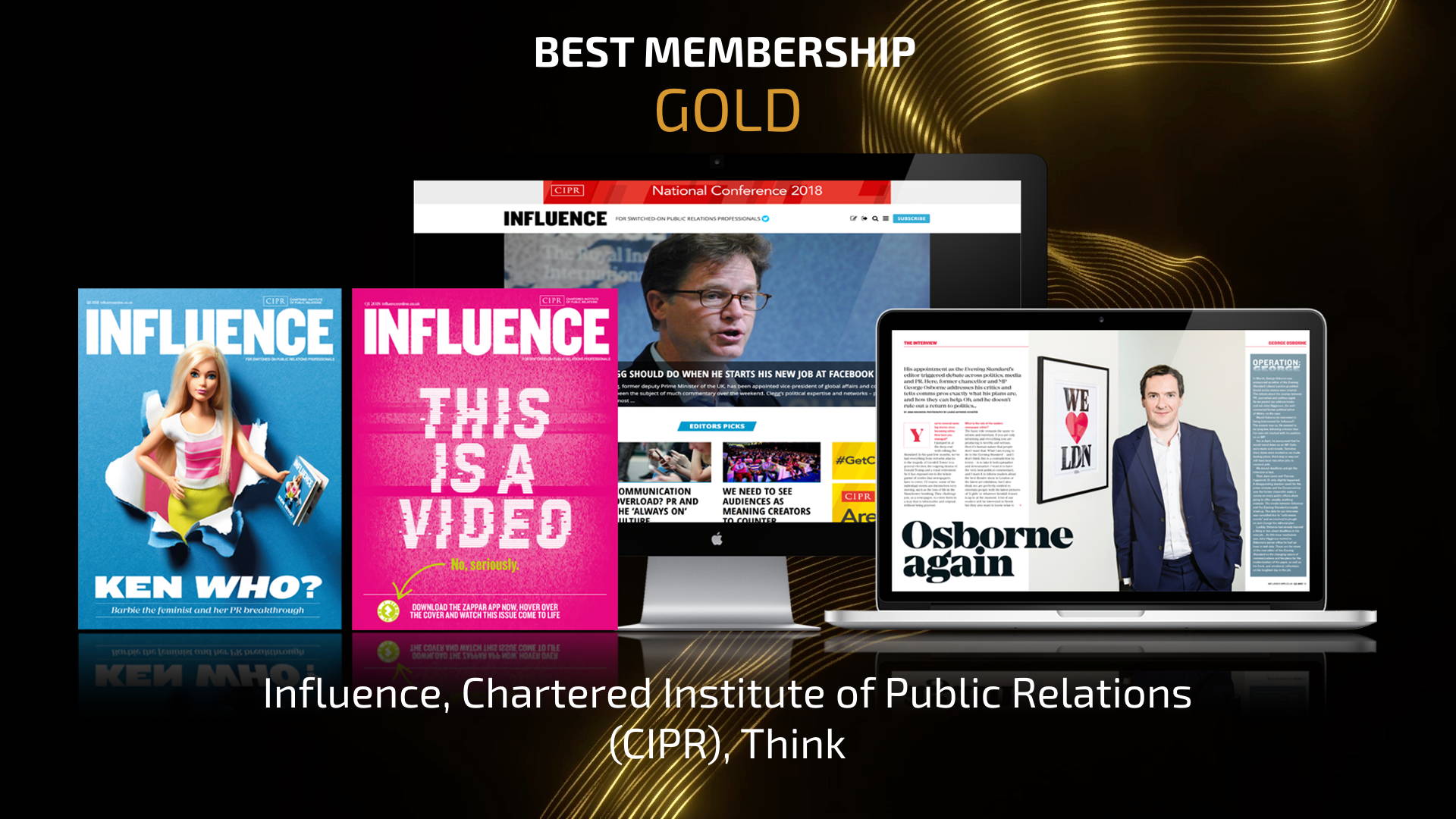 SILVER - ENGINEERS AUSTRALIA, MAHLAB
BRONZE - MOVEMBER, BRIDGE STUDIO & BOUNTIFUL COW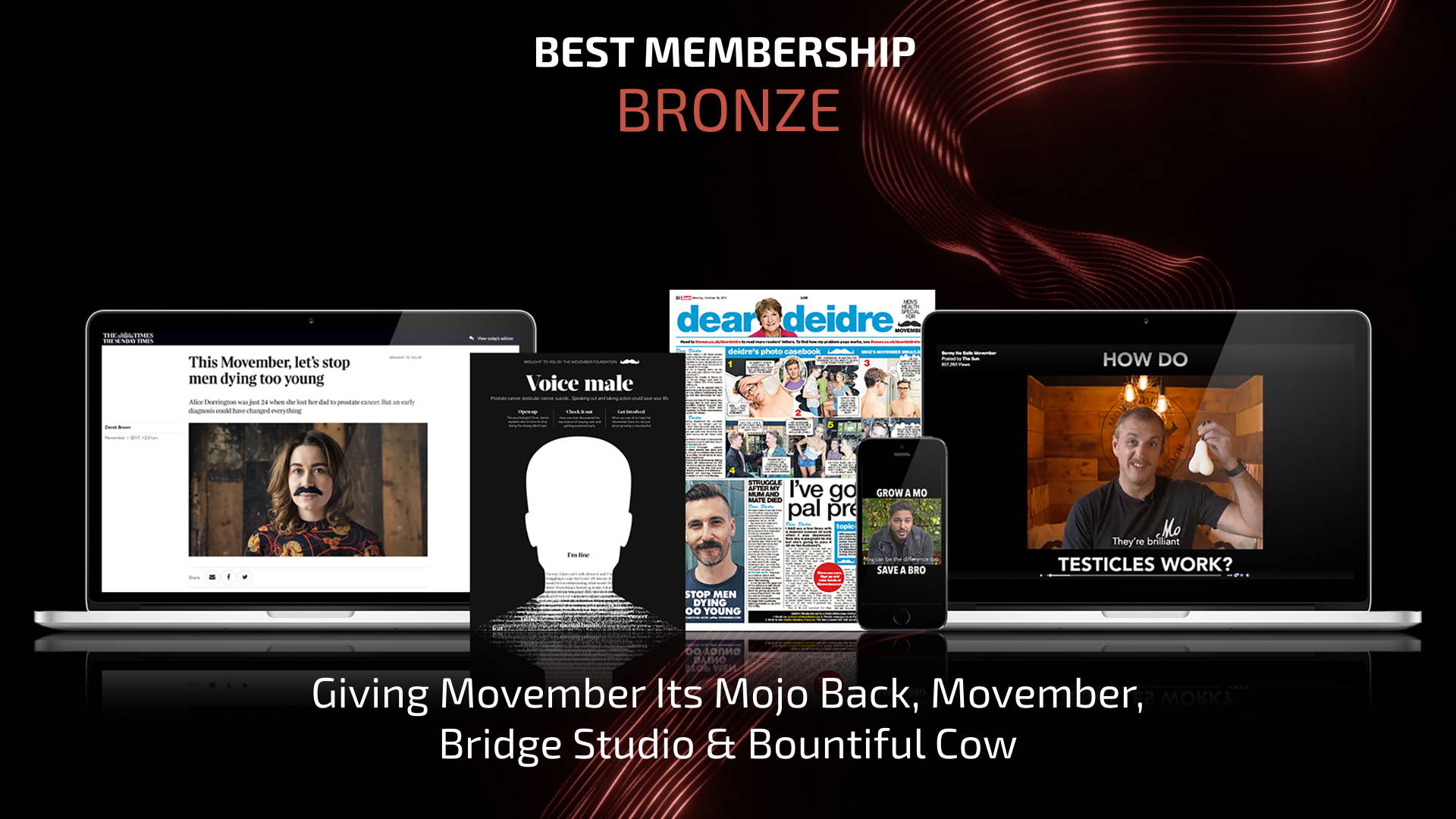 ---
If a magazine ever had a tough audience to please, it would be the winner of this year's Best Membership Award. Produced for the Chartered Institute of Public Relations, Influence is a key benefit for its 10,000 members, with an ambition to become the UK's most authoritative public relations journal.
With content that's genuinely fascinating whether you're a PR professional or not, as well as exclusive interviews and a healthy does of humour, it goes some way to achieving this, driving up membership retention levels, social media mentions and revenues. It even received a namecheck on Radio 4's highly influential Today programme. "This high-performing magazine has extended into a compelling wider member offering," said the judges. "The forward-thinking solution isn't afraid to take risks, which gives it a real edge."
The Australian content agency Mahlab gained Silver for its multi-channel campaign for Engineers Australia, which the judges called "inspiring and appealing", while Bronze was taken by Bridge Studio & Bountiful Cow for Giving Movember Its Mojo Back – "a highly effective campaign," said the judges, "that used a targeted, multi-channel approach."
GOLD - MOVEMBER, BRIDGE STUDIO & BOUNTIFUL COW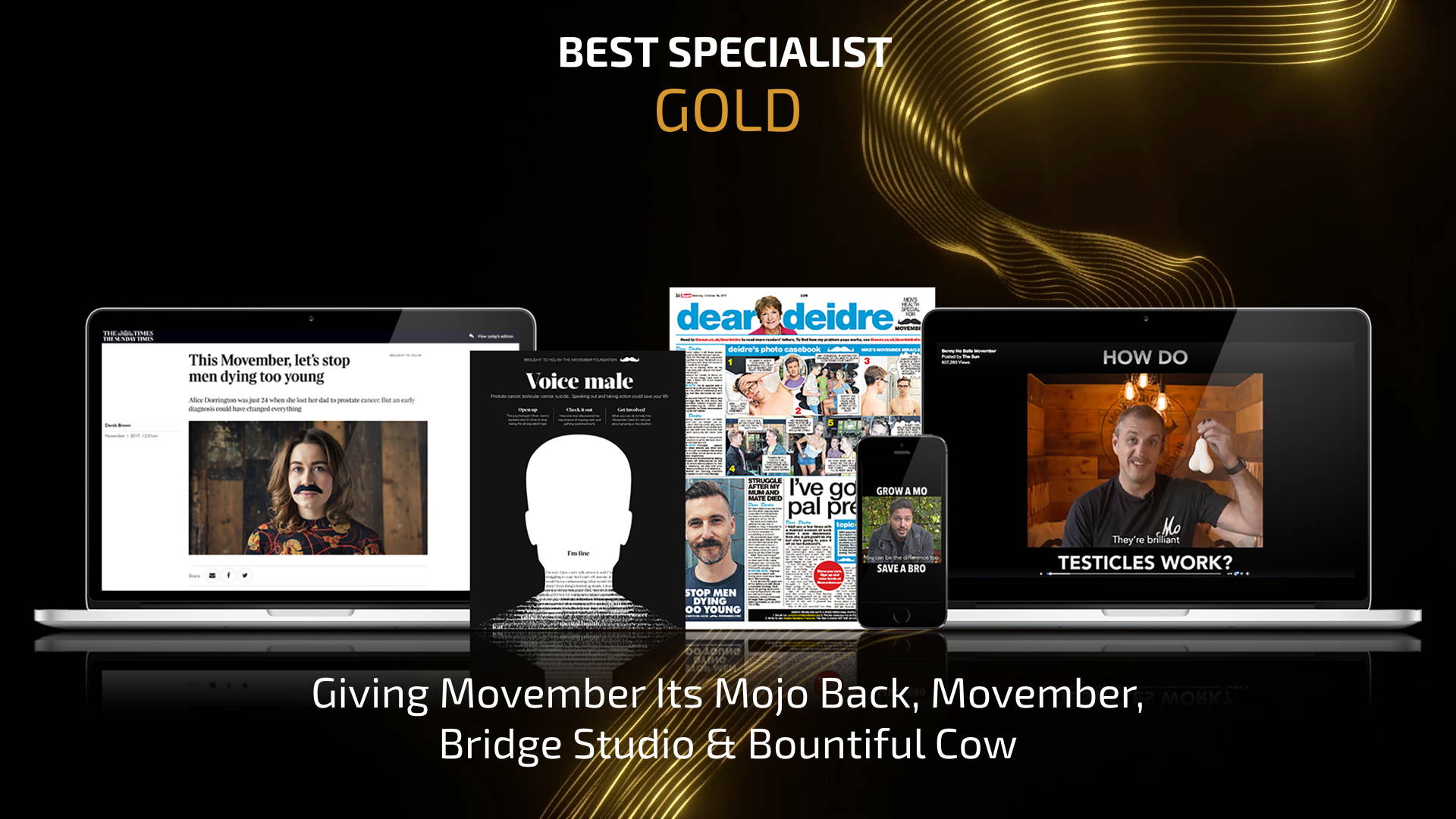 SILVER - UNDERSTANDING PATIENT DATA, BRICKWALL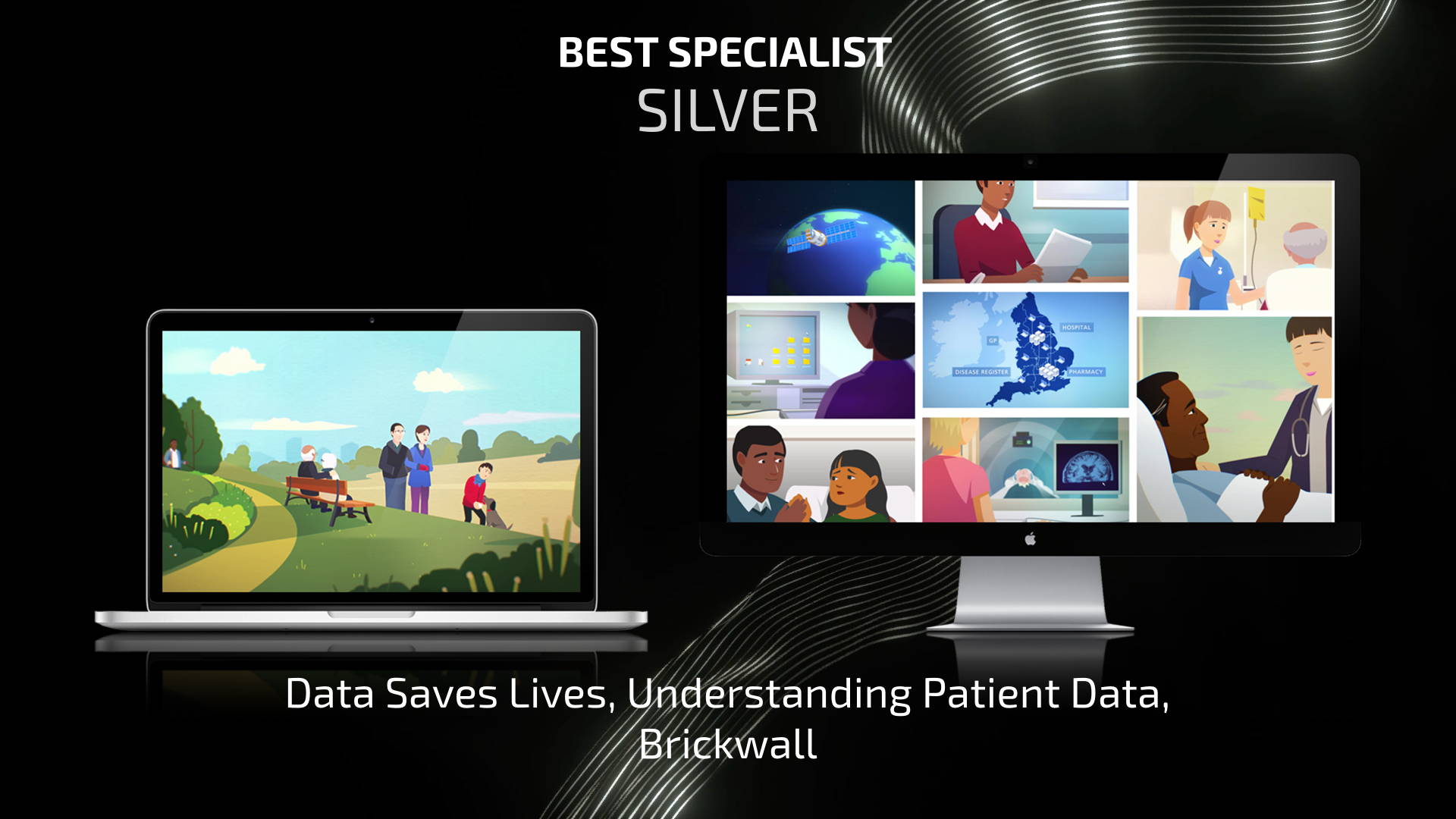 BRONZE - COCA COLA COMPANY - FANTA, MEDIACOM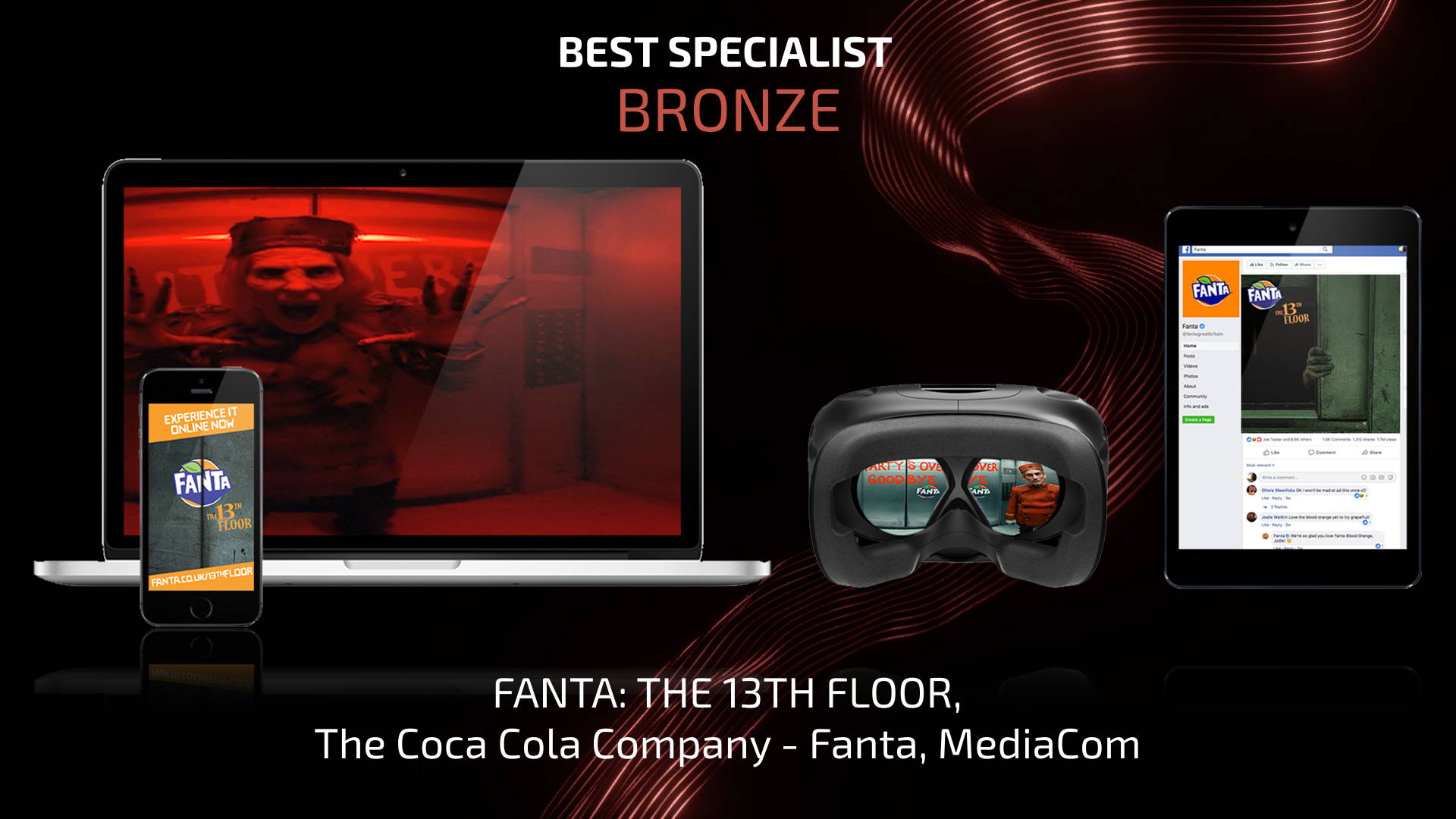 ---
After receiving a Bronze in the Best Membership category, the Movember campaign grabs Gold in Best Specialist. After a year in which participation rates and donations were down, this iconic annual campaign needed to become relevant again – a task given to agencies Bridge Studio and Bountiful Cow.
The mission of Movember is simple: to raise money and awareness of men's health issues, such as prostate cancer, testicular cancer and male suicide. What the content needed to do was to share real stories, show what can happen when everything is bottled up and how Movember is helping to help prevent it. Having discounted advertising and online forums as unlikely to encourage men to open up, a multi-platform editorial partnership was chosen as the ideal solution.
So branded, curated and commissioned content was deployed across Sky, The Sun, The Times, TalkRadio and TalkSport, using News UK and Sky's ability to generate awareness at scale, which delivered stunning levels of new engagement and donations. Over 50,000 'MoBros' signed up to the campaign, with a 16% increase in fundraising. The judges said: "It's a challenge for this campaign to stay relevant but the focus shift is inspired."
In a similar area, Data Saves Lives, Brickwall's campaign for Understanding Patient Data, gained Silver and was described by the judges as "a tough topic well executed, with results that went beyond expectation," while MediaCom took Bronze for their experiential Fanta: The 13th Floor work, which the judges called "great on a number of levels."
GOLD - QANTAS, MEDIUM RARE CONTENT AGENCY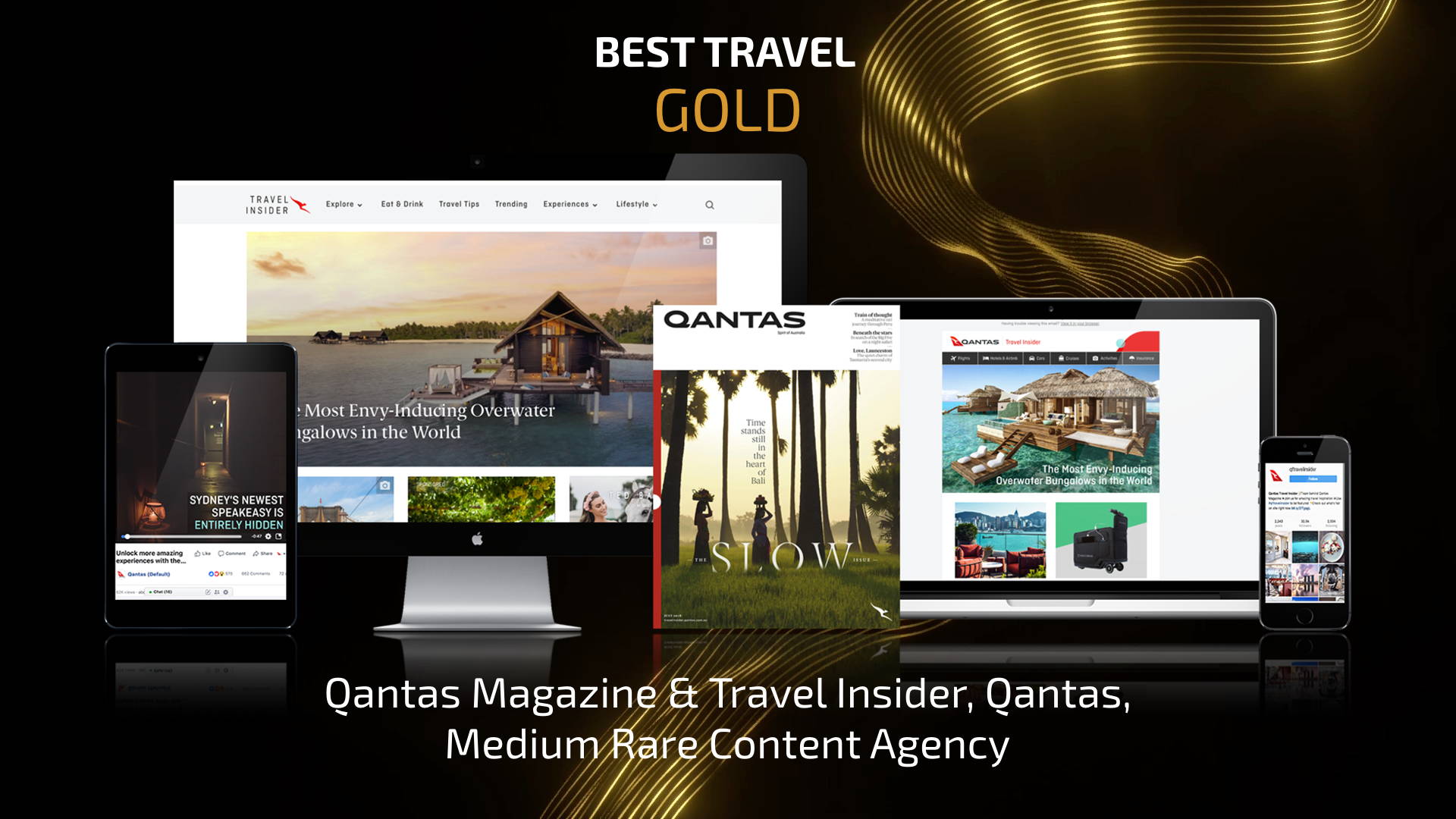 SILVER - NSB, GEELMUYDEN KIESE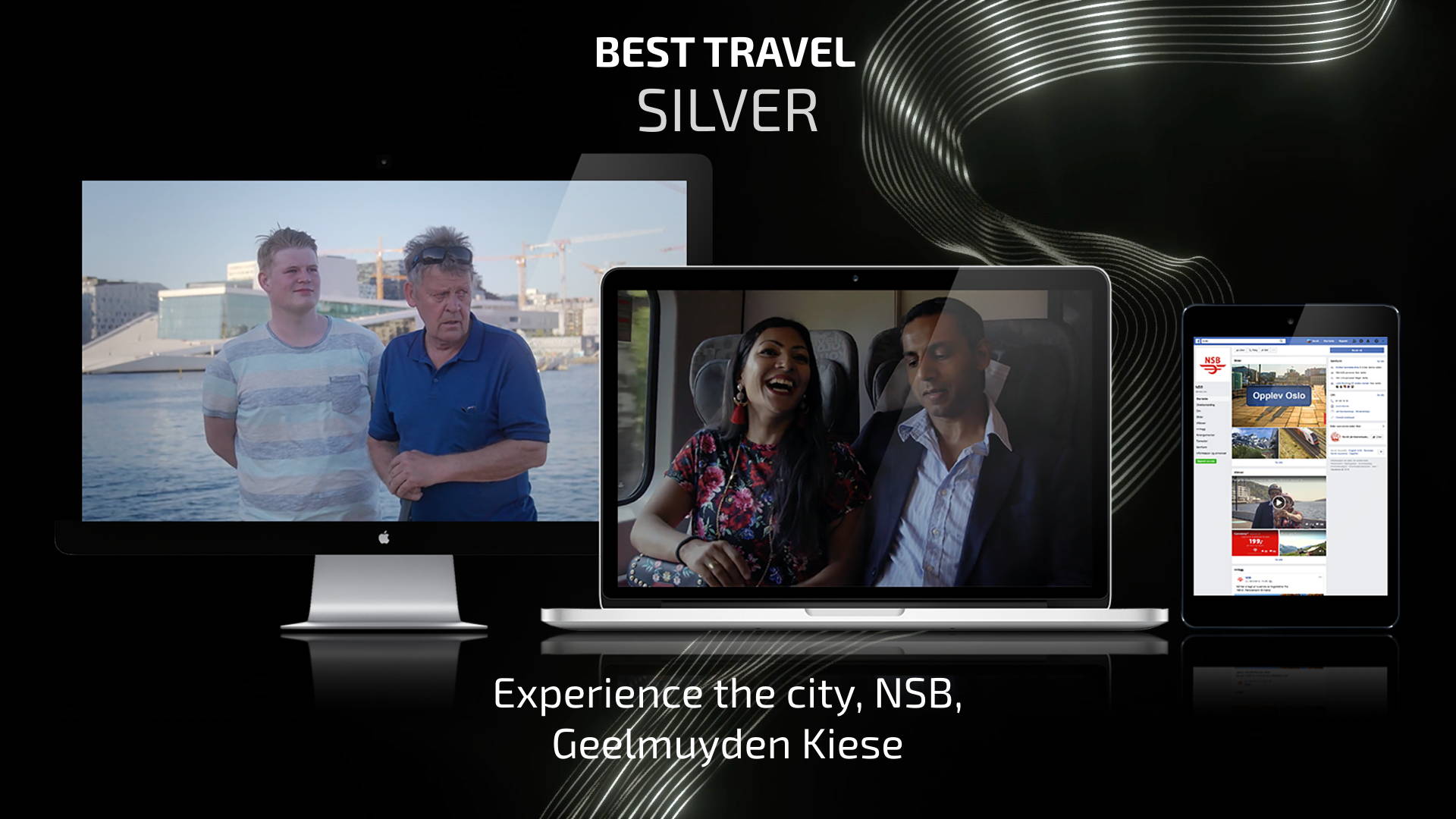 BRONZE - BRAND USA, EXPEDIA GROUP MEDIA SOLUTIONS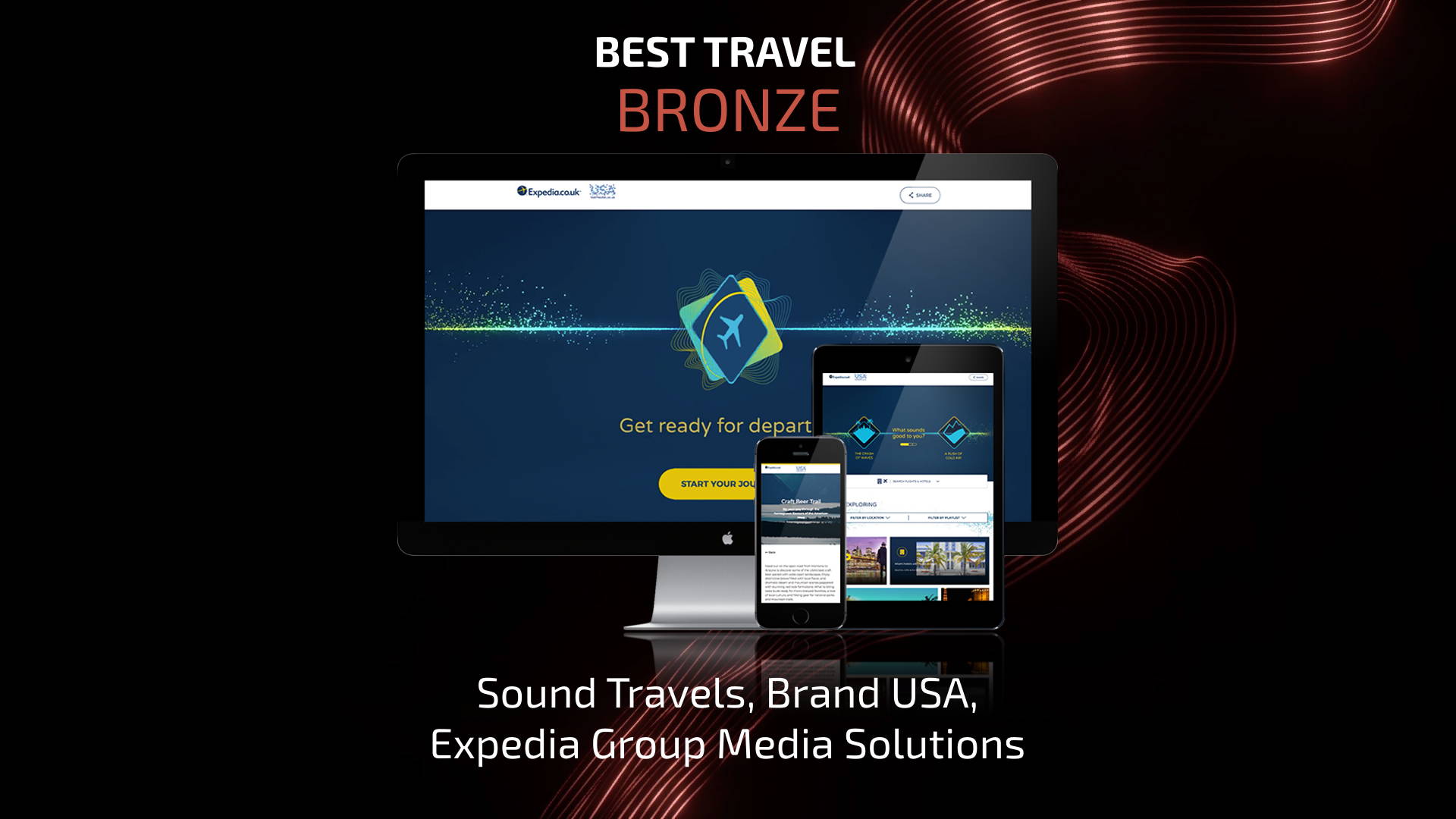 ---
As Australia's national airline, Qantas is one of the country's most successful and best loved brands, and in Qantas Magazine and Travel Insider, has content platforms to match. After a successful relaunch of the print magazine, digital hub, EDMs and social content approach, the content agency Medium Rare were given a number of new tasks for 2017-18.
Those tasks were to grow advertising revenue, increase audience and future-proof with data, creating deeper integration with audience insights and content to improve both content production and targeting capabilities for digital advertisers. All three were not only achieved but the results went far beyond client expectation, with huge year-on-year revenue increases, an increase in readership, and a replatforming project that moved the website from manual to real-time inspiration.
"This is a truly great example of content marketing," said the judges, "with beautiful brand synergy and impressive results." Meanwhile, Geelmuyden Kiese's Experience The City campaign for NSB was "a fantastically effective solution that demonstrated great use of media spend," and the Sound Travels campaign by Expedia Group Media Solutions for Brand USA was "a great creative concept that produced amazing results."
BEST USE OF CONTENT WITHIN MEDIA RELATIONS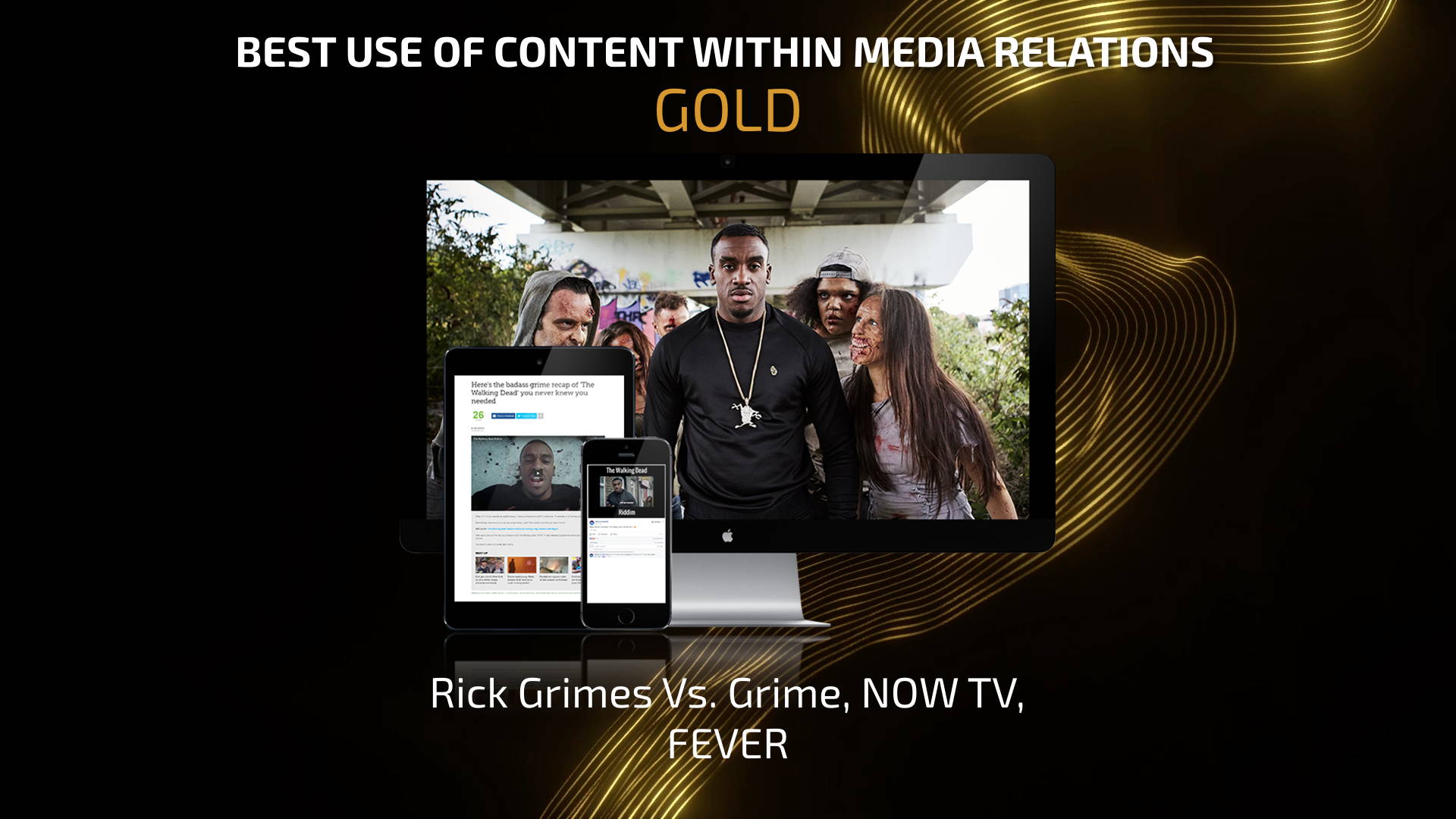 SILVER - THE NORWEGIAN LABOUR INSPECTION AUTHORITY, GEELMUYDEN KIESE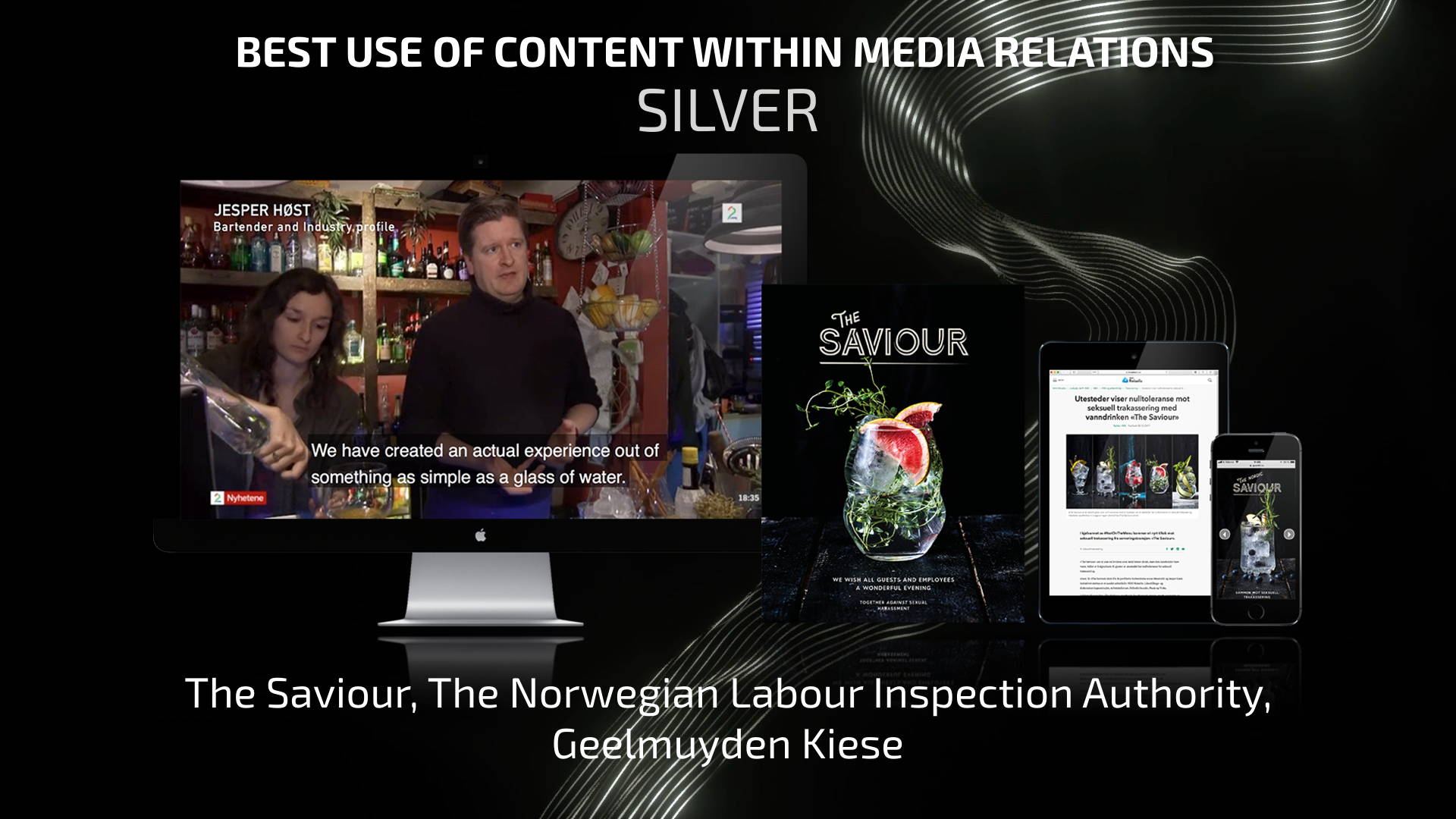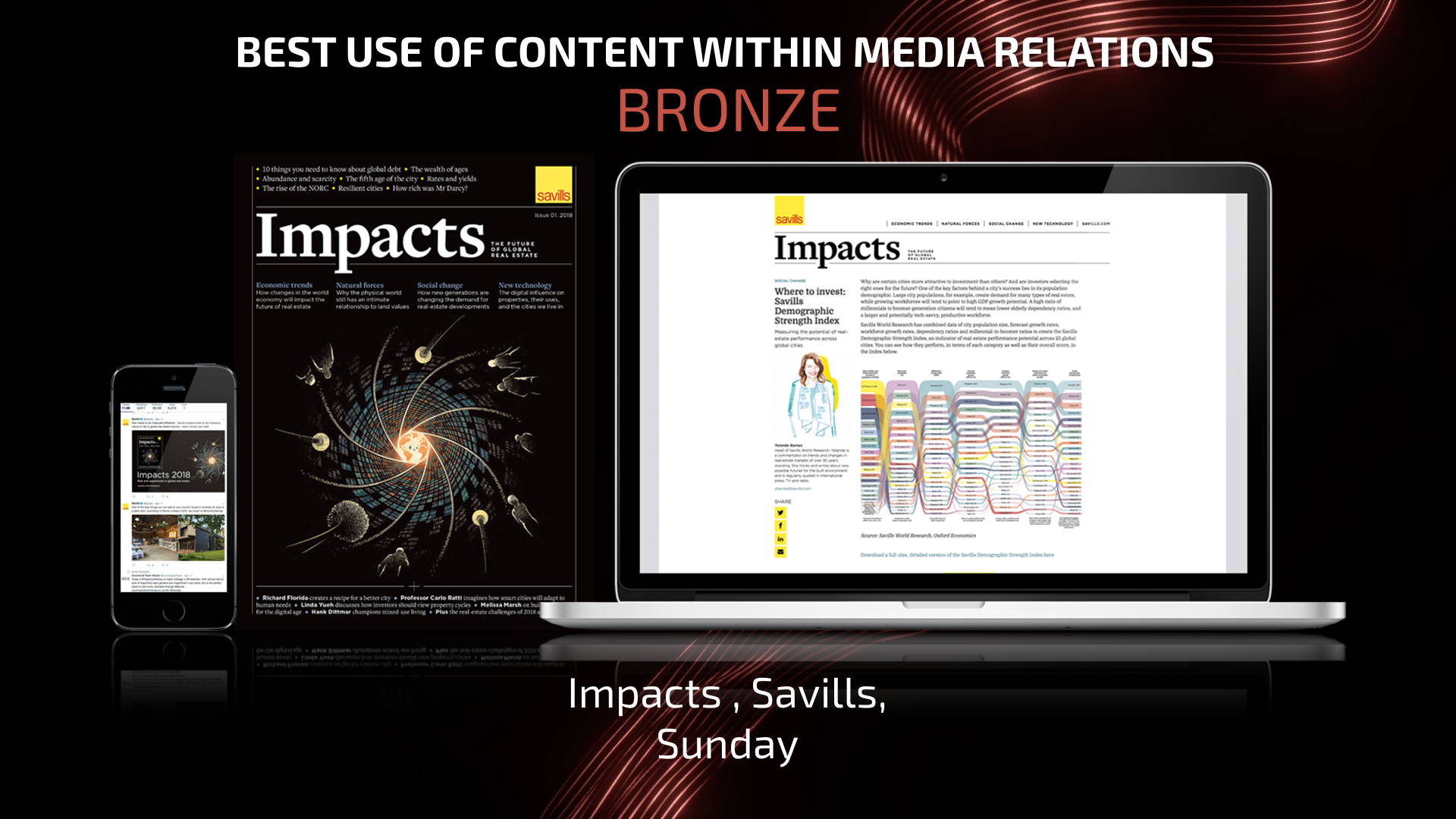 ---
Knowing that its core 18-30 year-old audience had been drifting away over the past seven years, content agency FEVER needed to find a new way of getting fans excited about zombie apocalypse show The Walking Dead.
After initial online research, the answer was found in the crossover between fans of grime music, The Walking Dead and the target audience, so the agency enlisted the help of grime star and Walking Dead fan Bugzy Malone to create a grime track that celebrated the show's most memorable characters and plotlines, driving fans to stream the show on NOW TV.
The results were astounding: The Walking Dead Riddim campaign drove 89 pieces of media coverage with an overall reach of 302,000,000, achieving a 17% increase in viewing figures. "Superb content and impressive metrics make this clever and creative campaign a clear winner," said the judges.
Having already won Gold in the earlier Best Inter-Company Engagement category, Geelmuyden Kiese's The Saviour campaign for The Norwegian Labour Inspection Authority took Silver thanks to it "highlighting an important issue across many different demographics," while Sunday's Impacts content solution for Savills took Bronze for its "clear objectives and excellent creative solution."
BEST USE OF DATA AND INSIGHT
GOLD - THE NORWEGIAN DIRECTORATE FOR CHILDREN, YOUTH, AND FAMILY AFFAIRS, GEELMUYDEN KIESE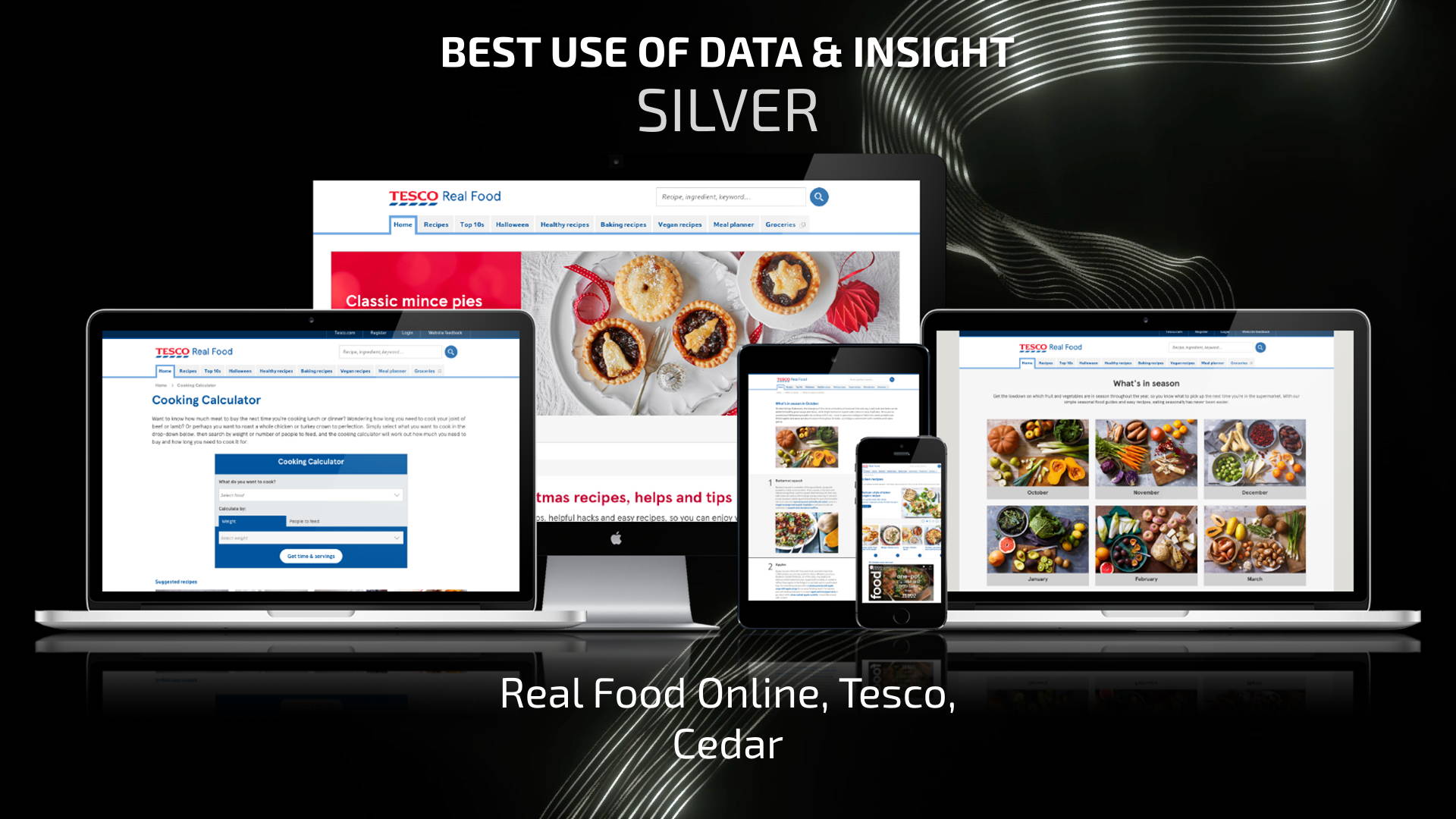 BRONZE - INGREDION, STEIN IAS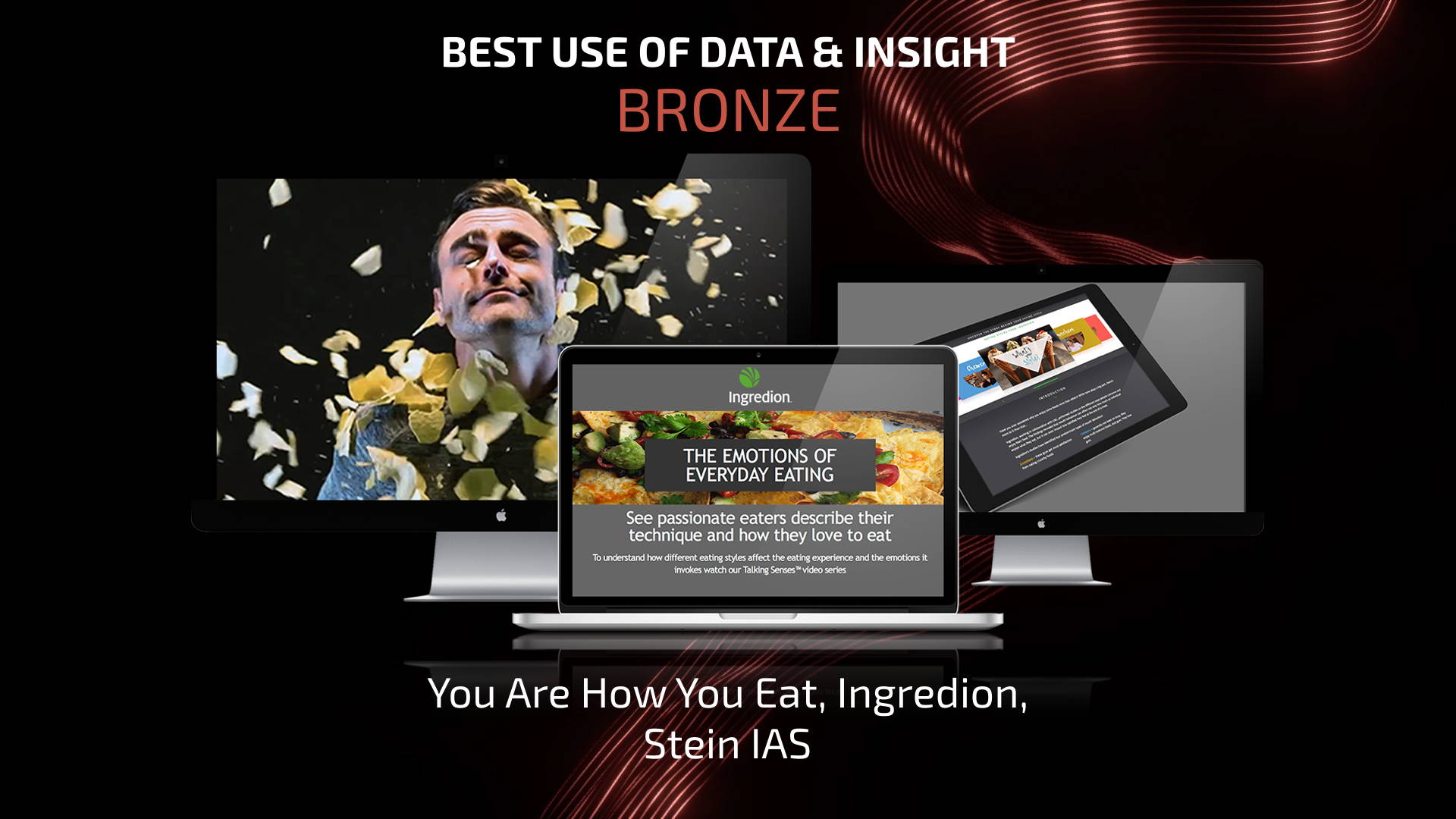 ---
Third Gold of the awards for Geelmuyden Kiese's Cyberbullying: Not Okay campaign for The Norwegian Directorate for Children, Youth and Family Affairs. The project aimed to influence 13-17 year olds to take a stand against cyberbullying by painting hateful comments onto the skin of YouTuber Amalie Olsen, before inviting the audience to remove the words and protest against sexually offensive hatred.
With 40% of the target audience engaged in the campaign from a social media reach of 2.1 million, this was a clear winner in the eyes of the judges. "This was a compelling use of insight that was executed with great creativity," they said. "The continuous use of data to ensure the right channels were used was a key reason why this won Gold."
Silver was awarded to Cedar's content work for Tesco, which was praised by the judges for its "rigorous use of data to underpin website development", while Stein IAS's You Are How You Eat campaign for Ingredion "showed a clever use of behavioural science to influence key decision makers."
GOLD - DATABLOOM, PUBLICIS.SAPIENT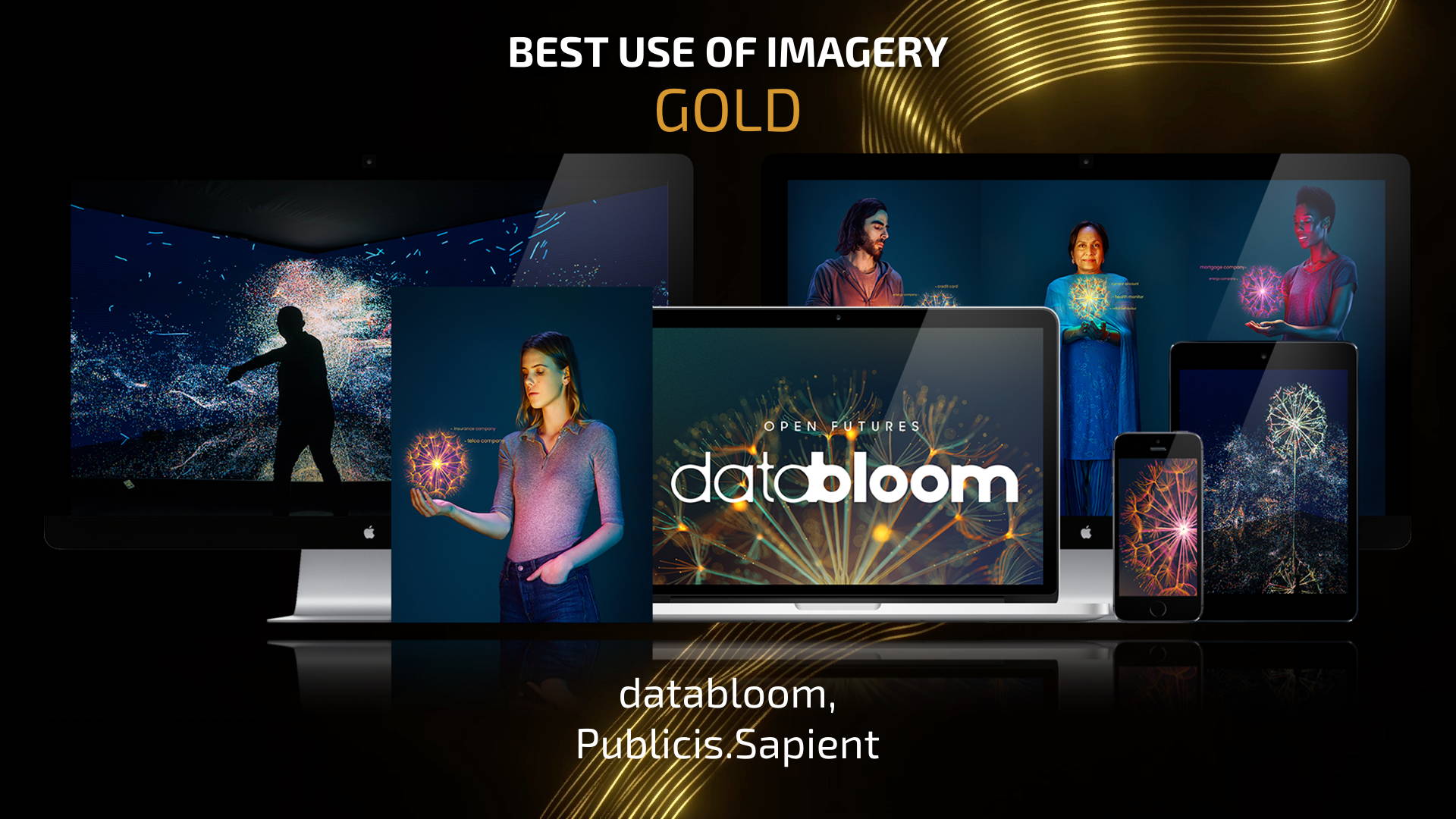 SILVER - WAITROSE & PARTNERS, JOHN BROWN MEDIA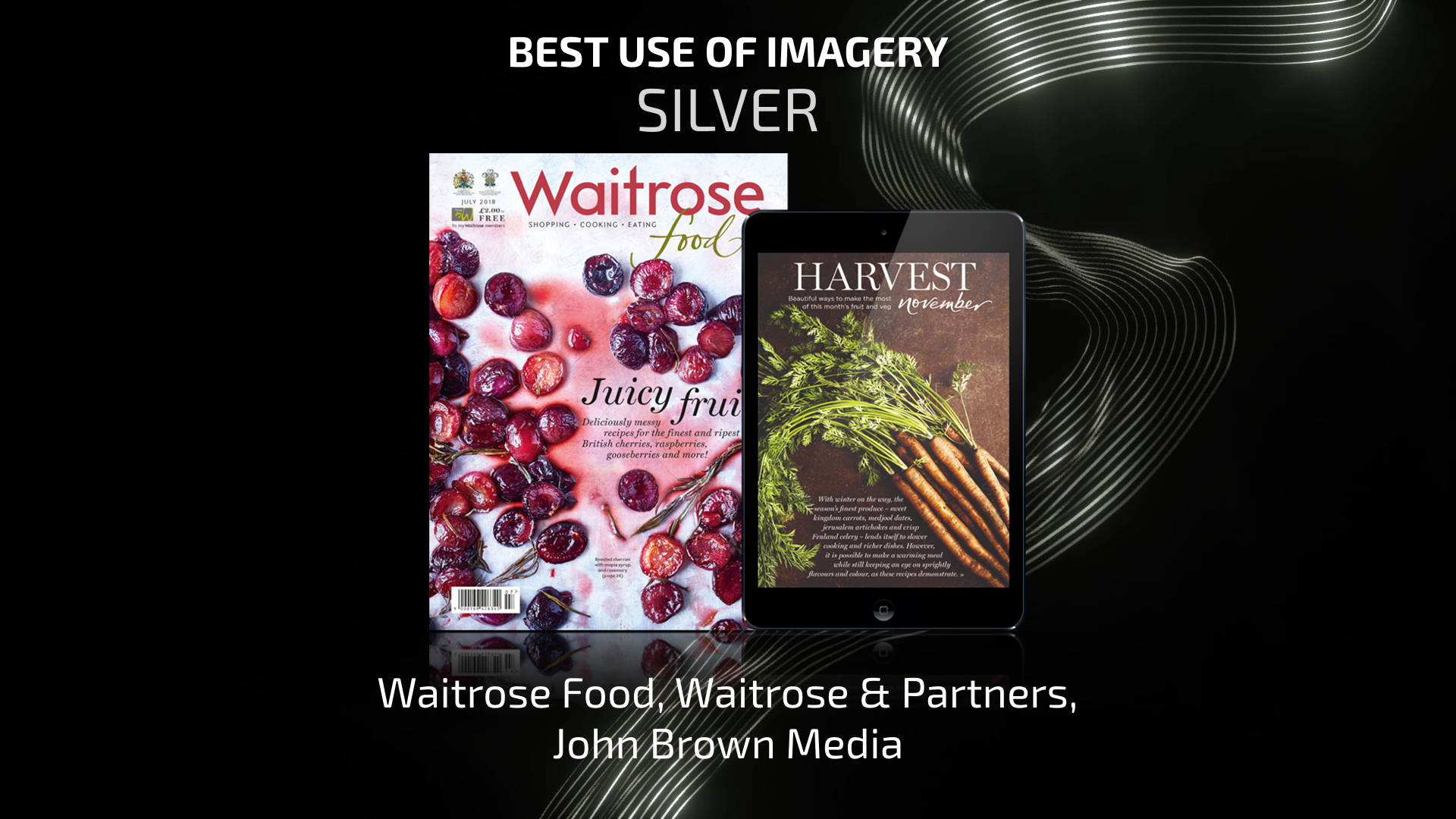 BRONZE - ASTON MARTIN, REDWOOD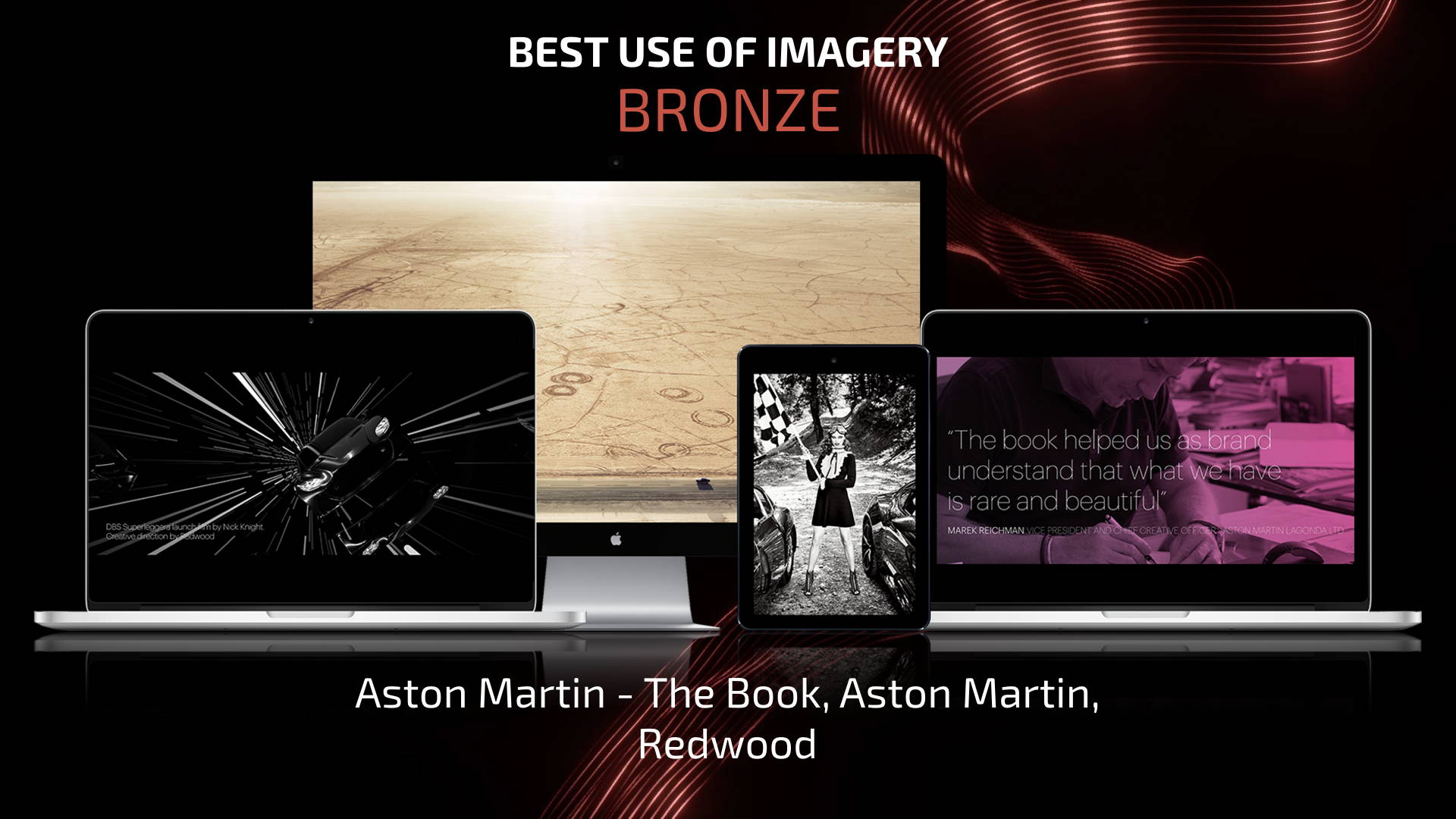 ---
Effective visualisation of data has become an increasingly important part of content, especially for clients in the financial services industry, and this Gold winner took the complex world of personalisation and created a beautiful, immersive digital installation to reach a challenging audience of FinTech conference delegates.
Aimed at key players in the financial services industry at the leading innovation showcase Money20/20, 'databloom' was created to showcase the thought leadership and generate business leads for Publicis.Sapient. Knowing they needed to surprise and delight their target audience, the agency transformed their conference stand into an immersive experience, using cutting edge techniques to create a calming, visually elegant way to demonstrate the capture and commercial exploitation of consumer data.
Attracting over 300 visitors over three days, databloom generated 2.92 million online impressions and 61,300 engagements, and delivered 157 macro leads for Publicis.Sapient. "This is a stunning piece of content," said the judges. "Impactful and a great example of how to visualise data. It takes a dry topic and creates a striking image that really tells the story."
Taking Silver, John Brown Media's Waitrose Food magazine impressed the judges for its "beautiful photography that's also effective," while Redwood's Aston Martin book was described as "a formidable and sleek product that really echoes the style of the brand."
GOLD - WARNER BROS RECORDS, IMPERSON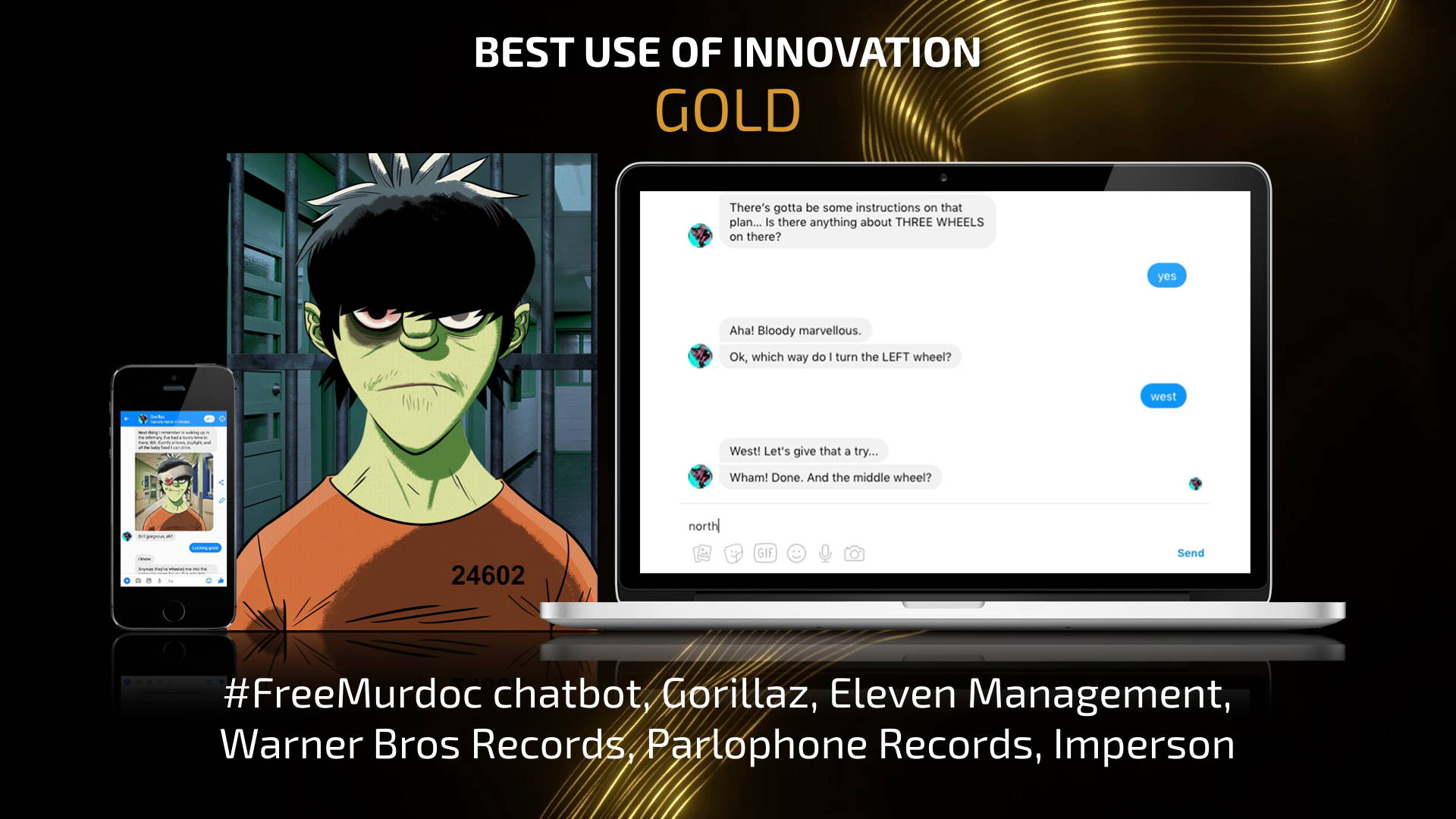 SILVER - TSSA, ADHOME CREATIVE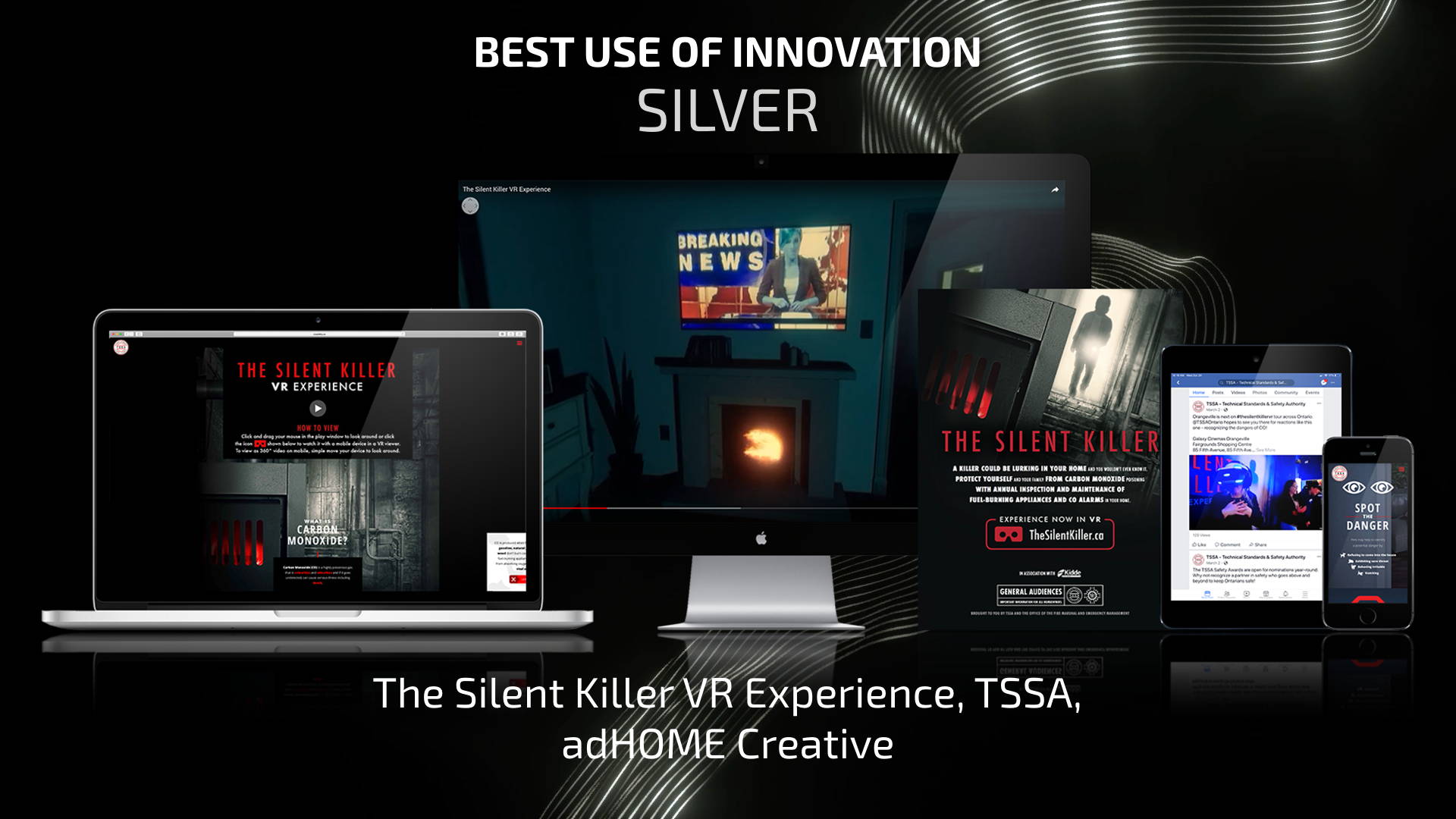 BRONZE - HAWAIIAN TROPIC, WAVEMAKER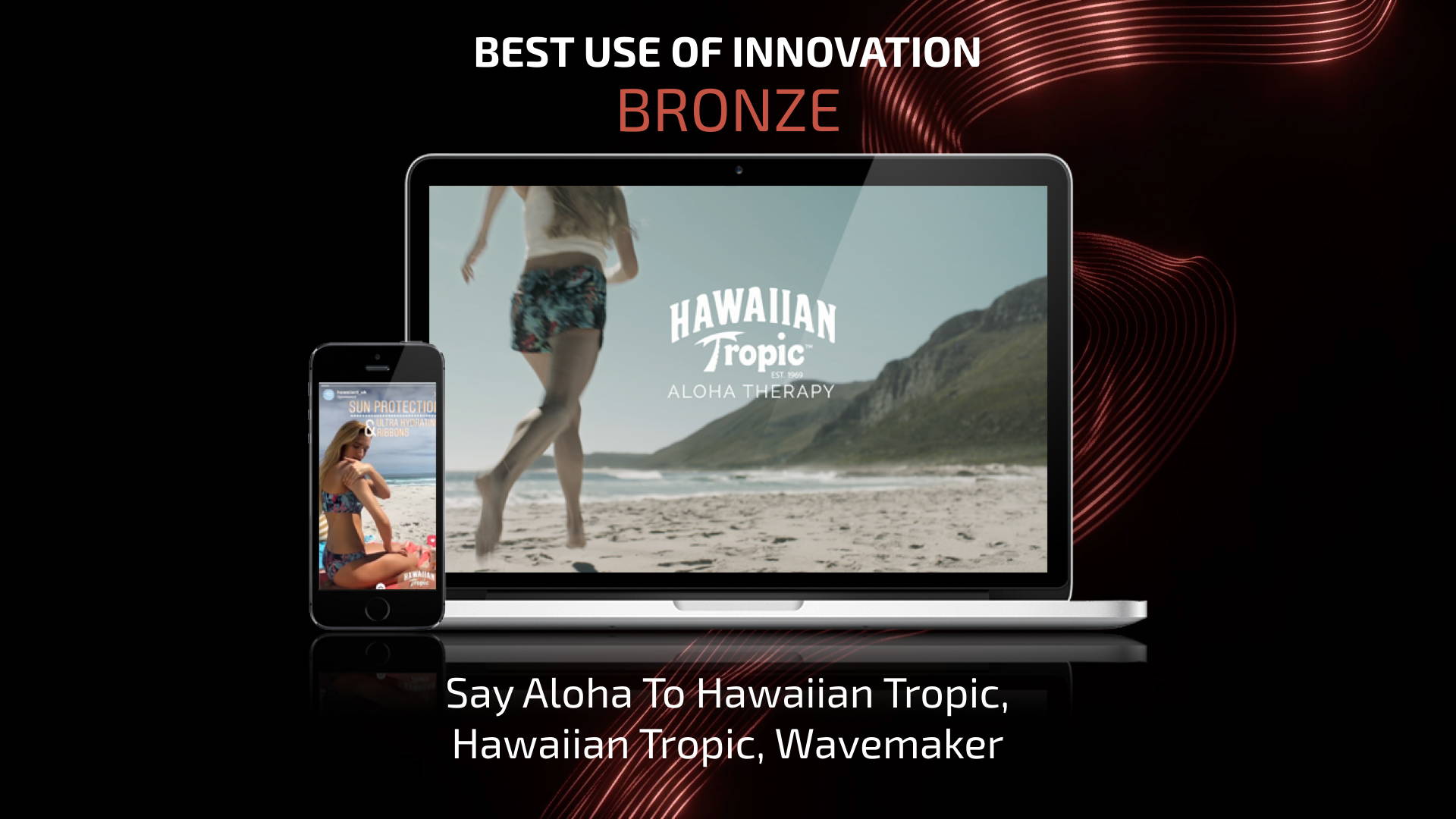 ---
The use of bots in content is on the rise and this year's Gold winner of the Best Use of Innovation award demonstrates its fantastic potential for brands. Designed to promote new record The Now Now, the #FreeMurdoc chatbot allowed fans of the virtual band Gorillaz to participate in a real-time story and help band member Murdoc escape from prison.
Available on Amazon Alexa, Google Home, Facebook Messenger, Kik and Skype, the chatbot invited fans to interact with the AI technology, with hundreds of responses recorded so that real-time conversations could be had with the fictional character.
Across all platforms, the Free Murdoc chatbot generated a stunning 32.2 million exchanged messages, with fans spending an average of seven minutes chatting on text and more than four minutes on voice platforms. "This showed an integrated range of techniques with strong storytelling," said the judges, "which resulted in impressive audience engagement and brand development."
Dealing with a completely different subject, adHOME Creative's The Silent Killer VR Experience for TSSA gained Silver for its "excellence in creating a tangible, multi-channel campaign that raised awareness and changed behaviour", while Wavemaker's Say Aloha to Hawaiian Tropic campaign was "a well-targeted and personalised campaign that incorporated environmental factors, as well as leading technology tactics."
GOLD - PETS AT HOME, JOHN BROWN MEDIA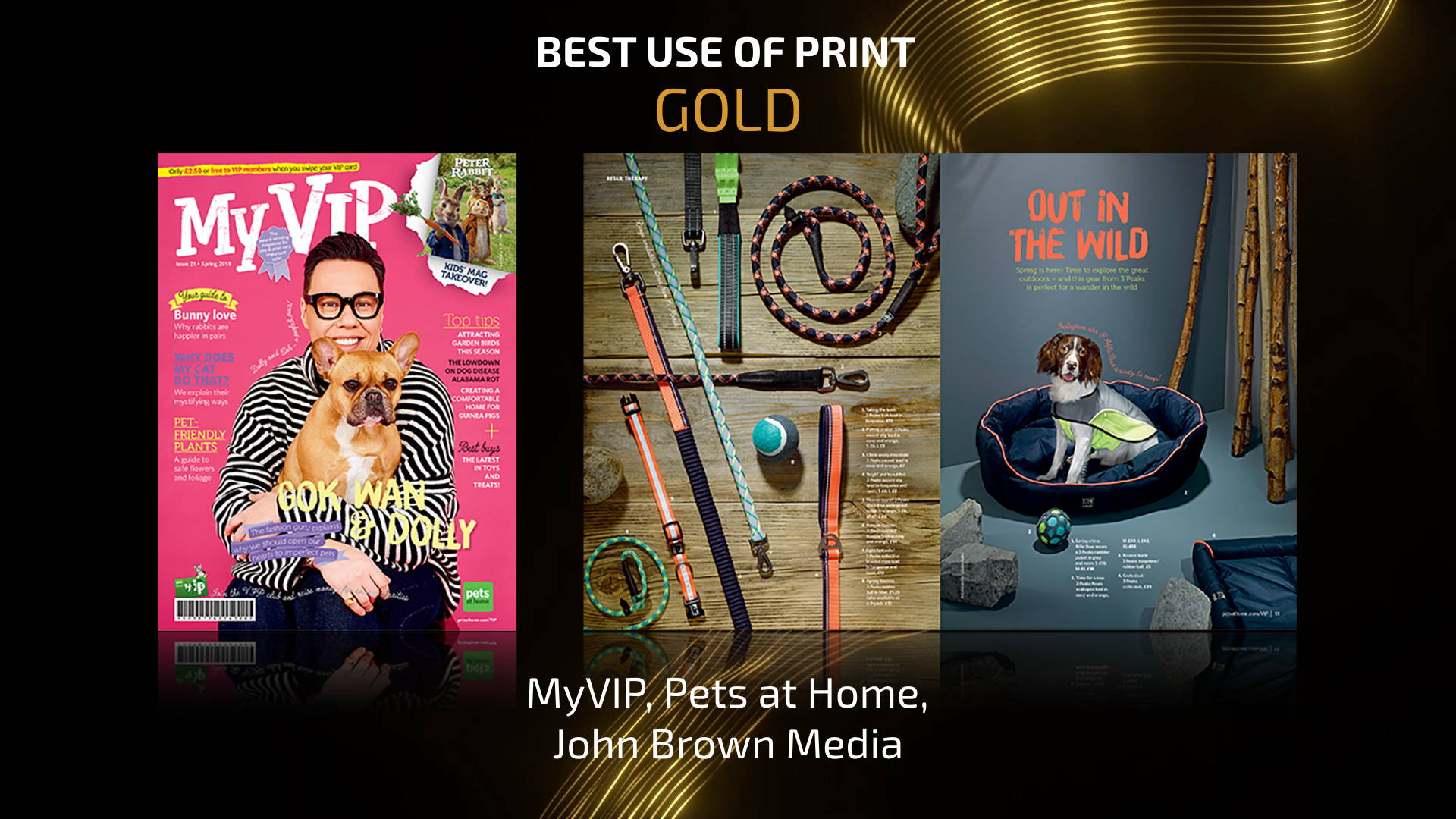 SILVER - CHARTERED INSTITUTE OF PUBLIC RELATIONS, THINK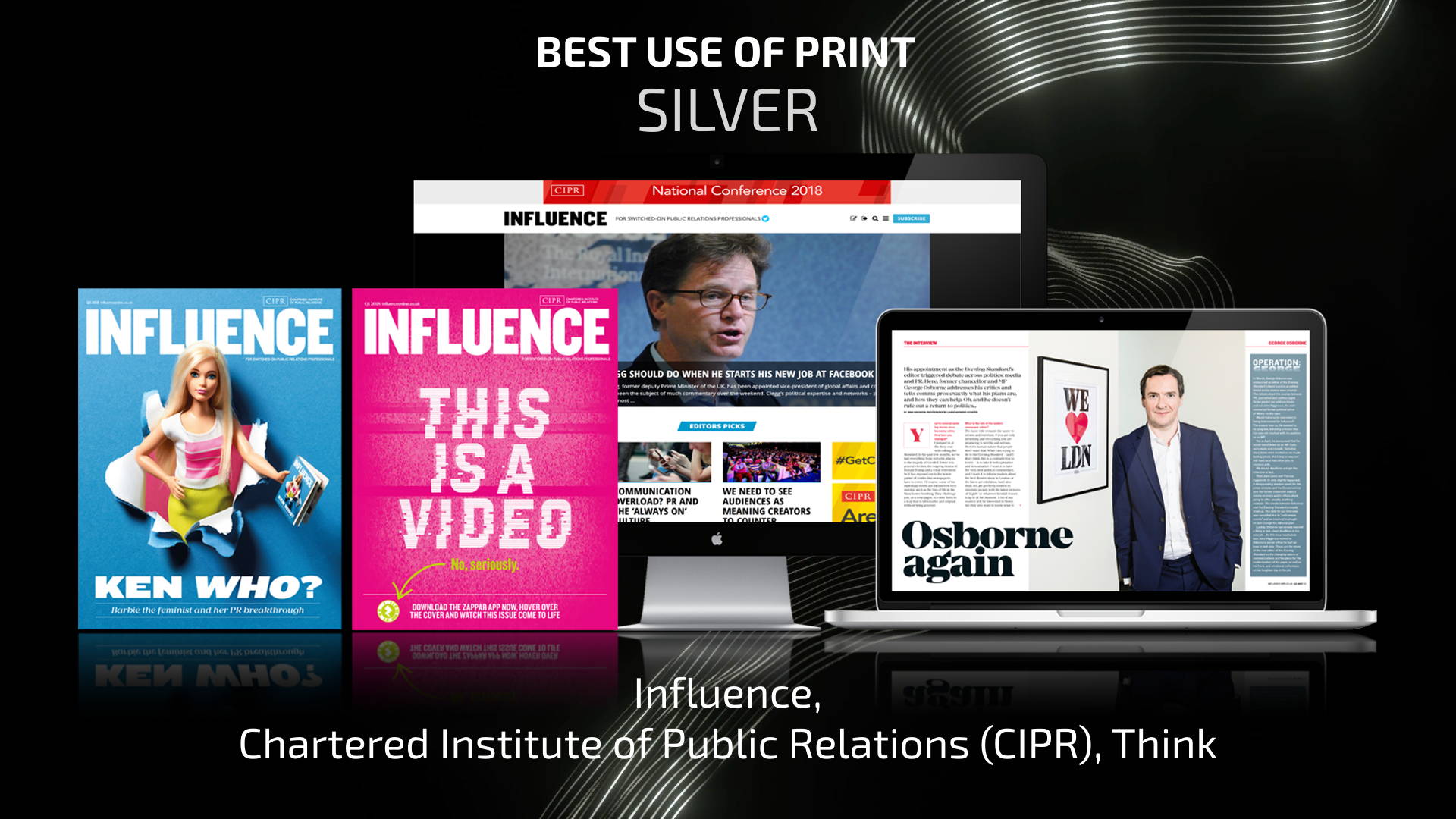 BRONZE - ROYAL INSTITUTION OF CHARTERED SURVEYORS, SUNDAY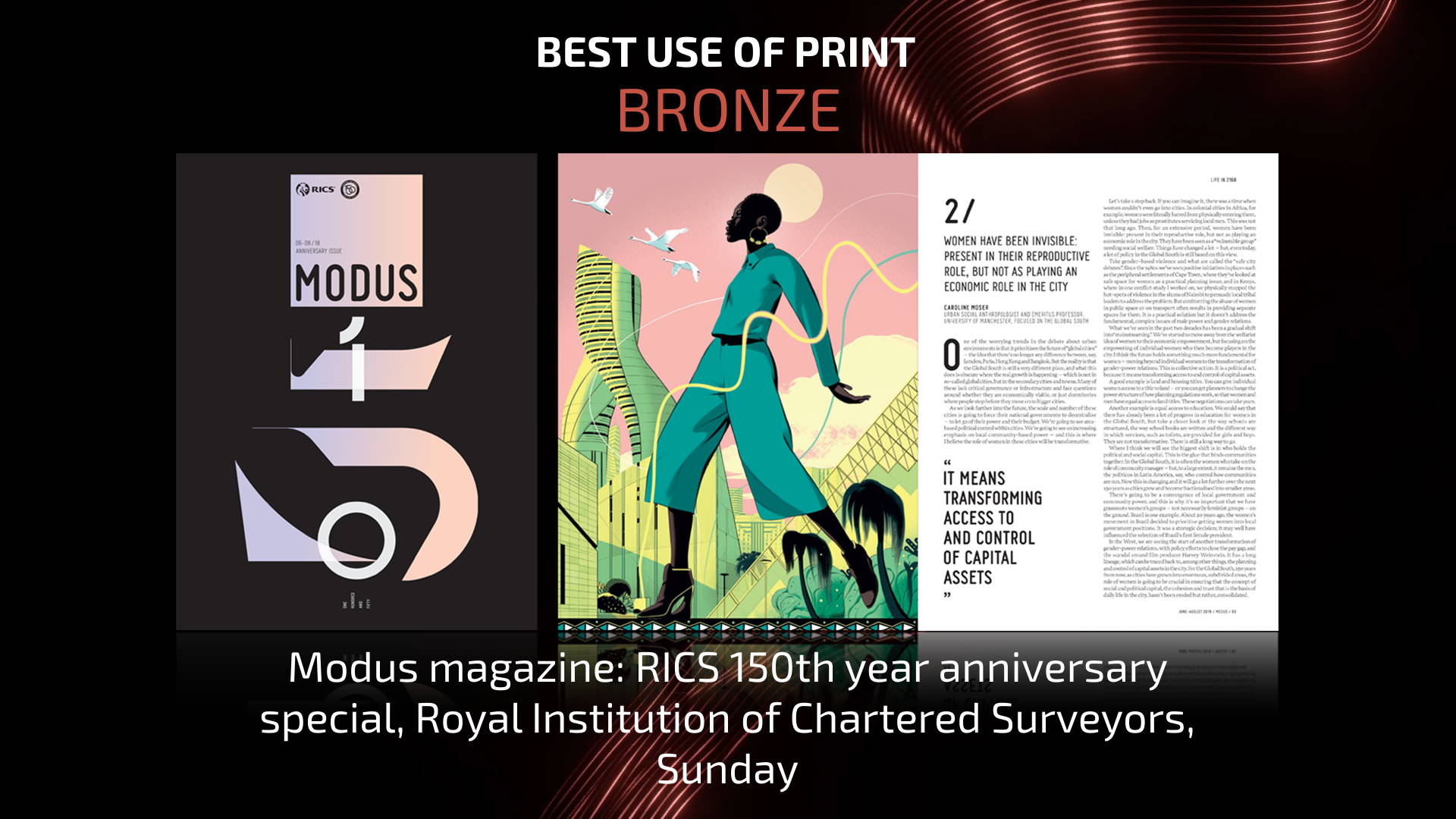 ---
From the number and quality of entries for the Best Use of Print category, it's clear that print remains one of marketing's most effective content platforms, and this year's Gold winner sets a fantastically high standard. MyVIP magazine is a membership benefit of the loyalty programme of retailer Pets at Home and not only attracts new members, but builds loyalty and increases frequency of visit and amount of spend.
With bright, entertaining content that combines practical features with shopping ideas and money-off deals, the magazine has a warmth and passion for pets that reflects that of its seven million readers. Research conducted earlier this year showed that the vast majority of members rate MyVIP as a worthwhile customer benefit, which also enhances their opinion and experience of Pets at Home. "MyVIP magazine is totally on brand, combining strong design values with a huge variety of content," said the judges.
Grabbing Silver, Influence magazine, produced by Think for the Chartered Institute of Public Relations, impressed the judges because of its "great link between print and digital that won over a tough audience," while Modus Magazine: RICS 150 Years, produced by Sunday for the Royal Institution of Chartered Surveyors, took Bronze for its "great design, plenty of surprises and rich content that speaks to the needs of its readers."
GOLD - LASTMINUTE.COM, BUILTVISIBLE
SILVER - LUSÍADAS SAÚDE, PLOT CONTENT AGENCY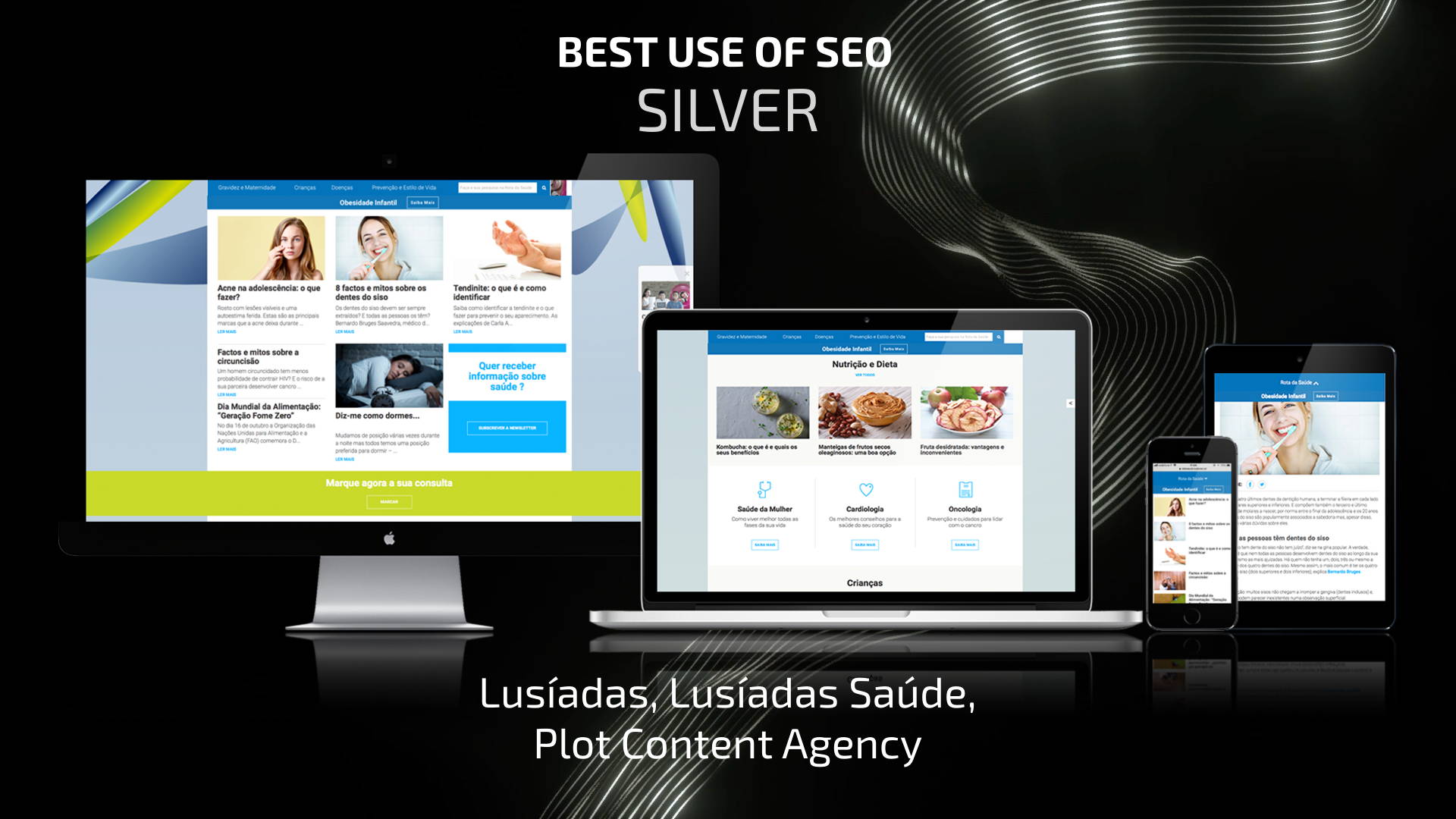 BRONZE - AUTO TRADER, RE:SIGNAL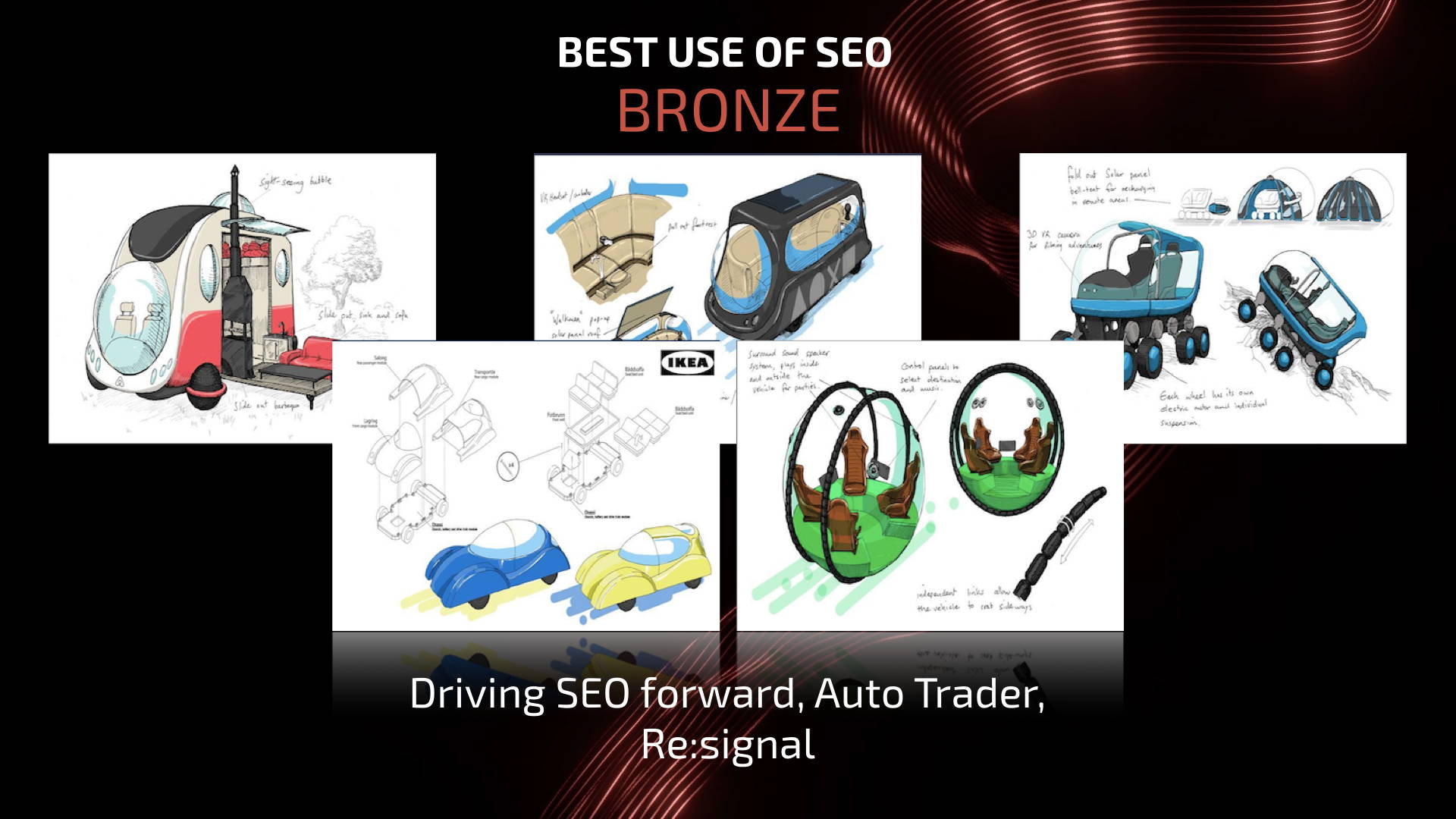 ---
The travel website Lastminute.com was starting to lose ground to competitors across several high volume keywords, so turned to Builtvisible to improve the ranking positions for four key URLs. Using a combination of on-page review, link analysis and a series of large-scale link-building campaigns, the agency saw a 924% increase in organic traffic across their priority terms, clawing back market share and strengthening their position as industry leader. This generated an increase in yearly revenue at an ROI of 2,190%.
"Builtvisible used a strong mix of SEO and content to engage with a new generation to produce a sustainable strategy that yielded ridiculously impressive results," said the judges.
Meanwhile, Silver was awarded to Plot Content Agency, whose campaign for Portuguese health company Lusíadas "demonstrated a deep understanding of SEO principles, with an impressive understanding of how users search and behave online." Finally, Re:signal's work for Auto Trader took Bronze "because of the way the team used SEO as part of a wider content strategy."
BEST USE OF SOCIAL MEDIA (B2B)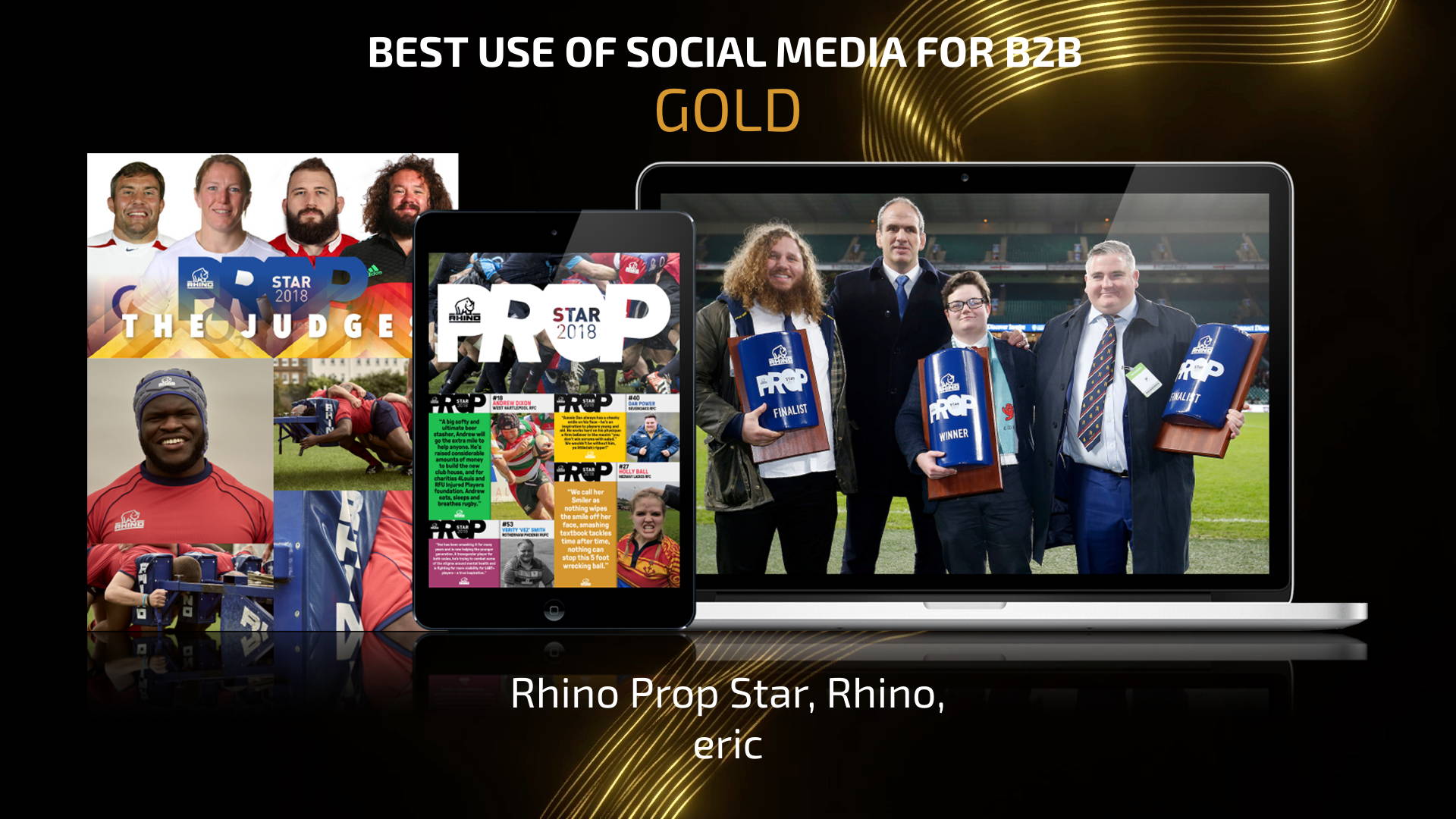 SILVER - GETTY IMAGES, STEIN IAS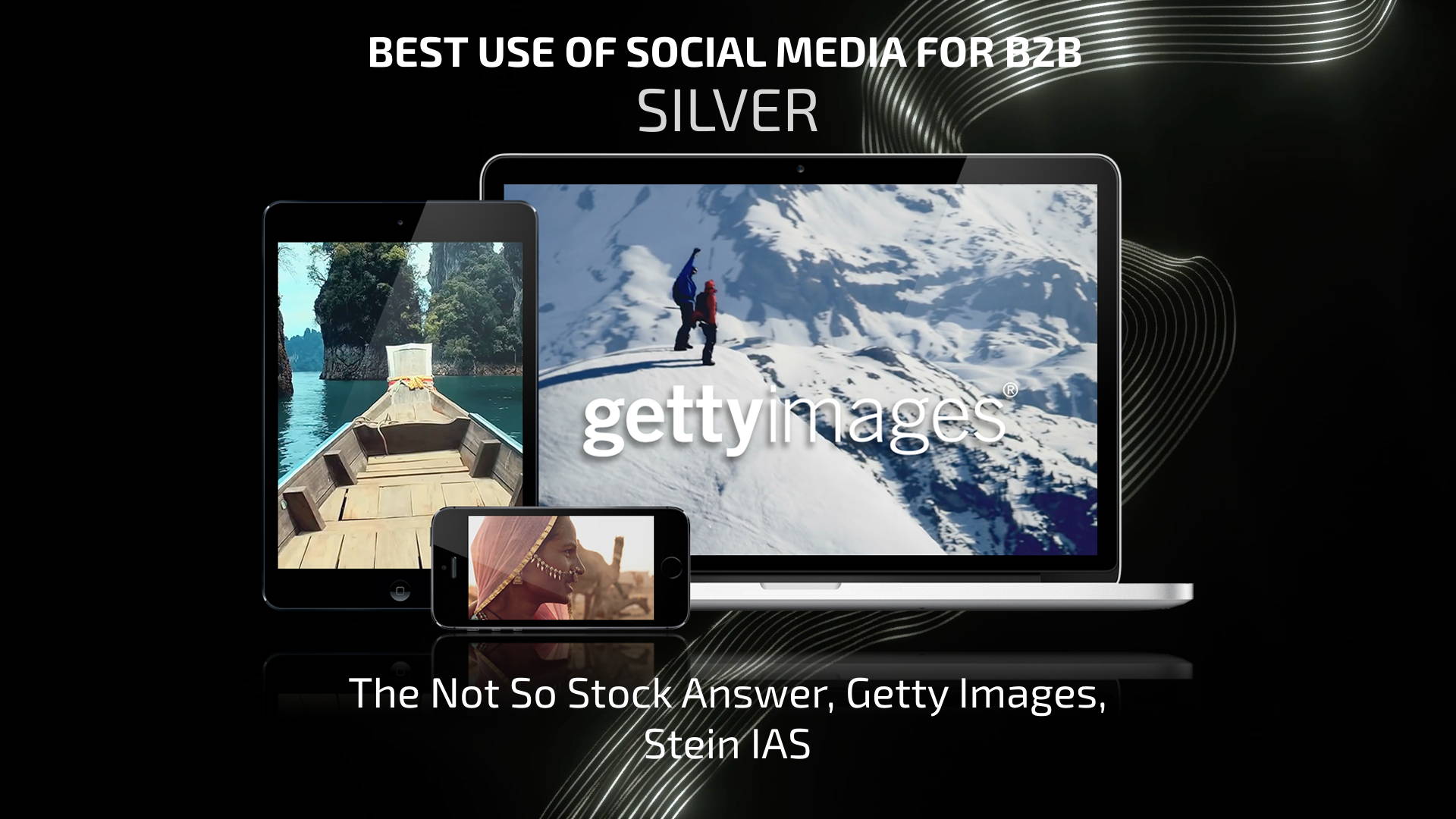 BRONZE - VOLVO TRUCKS, SPOON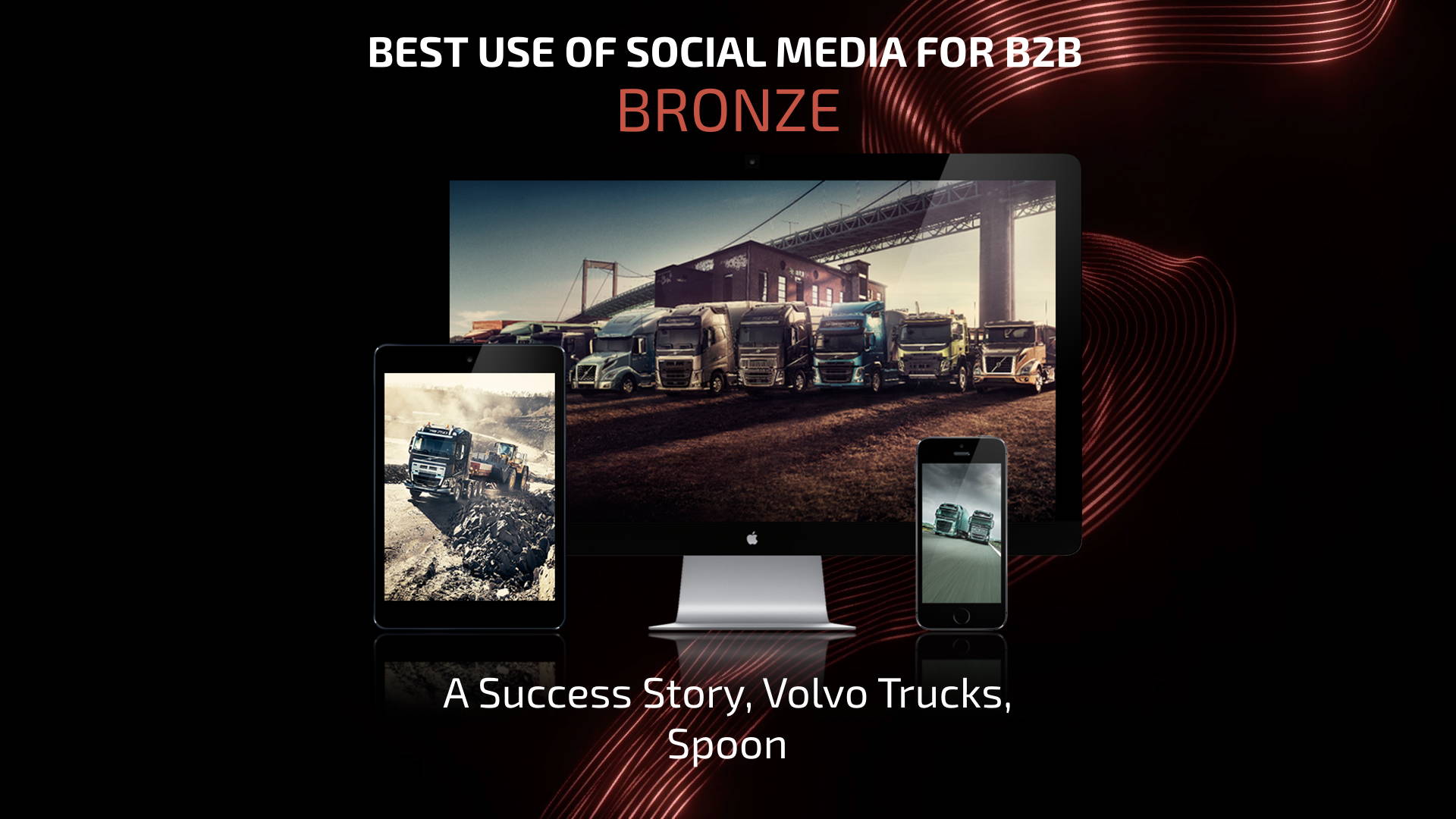 ---
As suppliers of kits, balls and training equipment to the rugby world, Rhino have to compete against the world's biggest sports brands, as well as aggressive 'value' brands, so needed content strategy that would not only engage rugby clubs at grassroots level, but create social media presence and advocacy at the highest level.
Their agency, eric, did this by creating 'Prop Star', a nationwide campaign to celebrate the rugby players that went above and beyond their on-field efforts, coaching, fundraising, volunteering, building clubhouses, doing whatever they could to help. With help from international props Jason Leonard, Rochelle Clark and Adam Jones, the search was on, fueled by Rhino's social channels.
The results were phenomenal: the campaign helped to deliver 56% more followers, a 3,685% increase in monthly impressions and 1,527% more profile visitors, with a total of 226 nominations that equated to the number of rugby clubs that provides 95% of Rhino's income. Sales leapt to 102% year-on-year, with a 25% increase in average order value. "We loved the whole campaign," said the judges. "It was inventive, creative and ambitious, with great integration of on- and offline content."
Silver was awarded to Stein IAS for their campaign for Getty Images, which "demonstrated great use of targeted social, using clever video content to produce a highly creative solution," while Bronze was awarded to Spoon's campaign for Volvo Trucks, which "remained true to the client brand with results that really proved its effectiveness."
BEST USE OF SOCIAL MEDIA (B2C)
GOLD - BAILEYS, THE STORY LAB & CARAT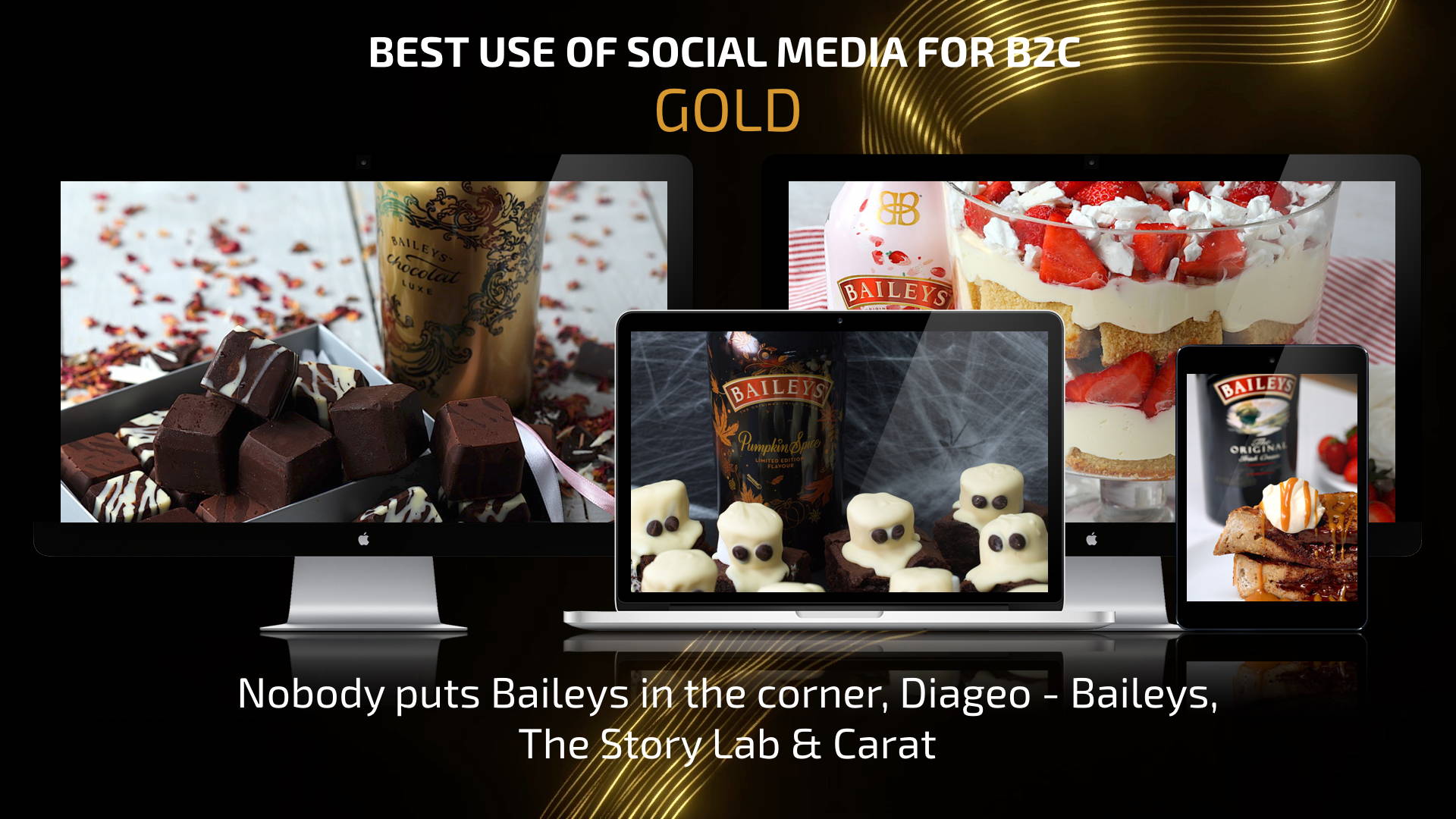 SILVER - LIONSGATE, THE HOOK LABS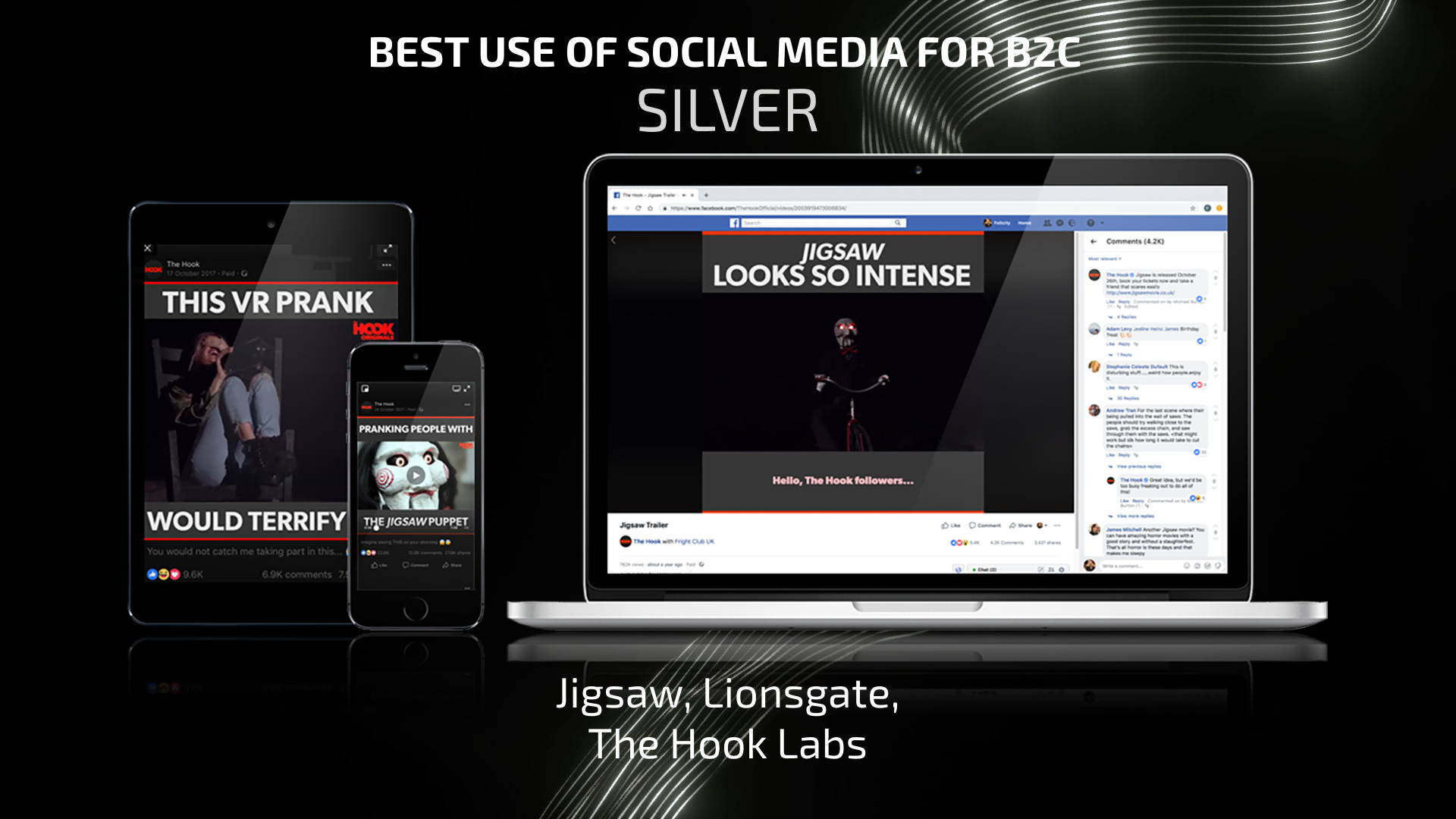 BRONZE - BARCLAYCARD, IRIS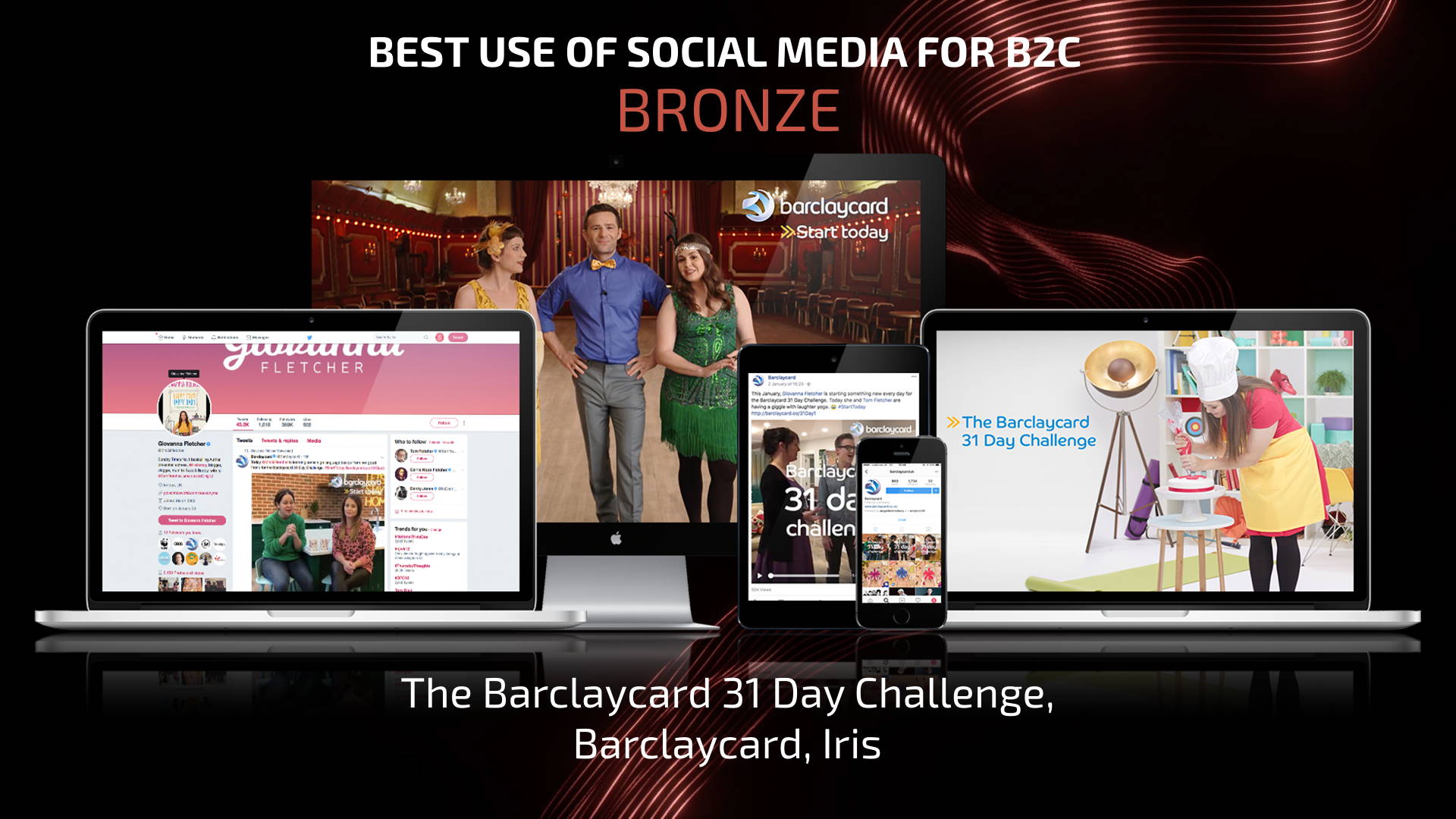 ---
The winner of Gold in the B2C Social Media category took a well-known brand and modernised it for the millennial generation, turning it from a seasonal indulgence to a year-round essential. Agencies The Story Lab and Carat achieved this by rebranding Baileys as a modern, versatile ingredient, leaning on the credibility and expertise of an existing foodie influencer to showcase the 40-year-old drink.
The chosen influencer was Jungle Creations, a Facebook-first food publisher whose flagship food channel Twisted was picked as the campaign anchor. Using the expertise of the Twisted in-house chefs combined with data mining, the agencies produced a comprehensive food and drink calendar enriched with editorial insights, as well as a programme of entertaining and shareable food and drink video content that placed Baileys at the heart of seasonal and cultural trends.
In 2017, the Baileys campaign was the biggest global food and drink campaign on Facebook, with one recipe generating 28 million views. Over 10 months and 25 recipe videos, the campaign generated 141 million global views, making it the largest UK sponsored campaign on Facebook during the time period. "This mouthwatering content and well-executed campaign really opened consumers' eyes to the diverse world of Baileys," said the judges.
Meanwhile, The Hook Labs' campaign for the movie Jigsaw gained Silver thanks to its "views, reach, engagement and box office sales," and The Barclaycard 31 Day Challenge by Iris was described as "an ambitious content campaign in a challenging sector, delivering results through inspiring personalities."
GOLD - AVINOR, GEELMUYDEN KIESE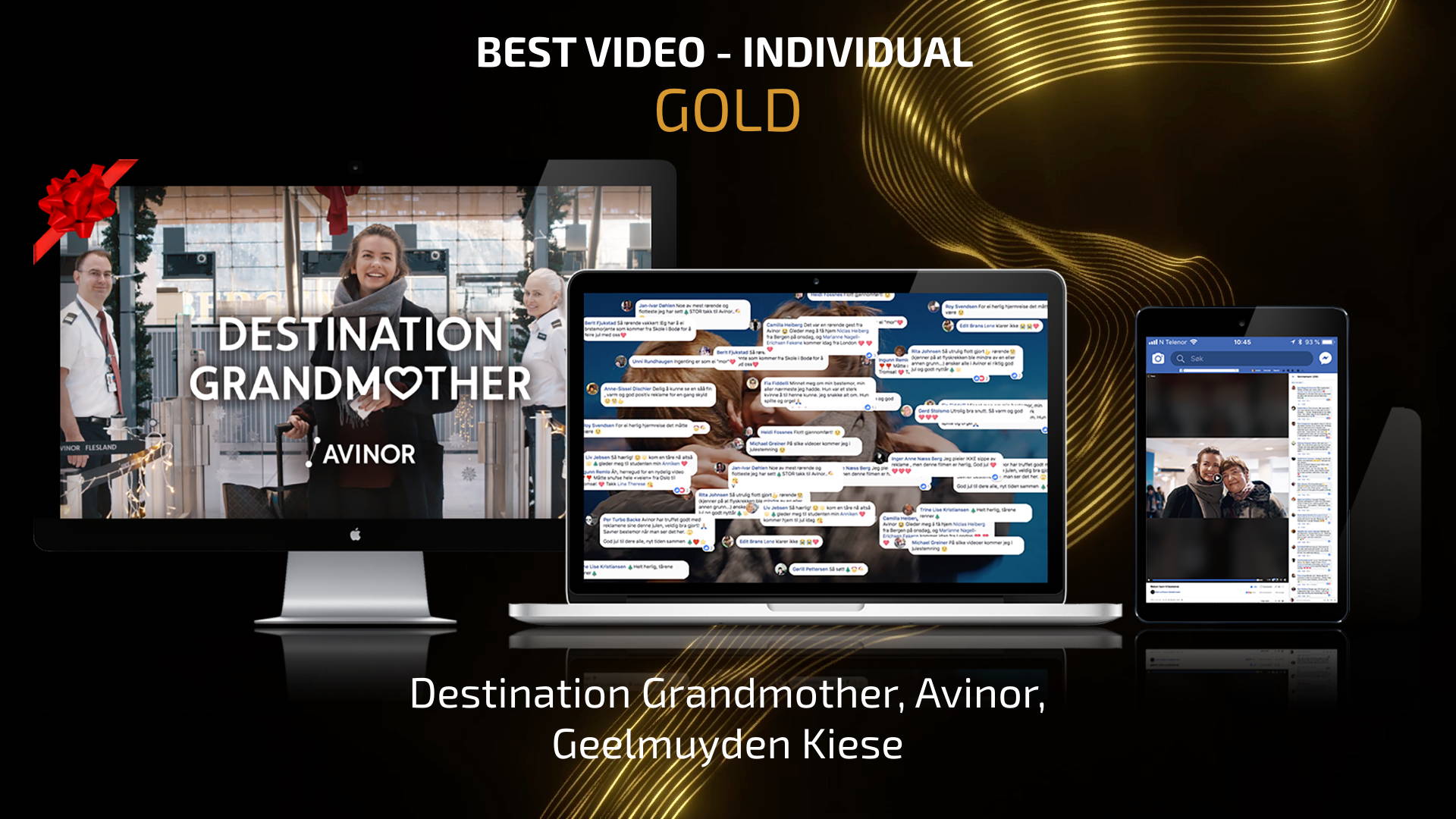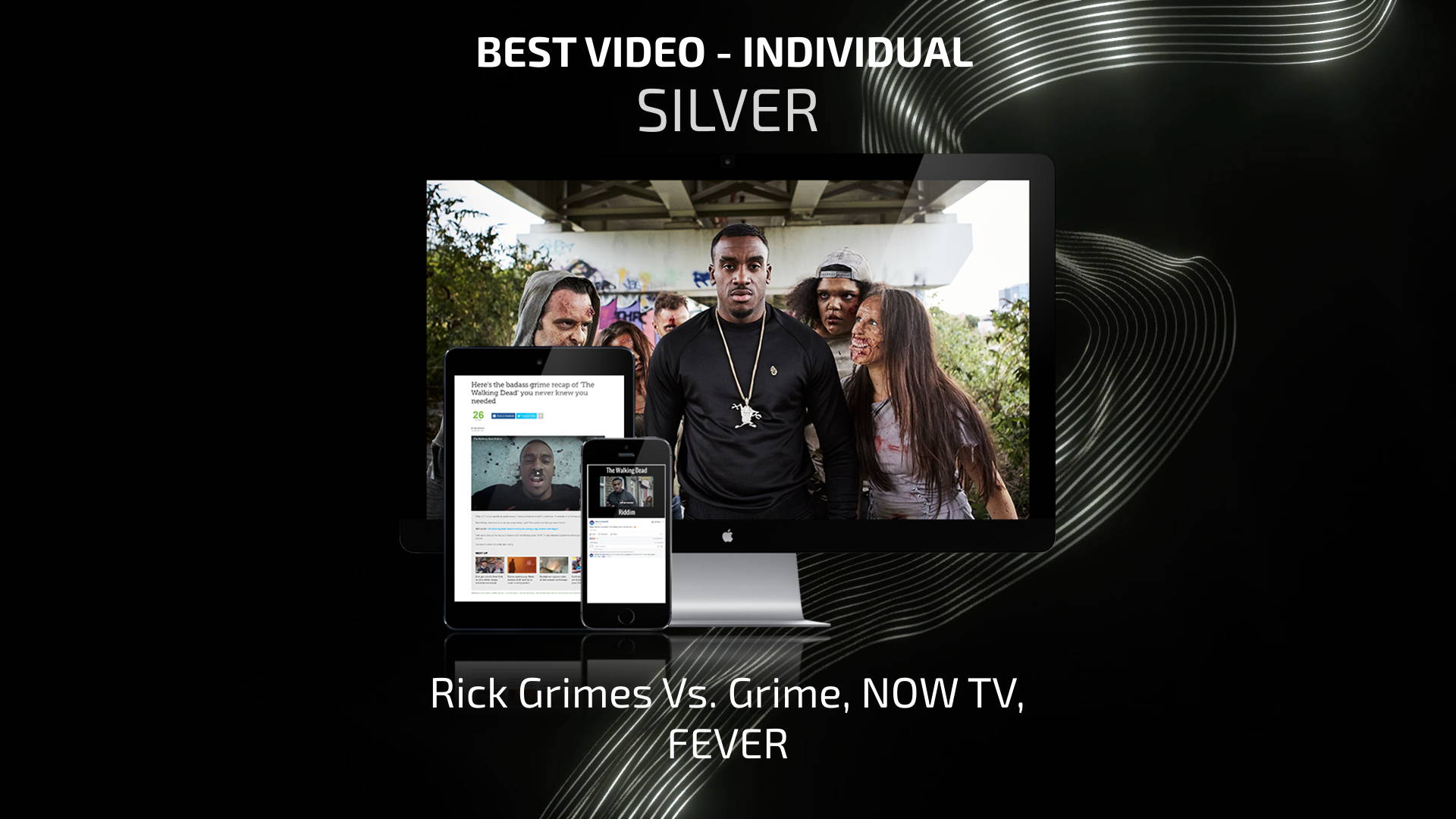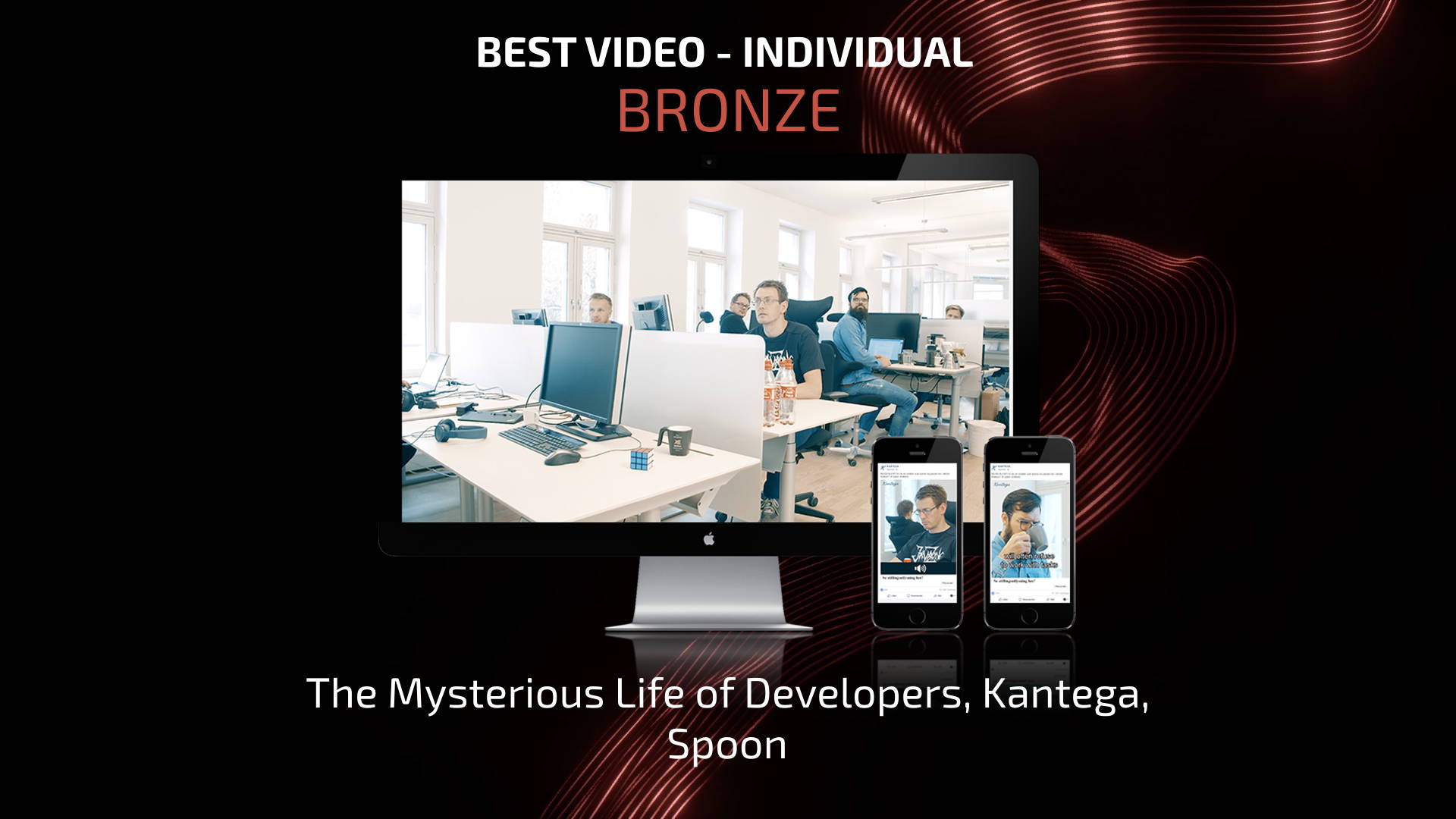 ---
Avinor is a state-owned company that operates the Norway's civil airports and is responsible for air traffic control services, as well as each airport's commercial services. However, they are not well known to their customers, so they wanted to make people understand just what Avinor does and how they contribute to making their trips easier and more enjoyable.
What they, and their content agency Geelmuyden Kiese, did was to find a way to give one of their customers something extra for the Christmas holidays. After using their social and online channels to ask passengers who they most looked forward to seeing at Christmas, they found Aurora, whose favourite person was her grandmother. Without her knowing, Avinor planned a special trip for Aurora, with her grandmother turning up in the most unexpected places during her journey.
The emotional three-minute film generated an impressive amount of coverage, with a reach of 69% of the Norwegian population and an average view time of 42%. The judges were equally enthralled, saying: "The compelling emotional connectivity and high production values made this a clear winner."
In its second award of the evening, FEVER's Rick Grimes Vs Grime campaign for NOW TV won Silver "through its great use of insight to deliver fantastic results," while The Mysterious Life of Developers campaign for Kantega by Spoon was described as "a simple and engaging production that spoke really well to its target audience."
GOLD - CAMPAIGN AGAINST LIVING MISERABLY (CALM), BOLD CONTENT VIDEO LTD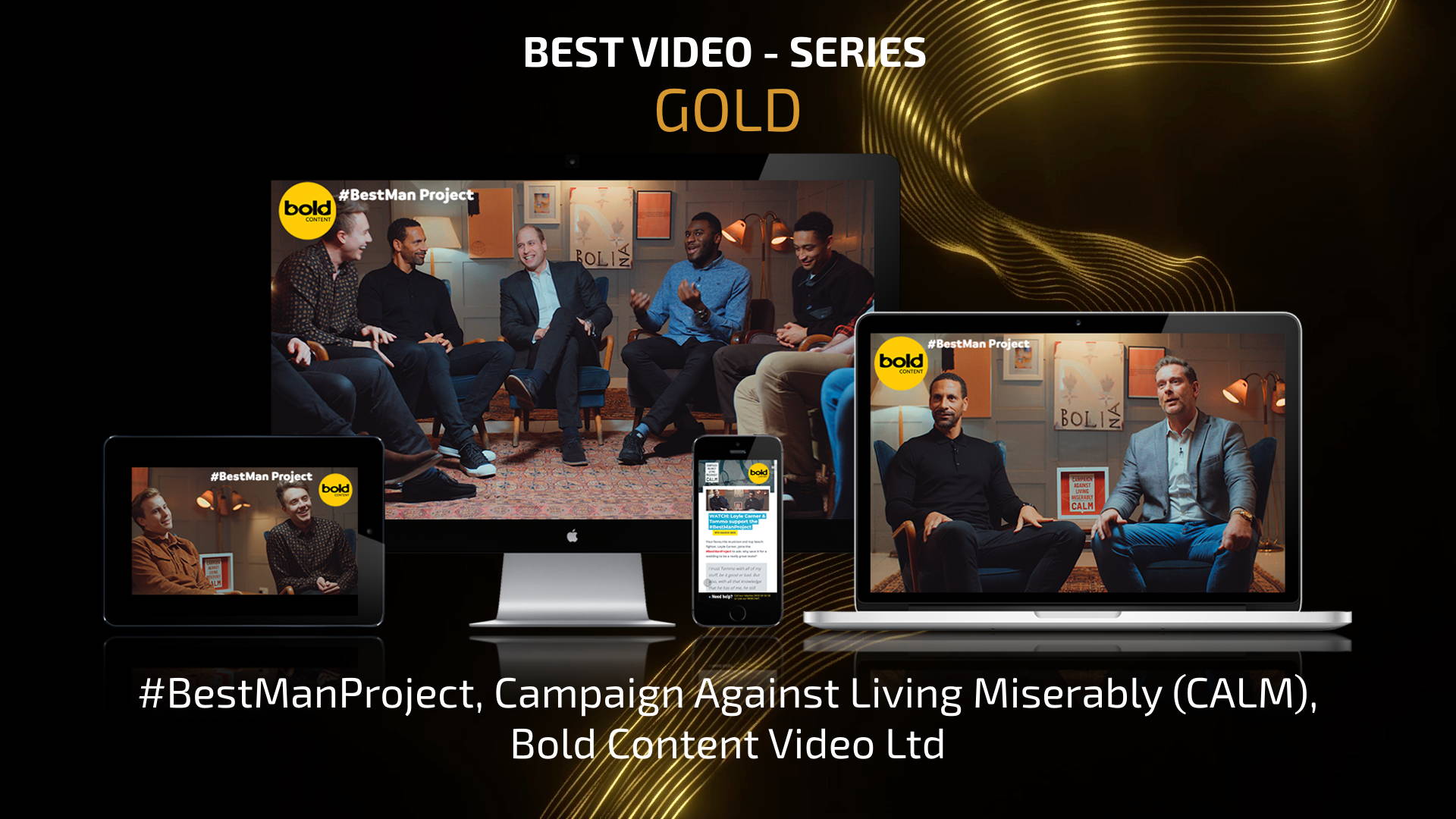 SILVER - SOS ALARM, SPOON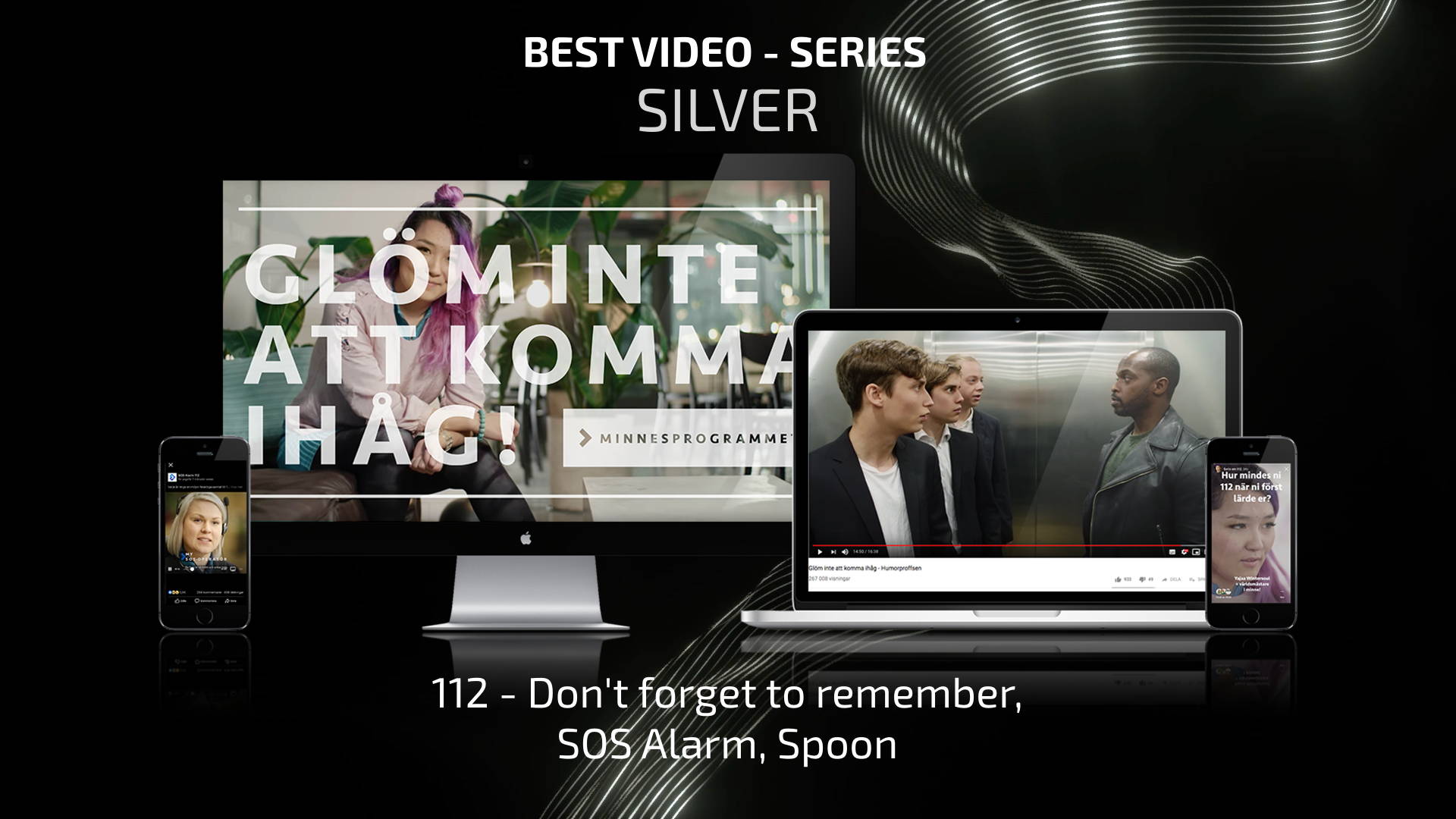 BRONZE - DESTINATION CANADA, TCO LONDON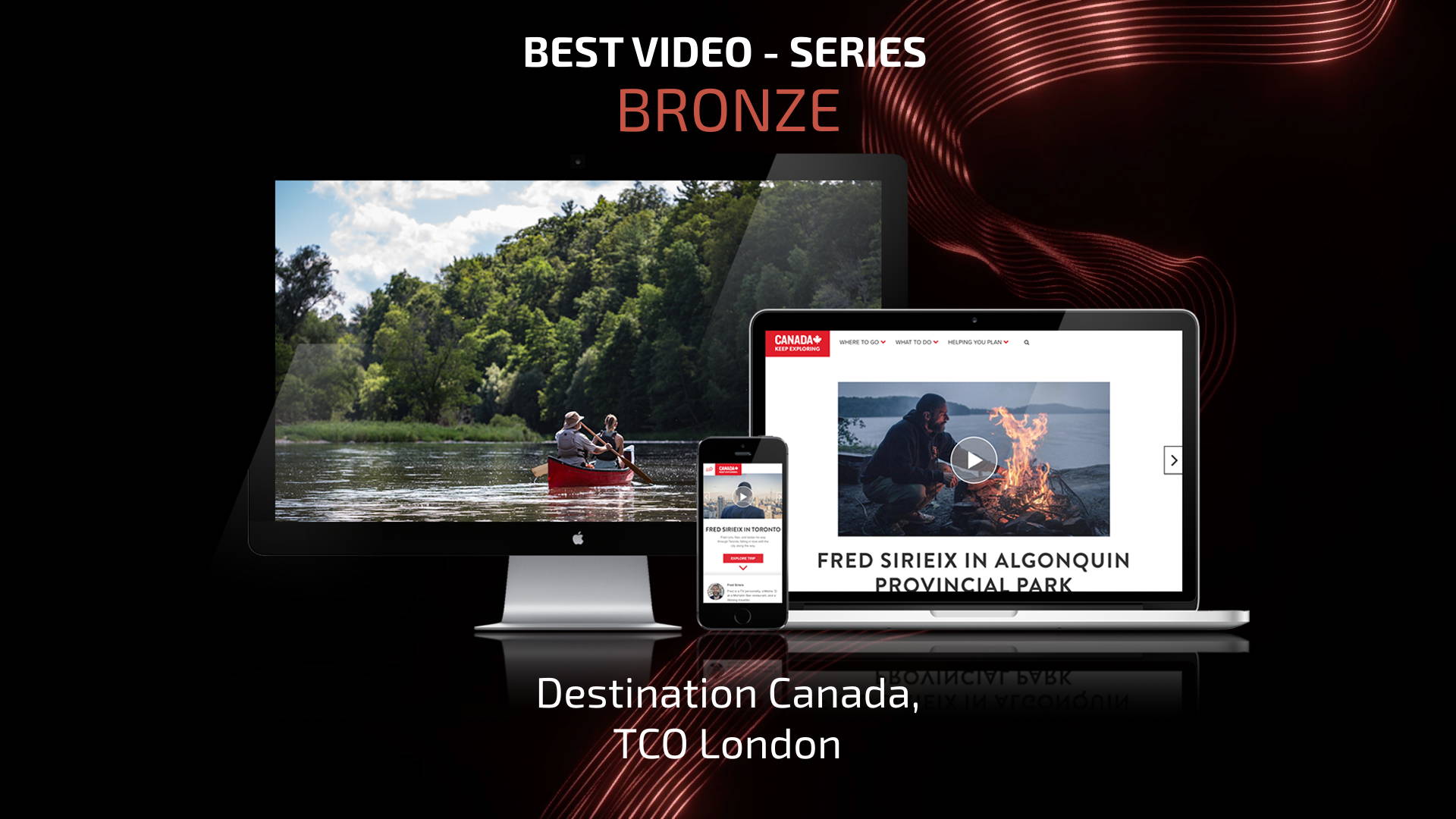 ---
The winner of the Best Video Series category tackled a difficult topic: male suicide. Understandably, the brief was difficult – to create a series of videos that encouraged men to talk to a friend if they were feeling low, but in an entertaining manner. Bold Content Video deftly produced a solution that mixed humour and emotion to deliver a message that would stay with the viewer long after the videos had finished.
Working with the Campaign Against Living Miserably (CALM), the production team approached the challenge by creating a mix between an interview and a social experiment. Beginning with a casual interview of two friends, the director flipped the easy style by instructing the men to "turn to your friend right now and tell him how much he means to you." Catching the interviewees off guard, it allowed them to be open and vulnerable, producing some truthful and emotional answers.
The videos were widely spread on social media, amassing over 10 million Twitter followers and six million Facebook followers. In total, the videos were seen over 22 million times. "This was a strong series that tackled a difficult situation in an innovative and engaging way," said the judges. "The simple approach was executed well, producing meaningful results."
Another worthy winner was the 112 – Don't Forget To Remember campaign by Spoon, which the judges praised as "a highly engaging response to a direct challenge to alter behaviour," while TCO London's work for Destination Canada was described as "a beautiful series of videos that showcases Canada through a number of different lenses."
GOLD - BRITISH AIRWAYS, CEDAR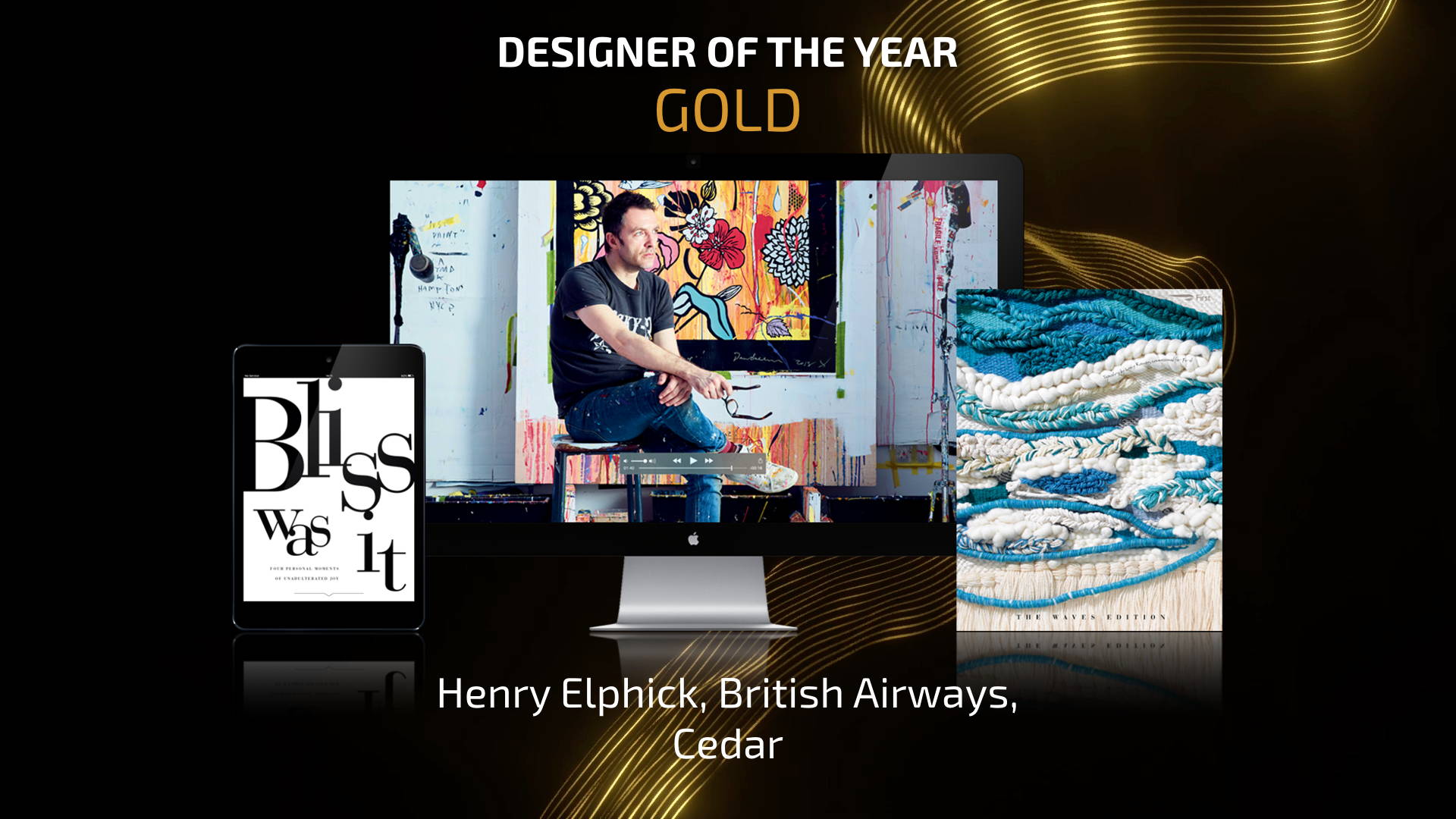 SILVER - STOCKMANN, JOHN BROWN MEDIA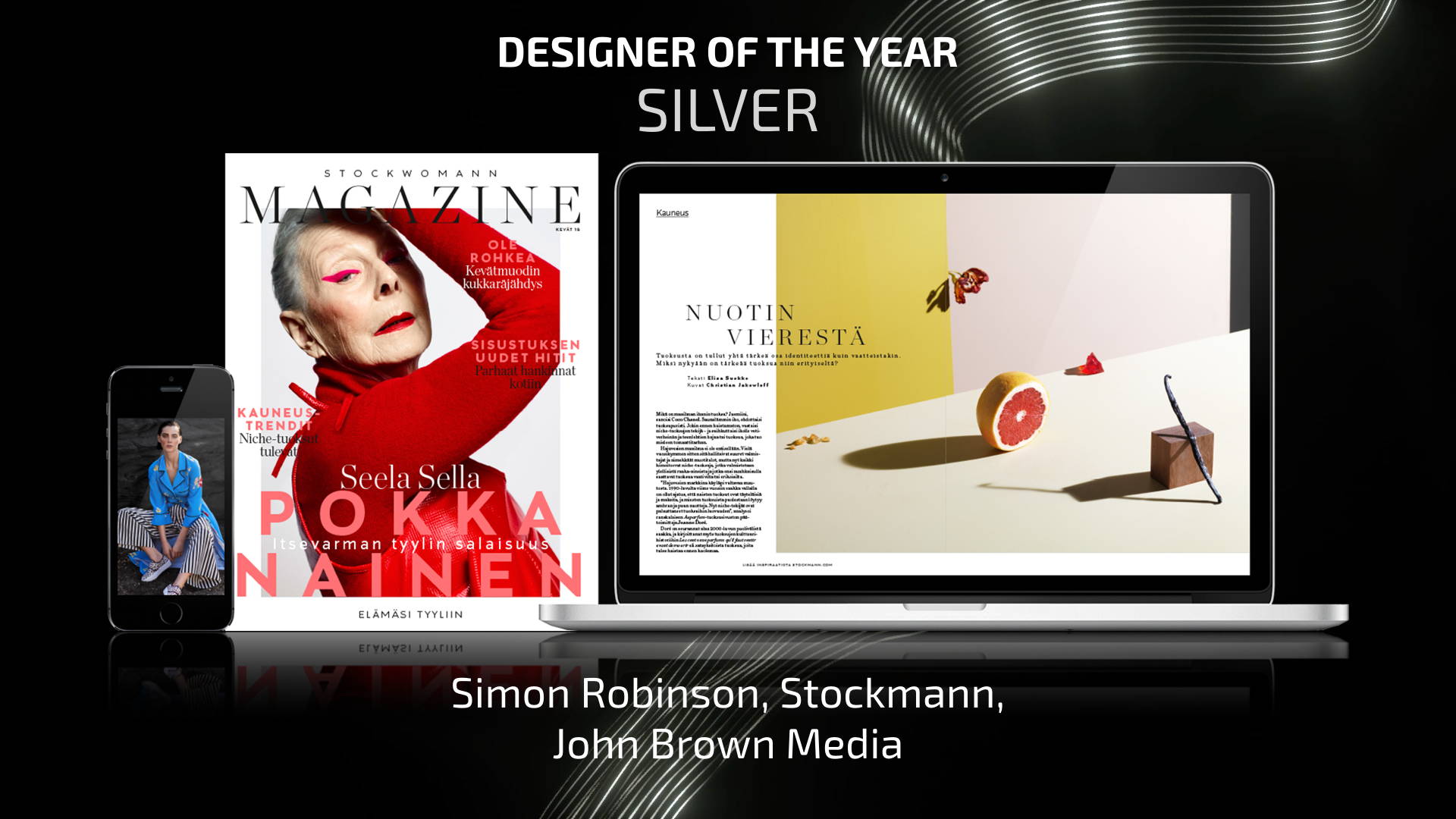 BRONZE - WAITROSE & PARTNERS, JOHN BROWN MEDIA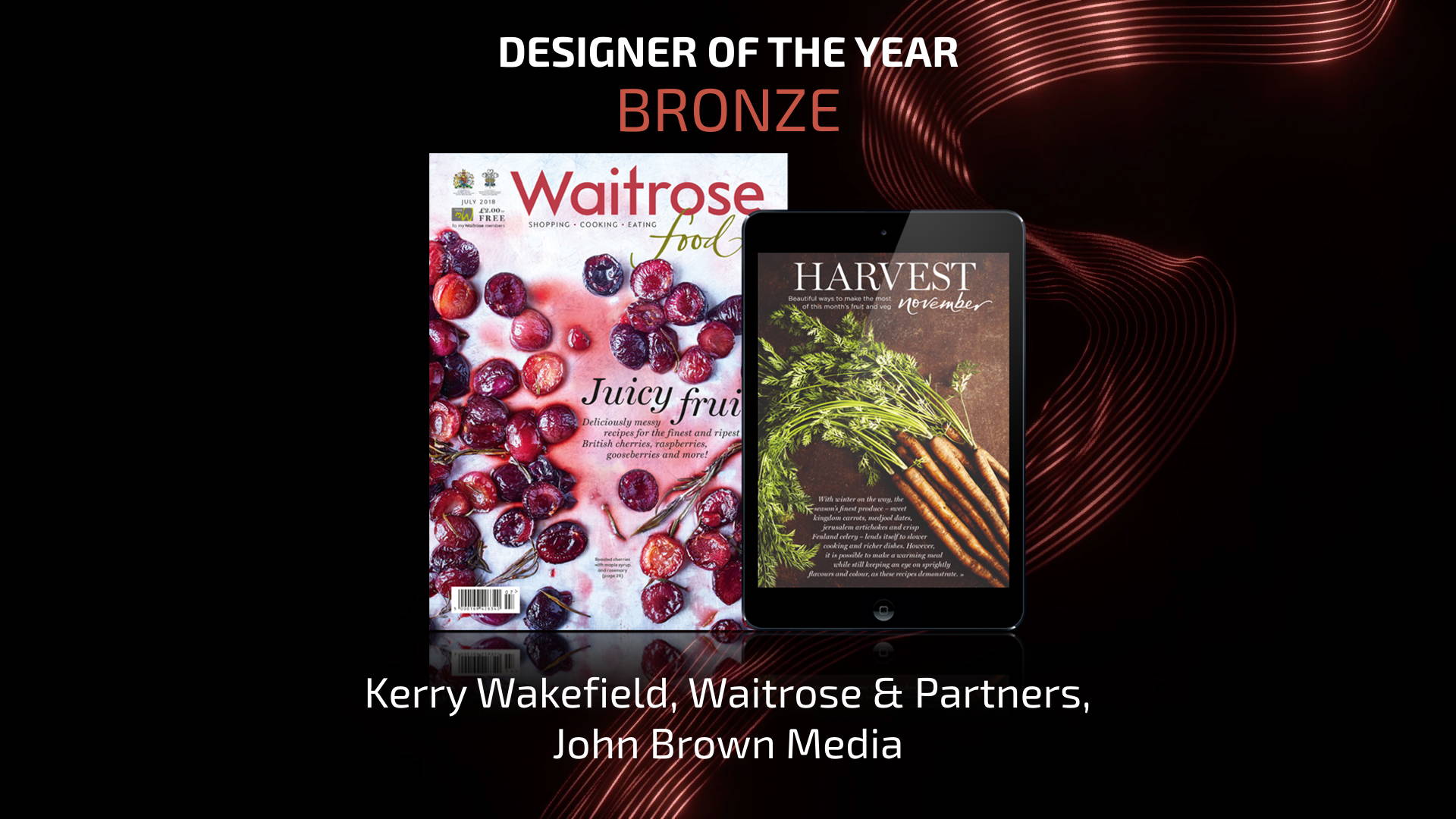 ---
Great content design treads a fine line between communicating the client's key messages and brand values, and compelling the user to engage, and this year's Gold award goes to a designer that walks that line with expertise and experience. As the Art Director of First magazine for British Airways, Henry Elphick creates a publication that appeals to BA's most valuable and influential customers, as well as the luxury brands that advertise in it.
Knowing that his readers want a magazine of real substance with high-end design values, Henry takes the raw content and produces a unique combination of high-class typography, photography and hand-drawn elements to emphasise craftsmanship and artisanship. His approach is clearly working: not only do the notoriously challenging readers love it, but advertising revenue is consistently double that of the previous incarnation of the magazine. "This solution totally hits the brief, with the design getting the brand exactly right," said the judges. "Excellent work."
Taking Silver, Simon Robinson's work for John Brown Media client Stockmann was praised for "doing a great job of making an iconic heritage brand new and modern," while Kerry Wakefield of the same agency took Bronze for her work with Waitrose & Partners. "The brand synergy here is superb," the judges said," taking the existing brand and lifting it to another level. The journey feels really natural, truly inspirational with some great results."
GOLD - EMMA-LILY PENDLETON, CANON EUROPE, FUTURE FUSION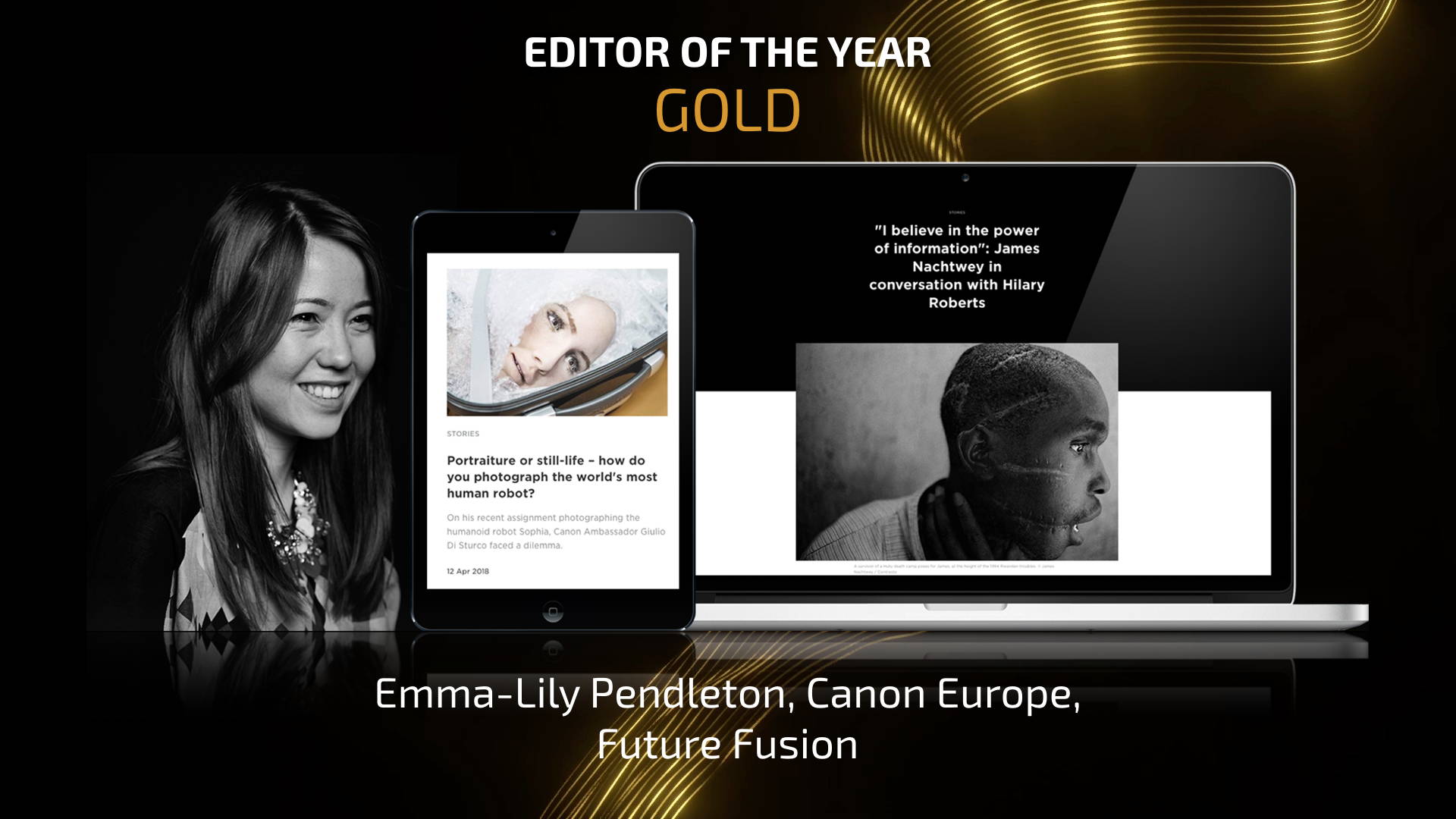 SILVER - LAUREN ROSE-SMITH, TESCO, CEDAR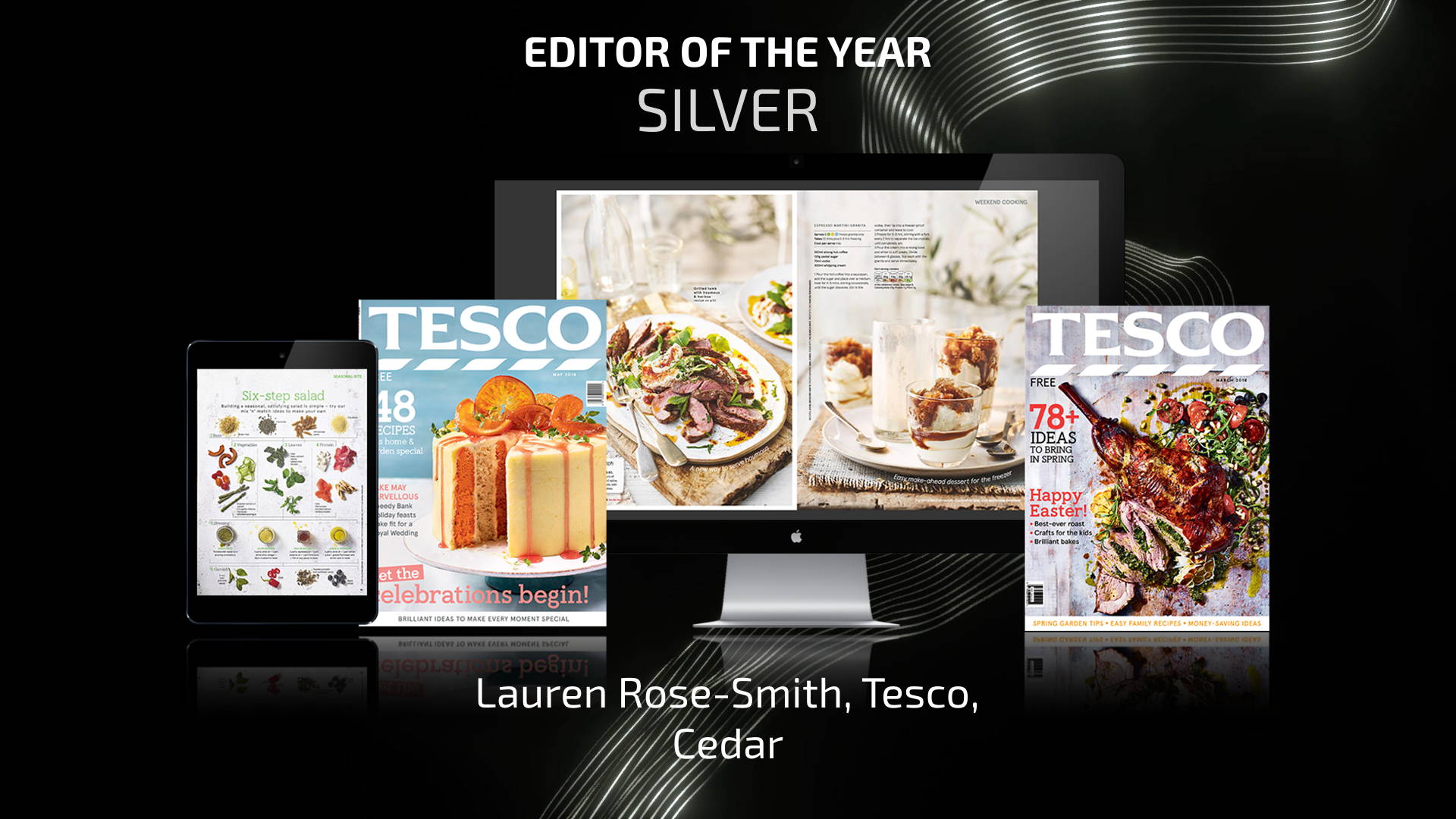 BRONZE - JENNI LIETO, STOCKMANN, JOHN BROWN MEDIA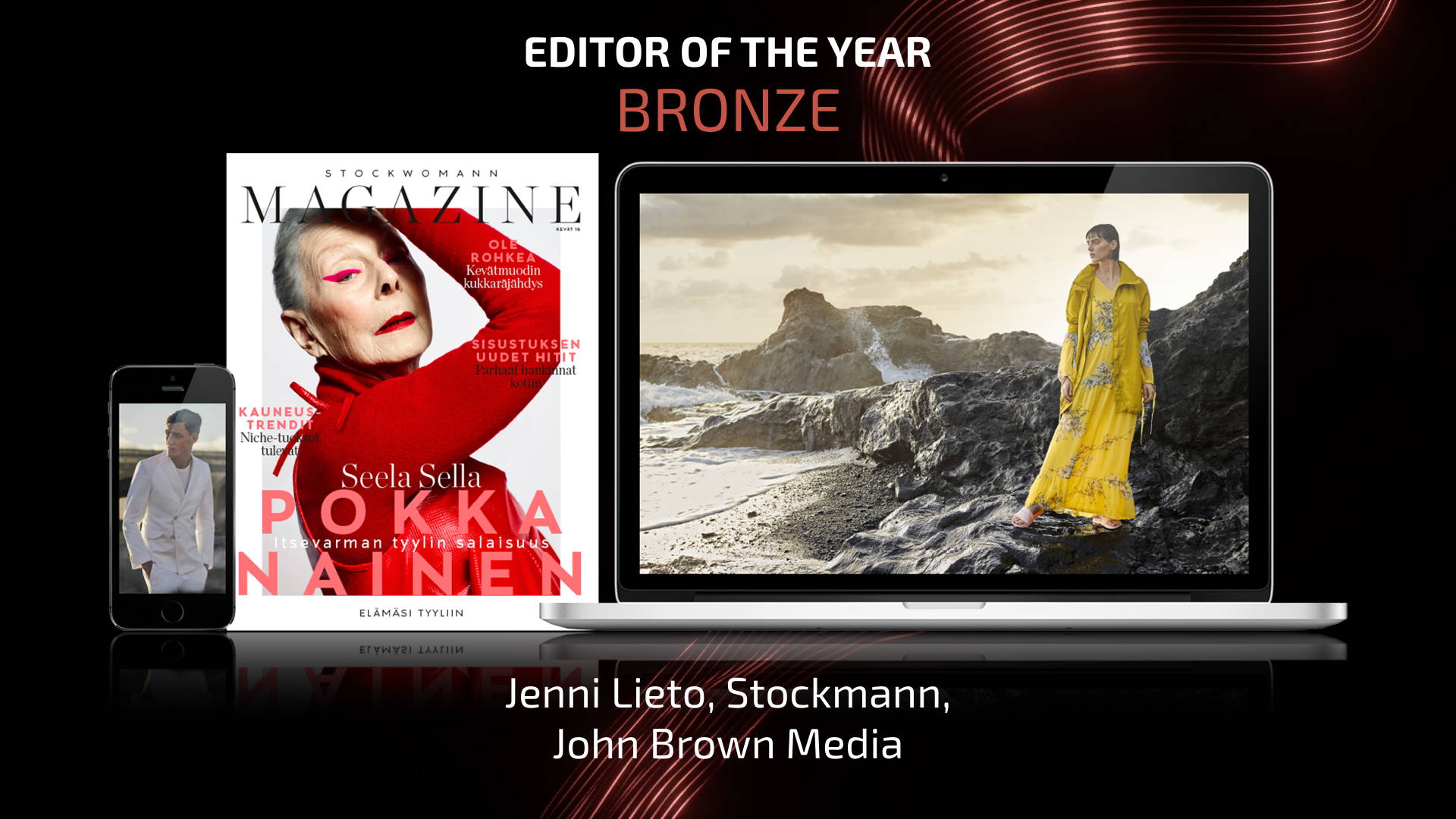 ---
The winner of this year's prestigious Editor of the Year award has been central to the growing of a client account from a simple content solution to a complete multi-platform strategy, tripling its value in the process. As Editor in Chief of Canon Pro, Emma-Lily Pendleton has an unstoppable drive and coolness under pressure that has resulted in the addition of email, social, consumer, digital advertising and product launch content to the initial Canon Pro portfolio.
From a standing start, Emma-Lily integrated a new agency team for video production, as well as forging content partnerships with photography agencies and leading Canon's content output from major shows, while pitching and executing technical and inspirational features every day of the week. Emma's commitment culminated in Fusion being commissioned to produce the lead content for Canon's biggest product launch in a decade, with activity coordinated across South Africa, Iceland, Japan and Romania.
"Emma-Lily clearly understands the audience and demonstrates a definite grasp of content," said the judges. "Her passion and vision are so strong that you feel like you're having a direct conversation with her."
Taking Silver, Lauren Rose-Smith from Cedar, was praised by the judges for her editorial work on the Tesco brand, saying, "She has an obvious talent and a fresh approach to commissioning and design," while Jenni Lieto, editor of the Stockmann content for John Brown Media, is "an editor driving the change of a company – and succeeding."
SILVER - MATT RICHARDSON, CEDAR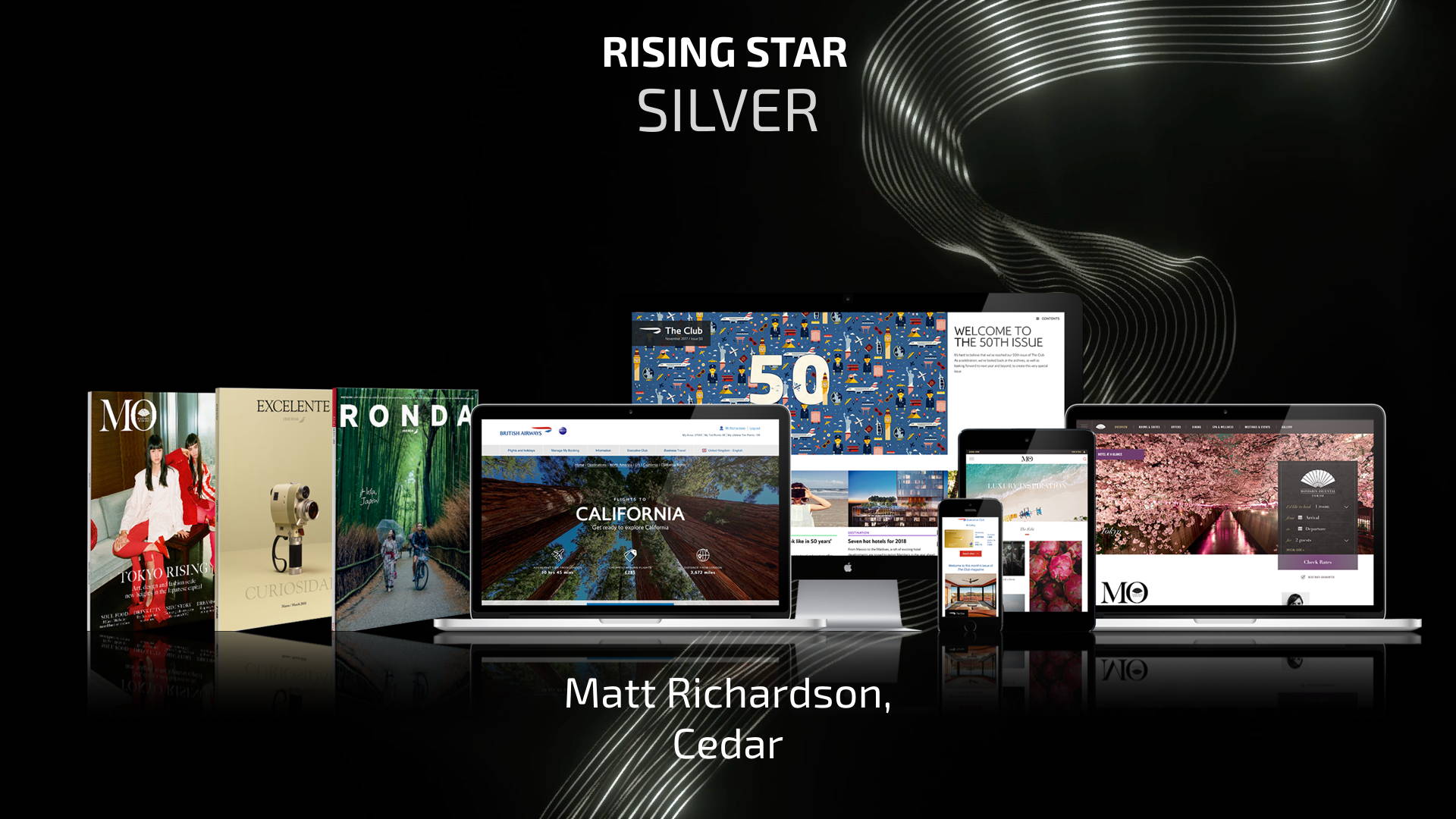 BRONZE - LEILA OSATO, CEDAR

---
Coming up through the ranks of a content agency is one of the best ways to learn the business inside out. Joining Cedar six years ago as an uploading assistant to fund his studies, Joseph Costello went on to become the agency's Business Development Director, with a 100% success rate in pitches that secured content and commercial accounts for clients such as Eurostar, International Airlines Group, Airbus and Mandarin Oriental.
Joseph's remarkable run of success includes leading Cedar's growth strategy for 2017 – a strategy that has allowed the agency to redefine its market position – as well as enlisting the help of in-house content teams to bring fresh, innovative ideas to the pitch process. Now, Joseph is Business Director of Cedar Hong Kong and is busy establishing best practice in strategy and planning while co-running a team of 36 staff, managing projects for Cathay Pacific and working on three pan-Asian pitches.
"Joseph is dedicated, entrepreneurial and a real asset to his team," said the judges. "He's clearly someone who makes great things happen and is a definite future leader."
In a clean sweep for Cedar, Matt Richardson was awarded Silver "for his innovative approach to content and desire to push boundaries," and Leila Osato was awarded Bronze, for her "quality of work and relationship-building skills, as well as her efforts to up-skill internal teams."
BEST ALL-ROUND CONTENT AGENCY - LARGE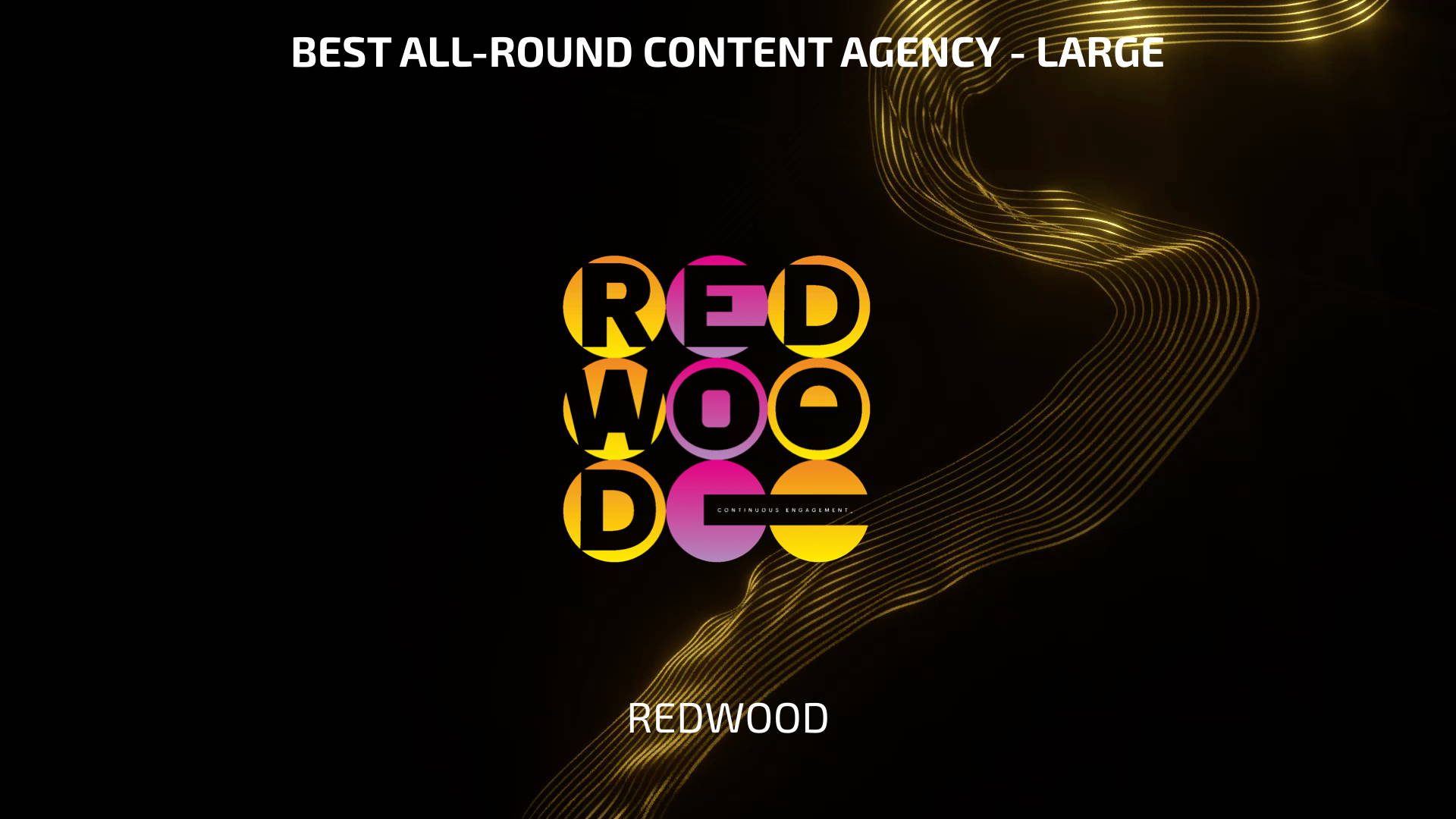 ---
The winner of this brand new category has enjoyed a remarkable year, with an enviable number of new clients and the development of existing client relationships to move them into new content spaces. Alongside securing new clients such as Google, IKEA, Arup and DuPont, highlights of Redwood's year include running an influencer programme for HP, designing and populating a new digital home for Virgin Media, producing a £2,000 art book for Aston Martin, and even producing an old-fashioned print magazine for YouTube.
Now in their 35th year, Redwood continue to outperform agencies in the network in terms of client satisfaction, with an average referral rating of 8.4 out of 10 – against an industry average of 7.7. In the words of one of their clients, "Damn, you guys are good!"
"Redwood have a massive client portfolio with a real breadth and depth towards content," said the judges. "They have a great model, especially in the way they work with other agencies, and have done well to keep moving forwards, with a great level of innovation."
BEST ALL-ROUND CONTENT AGENCY - MEDIUM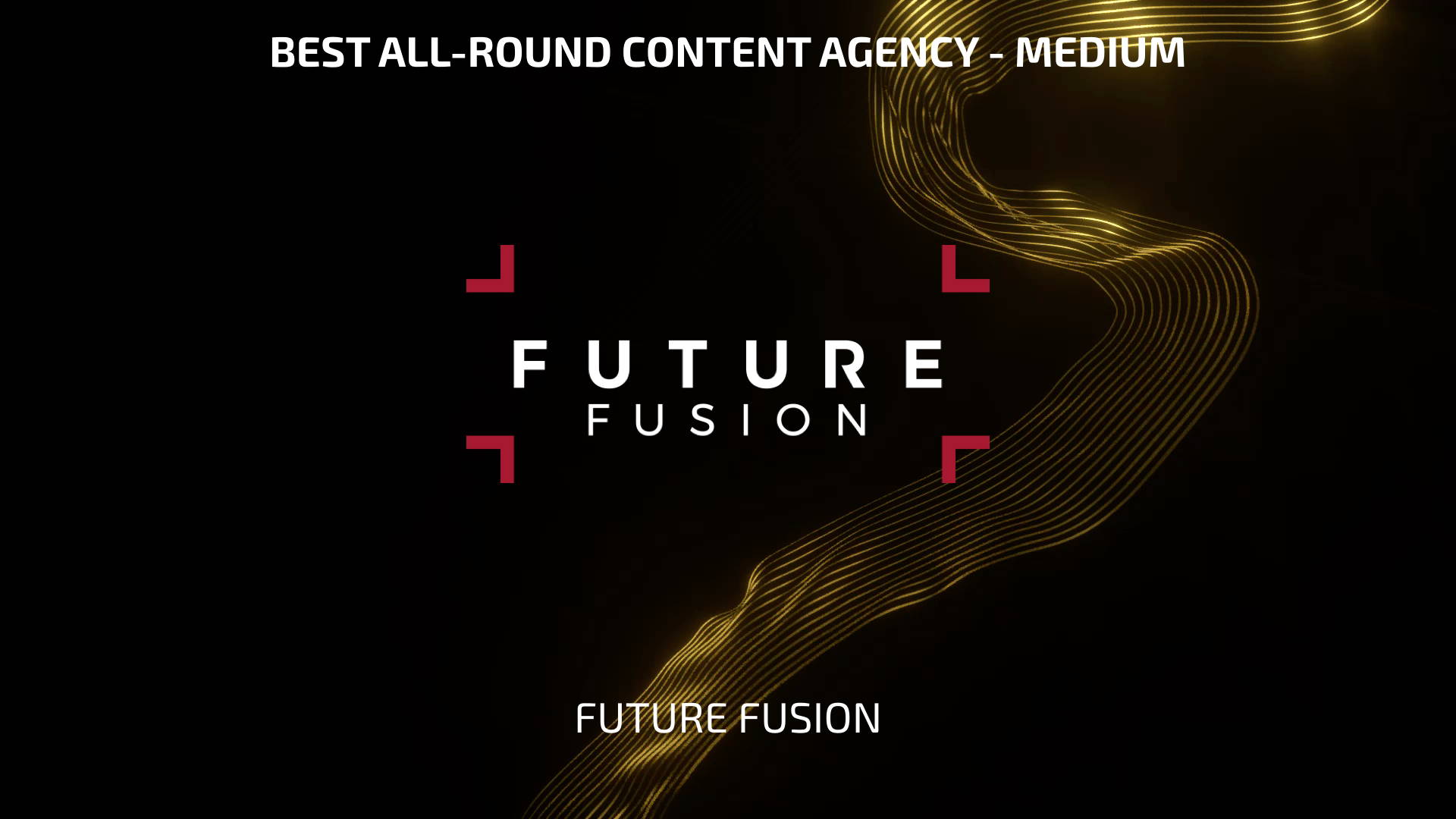 ---
The past 12 months for the winner of the Best All-Round Medium Content Agency have seen a huge turnaround, with the company needing a desperate shake up to reverse their steady decline. But with a new leadership team in place and a transformation plan put into action, Future Fusion quickly became a lean, pitch-winning, profit-making success.
This transformation plan began with the staff, who were incentivised and rewarded when new business was won, then moved onto a clear business focus on existing clients, before streamlining their new business and pitch approach. All the hard work paid off. Staff felt more appreciated, existing clients were re-energised, and new business was won, with an 80% success rate.
"Future Fusion created a plan and they executed it really well," said the judges, "with the entire team pulling together. This is a super strong entry."
BEST ALL-ROUND CONTENT AGENCY - SMALL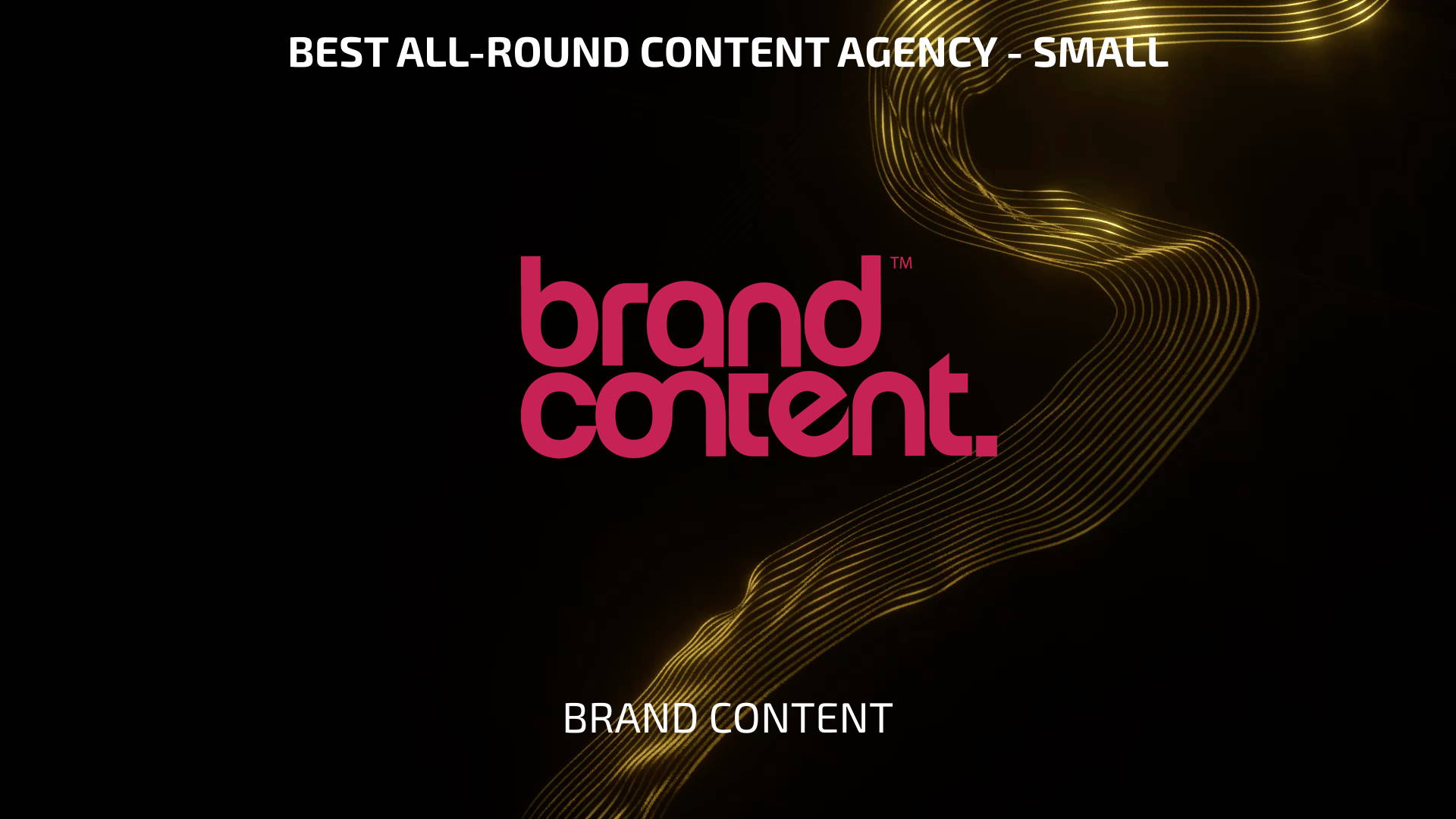 ---
If one thing determines the success of a small content agency it's the ability to think big, and Brand Content have shown that thinking big can certainly pay off. Having started as a one-woman band working at a kitchen table in Cardiff, the agency are now well on their way to fulfilling their ambition to become one of the most reputable financial services and tech content agencies in the UK.
Their secret lies in a business strategy that removes silos, giving their staff a good work-life balance, and specialising in data-led storytelling which raises eyebrows, proving that size and location are no barriers to effective and engaging content. With a team of just six, Brand Content have had a year-on-year growth of 91%, leading to a profit margin of 33%. But what really impressed the judges was their new business wins, beating off competition from international agencies to land clients such as Admiral Insurance, NEST and insurance company Ageas.
"Brand Content clearly has a great vision and a story which ticked every box of our judging, along with a really high standard of work," said the judges. "They have a clear ethos around what a good agency is, and such a small team winning really big work shows definite passion."
BEST ALL-ROUND IN-HOUSE CONTENT TEAM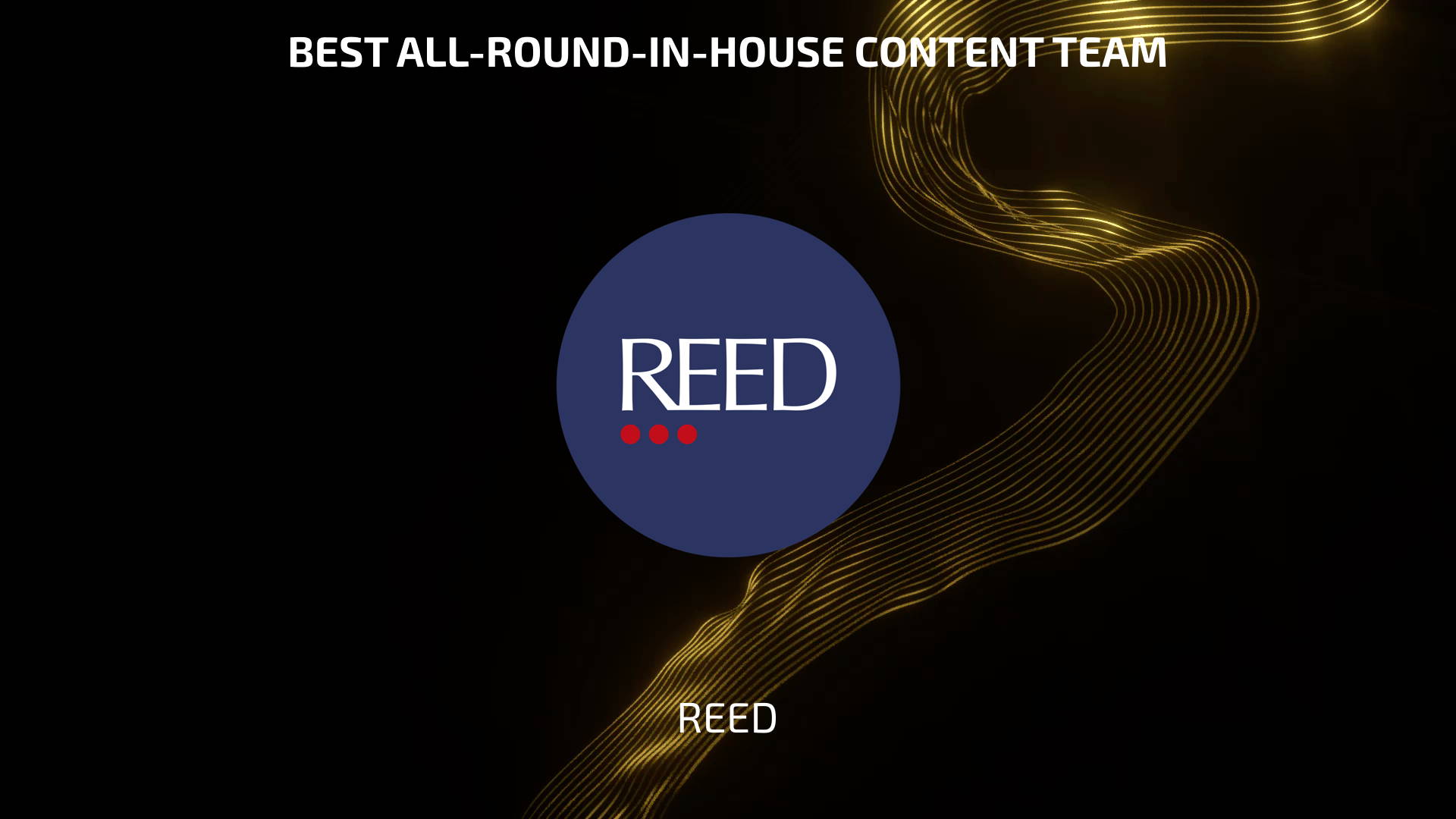 ---
Recruitment specialists REED have undergone a significant restructure in the past year and their marketing department was tasked with strategically supporting the key recruitment divisions of finance, HR, marketing and PR. They did this by positioning each division as an authority within their sector, using content marketing campaigns across the internet, print, video, PR, social media and events.
Alongside the flagship Salary Guides, which were created by analysing data from over seven million job adverts, the young marketing team also produced a video series called Industry Insights, an extensive survey of their accountancy and finance clients titled The Big Question, and an interactive report into the roles, skills and technology that have shaped the job market over the last 10 years. The result is a fantastic retention rate of 70%, extensive social media reach, and monthly press coverage in key sector publications such as Economia and Accountancy Age.
"REED have a strong sense of what they'd like to do and they have a real good mix of content," said the judges. "We also like the fact they have a young team and are really trying to bridge the gap between old and new employees."
---
HERE ARE SOME OF OUR GOLD WINNERS - MORE PHOTOS COMING SOON